Gaza: Israeli Soldiers Injure Dozens as Border Protests Continue for Third Week
Dozens of Palestinians have been wounded along the Gaza-Israel border as Land Day demonstrations ran into their third week.
Estimates from Palestinian Health Ministry suggest that over 500 Palestinians had been wounded while taking part in protests at five different sites along the border on Friday. The Israel Defense Forces (IDF) responded with live ammunition, rubber bullets and tear gas, The Washington Post reported.
Friday is the day of Muslim congregational prayer and often is when the largest crowds gather and spikes in deaths and injuries among the protesters occur. At least 34 people have been killed since the demonstrations began on March 30, and thousands reportedly have been injured.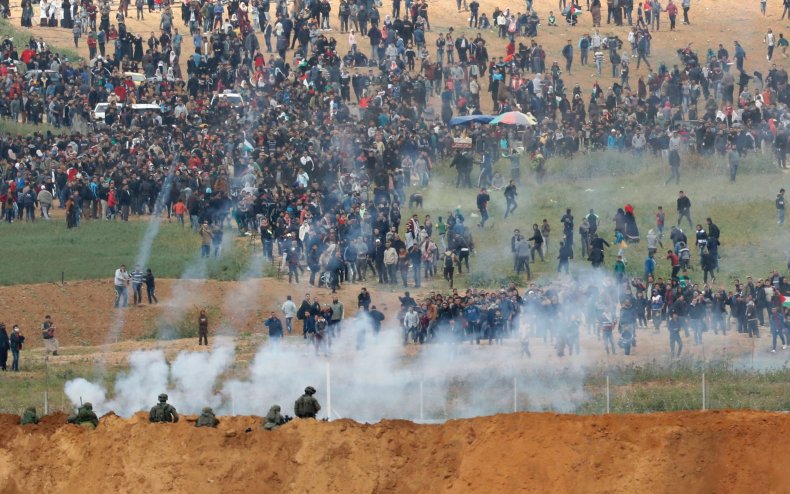 The IDF reported that some protestors had thrown stones, Molotov cocktails, flaming tires and an explosive device at the border fence in attempts to breach it. An IDF spokesperson said troops were "responding with riot dispersal means while also firing in accordance with the rules of engagement," according to Reuters.
Israel says that militants from Hamas—an Islamist political party and militant group that controls the Gaza Strip and its 2 million people—are using the protests as cover to plan and execute attacks on the border fence and Israeli troops.
Palestinians are protesting for the right of return for refugees and their descendants who fled or were forced to leave their homes after the creation of Israel, in 1948, 70 years ago. The demonstrations have been dubbed the Great March of Return. Israel has consistently refused to grant the right, fearing that Jews could become a minority within Israel if tens of thousands of Palestinians are allowed to settle in the country.
In a statement to the United Nations Security Council on Friday, Secretary-General Antonio Guterres repeated his calls for an "independent and transparent" investigation into the shootings, and urged both sides to "refrain from any act that could lead to further casualties." Amnesty International said Israeli authorities "must put an immediate end to the excessive and lethal force being used to suppress Palestinian demonstrations in Gaza."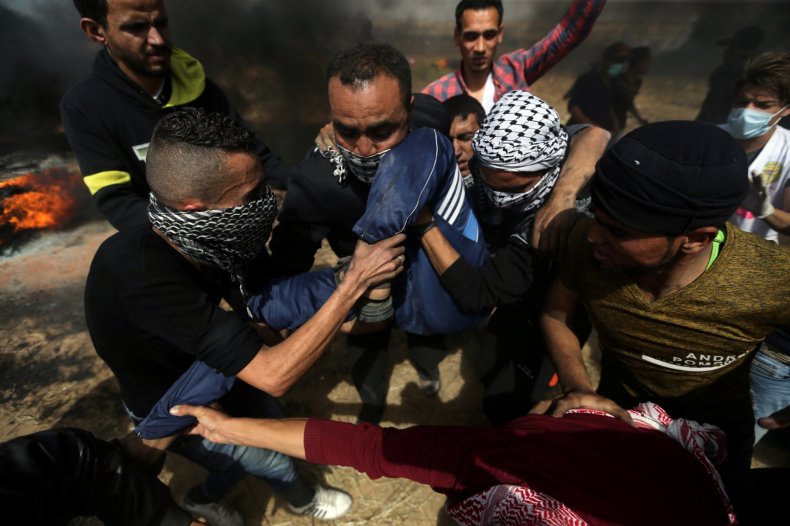 The IDF has previously stated that only people trying to damage the border fence or posing a threat to its soldiers have been targeted. In a Friday briefing, senior Israeli army officials told reporters that 33 protesters had been killed. Of those, 26 were unarmed and "threatening the border" and six were armed with weapons or explosives, they said.
Breaking the Silence, an Israeli non-governmental organization made up of IDF veterans, released a statement midweek, describing the use of live ammunition on unarmed protesters as "the transgression of yet another red line."
Last Friday, several Palestinians were shot and killed by IDF forces. Among the dead was photojournalist Yasser Murtaja. The 30-year-old was shot in the abdomen while wearing a blue flak vest bearing the word press in white letters. The killing drew condemnation and calls for an investigation from journalist groups.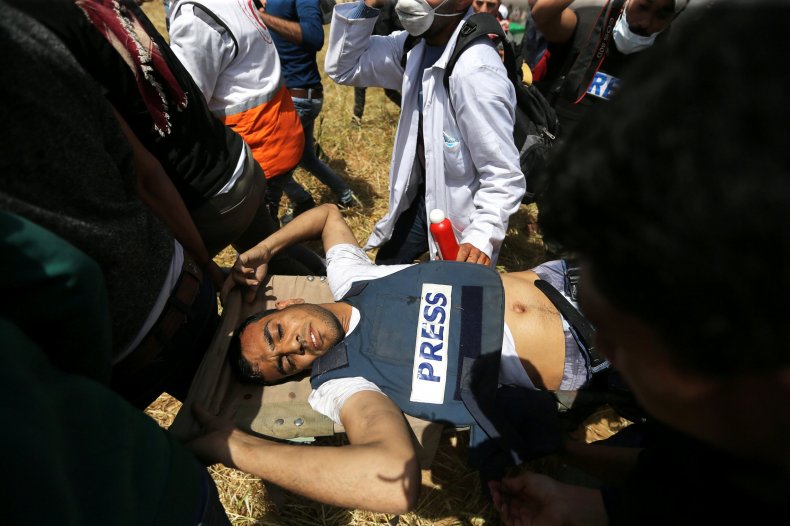 Defending the IDF's actions, Israel's far-right defense minister Avigdor Lieberman told Israel's public radio on Sunday, "There are no naive people in the Gaza Strip," and suggested Murtaja was killed while working for Hamas. "Everyone's connected to Hamas, everyone gets a salary from Hamas, and all the activists trying to challenge us and breach the border are Hamas military wing activists," Lieberman alleged.
On Thursday, Israeli newspaper Haaretz reported that two wounded Palestinian protesters had legs amputated after Israel denied them passage to the West Bank for medical treatment. "The main consideration for the refusal stems from the fact that their medical condition is a function of their participation in the disturbances," an Israeli statement said.
The U.S. has criticized those organizing the protests. President Donald Trump's Middle East peace envoy Jason Greenblatt condemned Palestinian leaders "who call for violence or who send protesters—including children—to the fence, knowing that they may be injured or killed." Greenblatt said the U.S. would offer "an outstretched hand" to Gaza only when Hamas "renounces violence and ceases to threaten its neighbors."
The protests will end on the on May 15, the anniversary of the establishment of Israel, which Palestinians refer to as the Nakba, or "the catastrophe."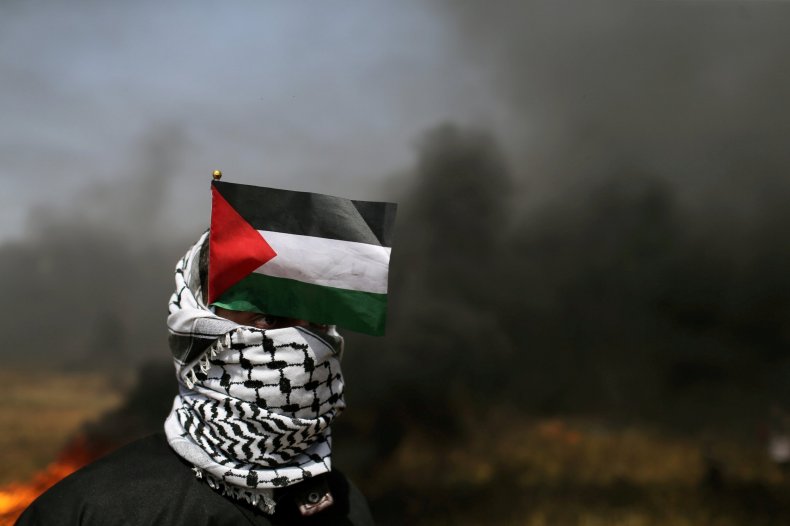 The Gaza Strip has been under Israeli blockade for more than 10 years, combined with restrictions at the Egyptian border. "The public health infrastructure in terms of water, drainage and sewage are virtually nonfunctioning, electricity is restricted to just a few hours each day and 95 per cent of the water is undrinkable," United Nations Relief and Works Agency spokesman Chris Gunness told Newsweek.