Geert Wilders, a Professional Outsider, Prepares for Dutch Elections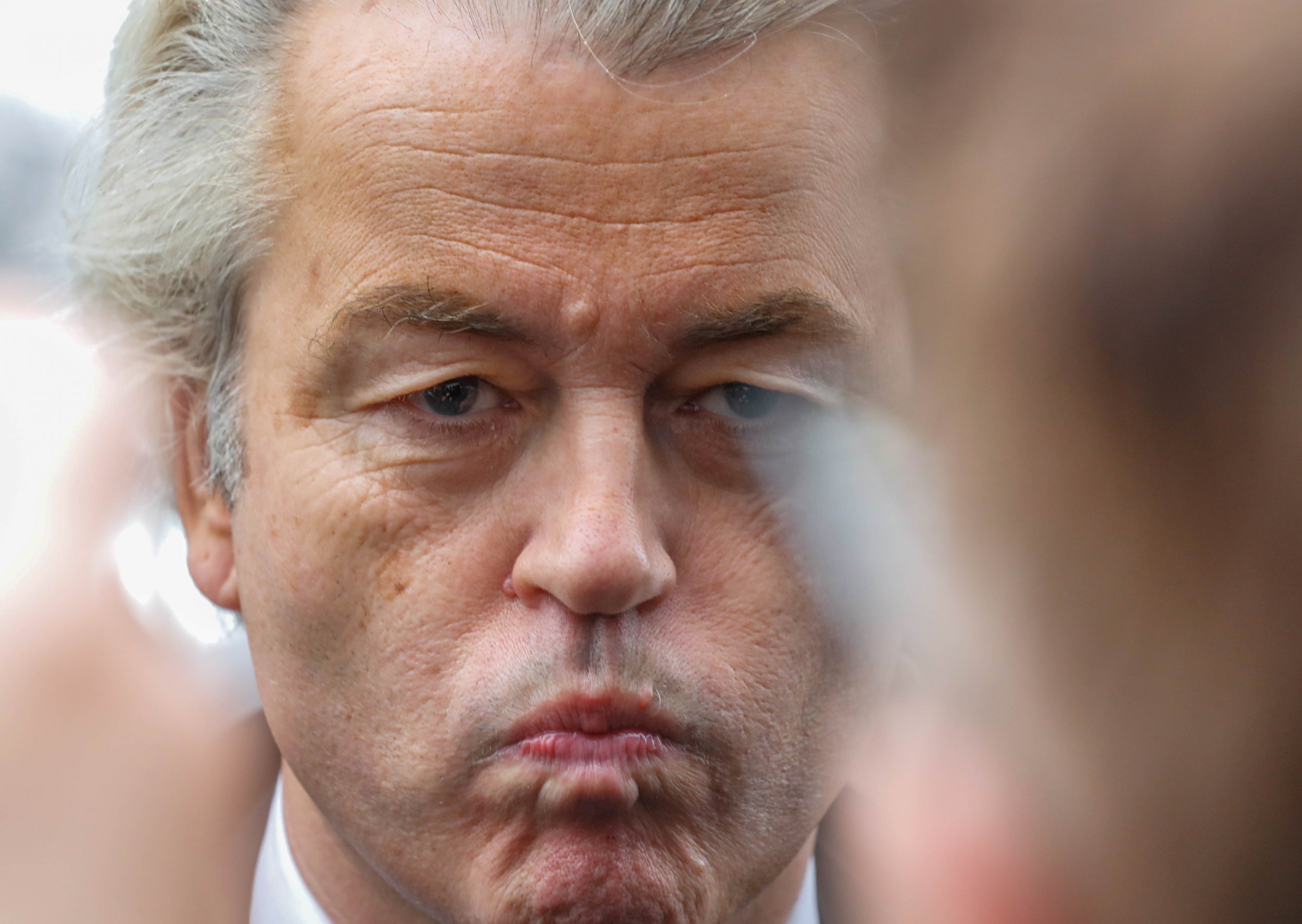 Before a whooping crowd of pumped-up young fans of Donald Trump at the Republican National Convention last July, a beaming, immaculately coiffured politician delivered a vision of European apocalypse. "Europe, as a matter of fact, is collapsing, is imploding, is exploding," he said, "The reason for all of this, of course, is a policy, decades long, of open borders, open borders and cultural relativism; the biggest disease in Europe today."
The man was Dutch anti-Islam politician and leader of the far-right Freedom Party (PVV) Geert Wilders. His fame on the international stage has been fueled by the rise of Donald Trump, whose populist election platform bore ideological similarities to that of Wilders.
But whereas in the United States Wilders was seen as a curiosity and an outsider, in his native Netherlands the far-right member of the Dutch parliament has been gradually building a following and cultivating a career as one of Europe's most established populist politicians.
The PVV currently has 12 elected members in the Dutch parliament. Wilders hopes the PVV can ride the anti-refugee and Euroskeptic sentiments to boost its power and emerge as the most successful party in the country's general election on Wednesday. But what are Wilders' chances of victory? And what exactly would he do if he were to win?
Wilders left the center-right People's Party for Freedom and Democracy (VVD) in 2004 to found the PVV, build on the work of the previous anti-Islam populist Pim Fortuyn, who was assassinated in 2002 by an animal rights activist, and to carve out new political space on the radical right of Dutch politics. Paul Wilders, a brother of the PVV leader and a critic, tells Newsweek in an interview about Geert's extreme single-mindedness. "He can be very likable, witty, charming, has a sense of humour… but all that provided you don't talk politics or you disagree."
The Dutch party system is complex and fragmented. In the upcoming election, a record 28 parties will vie for 150 seats in the country's lower house of parliament, the Tweede Kamer. No party is likely to win a majority, as is normal in the Netherlands, so different parties will have to form a coalition. And a gradual decline in the vote share among parties that were once larger means that a coalition could involve four or even five parties.
That's where things get complicated for Wilders. Although the PVV has led in many opinion polls published this year, the other major parties have ruled out a coalition with him. Not only do they have deep ideological disagreements with Wilders, they have reason to see him as unreliable based on his past. He briefly propped up a right-wing government in 2010-12, but the coalition collapsed over his opposition to a round of spending cuts. Unless other parties go back on their word, the PVV could be one of the largest, or even the largest, parties in parliament, but still out of power.
But in some ways this would be Wilders' ideal scenario, says Léonie de Jonge, who is researching the radical right at Cambridge University. If the PVV becomes the largest party in parliament but fails to form a coalition, it could allow Wilders to exert leverage over the government through informal deals, while at the same time maintaining his anti-establishment image.
"A lot of people think that he actually doesn't want to be prime minister," says de Jonge. "He can do much more when he's outside. He's really good at playing the outsider and the underdog."
Wilders' policy priorities include measures to "de-Islamize" the Netherlands, encompassing such initiatives as a ban on public expressions of the Muslim faith and a radical rollback of the country's refugee programme. He also wants to see more direct democracy for Dutch citizens, and an exit from the EU.
Paul Wilders says his brother is unlikely to trade away many of his beliefs in return for a shot at power. "I do believe for quite a couple of years he merely wanted to gain political influence and power," Paul Wilders says. But, he adds, the "isolated" life that Geert must now live, protected by extreme security measures from the many people angered by his inflammatory words, has encouraged "tunnel vision" and turned the PVV leader into "a believer of what he advocates."
"He will be a pain in the arse as an opposition for any coalition within four years from now, and I'm pretty sure that is what he is aiming at," Paul Wilders says. "He's not aiming at participating in government. That will be short-lived."
On Euroskepticism and immigration policy, in particular, it's easy to imagine Wilders, outside of government, using his parliamentary bloc to drag any coalition to the right. In nearby Denmark, for example, the right-wing populist Danish People's Party has regularly used its influence to press mainstream center-right parties into more extreme positions on immigration.
In the Netherlands, some mainstream parties have already been willing to respond to populism by moving to the right. The center-right VVD, currently the senior party in the governing coalition and Wilders' chief rival, has recently sought to match the PVV leader on his own terms. Its formerly liberal leader, Mark Rutte, recently warned immigrants in the Netherlands to "be normal or be gone" in an election advert. The Manifesto Project, which analyzes European political parties' policy positions, says the VVD has shifted about 10 points to the right since 2000 on the project's right-left scale.
But Wilders is far from guaranteed to secure the political dominance he seeks. His poll lead has been sliding, and the PVV has a history of under-performing in elections. It came out worse than opinion polls had suggested in both the 2012 general election and the 2014 European Parliament election.
The likely need for a multi-party coalition could hand significant influence to parties at the other end of the political spectrum from Wilders. The environmental and left-leaning Groenlinks party could benefit from the center-left Labor party's collapse after a spell as a junior partner in a coalition. Polls show the pro-EU and liberal D66 party could win as many as 21 seats, up from its current 12.
Sjoerd Sjoerdsma, D66 campaign leader and the party's spokesman on foreign affairs, says that in forming a coalition after the election, the party would press for a liberal, inclusive policy platform that excludes not just the PVV's elected members, but also Wilders' ideas. "A future government with D66 in it will have to be a government for all Dutch people," he tells Newsweek , "The Netherlands, we used to have a reputation in the world… of an open, inclusive society… It's crucial for us to regain [that]."
But there's a good chance Wilders will be able to grow his influence whatever happens, says Cambridge University researcher de Jonge. Fortuyn, Wilders' populist predecessor who died in 2002, found success in part because a fractious governing "purple coalition" of the right and the left was perceived as indecisive and inefficient. A four or five-party melange drawn from the left and the center-right could prove similarly toothless.
"When [Wilders is] being excluded, that just reinforces his point that the elite are neglecting the will of the people," de Jonge says, "He can only win from that situation.