Gen-Z Activists Flood Starbucks With Fake Job Applications Over Firings
Gen-Z activists have launched a campaign to flood Starbucks with fake job applications in response to the coffee giant's firing of workers that had been leading unionizing efforts.
Starbucks has long opposed unionization at its stores, saying they function best when the company works directly with employees. But a store in Buffalo, New York, became the first Starbucks to be represented by a union in decades, following a vote in December 2021.
The union, Workers United, is now petitioning to represent workers at more than 100 locations across the country—and has filed complaints with the National Labor Relations Board (NLRB), accusing Starbucks of retaliating against employees leading union drives.
Gen-Z for Change, which describes itself as a coalition of "creators and activists fighting for progressive change," has launched a campaign—called Change is Brewing—in solidarity with the Starbucks workers seeking to unionize.
"Recently, Starbucks has begun firing union leaders in Memphis, Seattle, Buffalo, and more," Elise Joshi, the organization's operations director and leader of the campaign, told Newsweek.
"In response, our incredible coders and activists at Gen-Z for Change, specifically Sofia Ongele and Sean Wiggs, have made a way to automatically apply to any one of these chains."
"We're standing behind unionizing workers by ensuring their future demands are met with transformation, not termination," the Change is Brewing website says. "To do so, we're flooding the job application pool at the union-busting Starbucks locations."
The website also provides instructions to visitors about how to run the code to send applications.
Joshi told Newsweek that over 10,000 false job applications have been sent over the past week, and that Starbucks took down a job application for a role in a Seattle store.
A Starbucks spokesperson told Newsweek that the company "has not taken down any job postings outside the normal course of our recruitment and hiring processes."
Joshi urged others to join the campaign in a video recently posted on the Gen-Z for Change Twitter account.
"This incredible website that we just made and allows you to send in a fake job application to work at Starbucks every 20 seconds," she said.
"We know that it's fake, but they certainly cannot tell the difference. By clicking two buttons on that website, you are suddenly sending in a job application every two seconds to various union-busting Starbucks chains. You can cook some food, get some work done, binge some TV shows. Meanwhile, that code is still running in the background in your browser and sending hundreds of fake job applications."
"This is just the beginning of Starbucks' anti-union efforts, and therefore just the beginning of our work with Change is Brewing," Joshi said to Newsweek.
The campaign comes after Starbucks this month fired seven employees who were leading an effort to unionize a store in Memphis, Tennessee. Starbucks said the employees had violated policy, but the employees said their firings were in retaliation for their unionization efforts.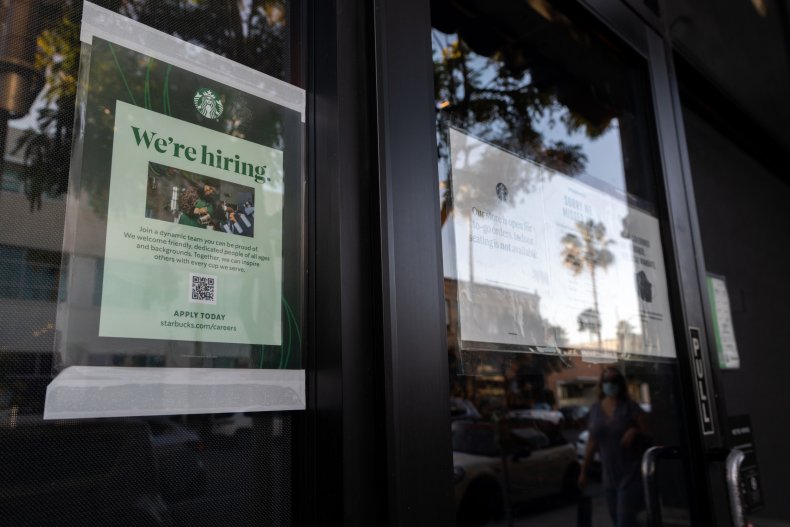 On Monday, Cassie Fleischer said she was "effectively terminated" from the company's first unionized store after asking to reduce her hours.
Fleischer, who was among the workers who helped lead the union drive at the Elmwood Avenue location, told Newsweek she believes the company is targeting union leaders.
"Despite Starbucks' efforts to stop the union effort and get rid of union leaders, we are standing strong and will not be deterred," she said.
Ian Hayes, an attorney representing Workers United, told Newsweek that he filed an Unfair Labor Practice charge with the NLRB about Starbucks' implementation of a new employee availability rule throughout the Buffalo area.
"The charge alleges that the company is implementing this rule in order to dissuade other Starbucks workers from organizing, in violation of workers' most basic rights under federal labor law," Hayes said.
Correction 2/24/22, 3:39 a.m. ET: This article has been updated to correct Sean Wiggs' last name in a quote.