Gen Z Is the Most Stressed Out Group in America, Poll Finds
Americans aged between 18 to 23, also known as adult Gen Z, are reporting the highest stress levels of any generation in the country, according to a poll.
The American Psychological Association's (APA) Stress in American 2020 report revealed that, on average, Gen Z adults scored their stress levels in the past month as 6.1 out of 10, with 10 being the highest level. The average across all adults was 5.
The survey conducted between August 4 and 26, 2020, by The Harris Poll for the APA, involved 3,409 over-18s living in the U.S. Almost a fifth (19 percent) said their mental health was worse than during the same period last year, at 34 percent of Gen Z adults; 21 percent of Gen Xers aged 42 to 55; 19 percent millennials aged 24 to 41; 12 percent of Boomers, aged 56 to 74, and 8 percent of those aged 75 and above.
Gen Z adults were also more likely to say they were experiencing common symptoms of depression. Three-quarters said they felt so tired in the past two weeks that they "sat around and did nothing," 74 percent were restless; 73 percent struggled to think properly or concentrate; and the same percentage felt lonely. Some 71 percent felt miserable or unhappy.
Some 81 percent of 13-to-17-year-olds, who are also counted as Gen Zers, said they had suffered negative consequences from school closures due to the COVID-19 pandemic. Over half (51 percent) said the pandemic has made it feel like planning for the future is impossible, with 67 percent of Gen Z adults feeling the same. Some 87 percent of Gen Z adults who were at college said education is a significant source of stress in their lives.
The poll also revealed 78 percent of Americans felt the COVID-19 pandemic was a significant source of stress in their lives. A further 60 percent said the number of issues America is dealing with was overwhelming. The poll was carried out in a year marked by stressors including a presidential election, protests against racial injustice, an economic recession, and over 220,000 people dying of COVID-19 in the U.S.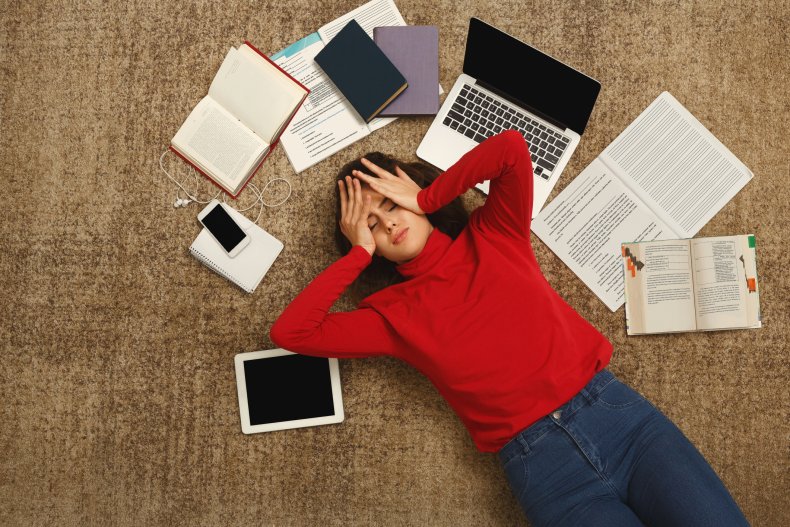 Arthur Evans, the CEO of the APA, told Newsweek via email that older people have typically reported less stress than younger generations since the organization carried out its first Stress in America report in 2007. This is likely because people gain life experience, coping skills and resilience as they age, he said.
"For 18-to-23-year-olds, they are just embarking on adulthood—learning to live independently, to manage their finances and to hit milestones like graduating high school or college, having new relationships and getting their first jobs. These events have always been stressful for some, but the new reality of the pandemic means that uncertainty is amplified and many long-standing plans or expectations have changed.
He said: "Empathy, or the ability to put yourself in another person's shoes, is critical to helping us understand how and why others, especially younger adults, might be struggling during this time."
Evans said the poll "points to the fact that we are on the verge of a national mental health crisis." Evans said the impact of sickness, deaths, job losses, social isolation, and school closures caused by the COVID-19 pandemic are being compounded by systemic racism, the economic downturn and political polarization in ways that affect people's mental wellbeing.
"Many Americans say they are not getting the support they need—we must do a better job of supporting those who need help. This includes expanding access to treatment, but can also be as simple as checking in on your neighbors and friends," he said.
Jennifer Douglas, clinical assistant professor in the department of psychiatry and behavioral sciences at Stanford, who was not involved in the report, told Newsweek via email: "Gen Z's challenge is to build a foundation amidst all of the stress and chaos that characterizes 2020. Gen Z will be the most impacted by climate change and have not had periods of stability in their adulthood yet to make up for times of uncertainty and stress."
She said the findings of the report were not surprising. "Most mental health providers working on the ground can point to exacerbations in mental health difficulties, election anxiety, racial trauma, and financial anxiety which have been building for years and reached a pinnacle during 2020."
Asked why Gen Zers came out as the most stressed in the report, Ken Yeager, director of the Stress, Trauma and Resilience Program at The Ohio State Wexner Medical Center, who did not work on the report, told Newsweek this generation is developmentally unable to see their future.
"There is so much uncertainty as to where they will go to school, if they will go to school, if they will be able to establish and maintain meaningful relationships and if they do establish these relationships what are they to do with them.
"It's important to think of adolescents and how difficult it is to get enough courage up to take a risk to ask someone on a date, to fit in with the right crowd. Add to this now that even if you have the courage to ask for a date what are you going to do? Movie theaters are closed, [there are] no large concerts, sporting events, proms."
While most Boomers believed they would be more prosperous than their parents, Gen Zers have seen the impact the recession has had on millennials, Gen Xers saddled with college debt, and are overwhelmed by the experiences of those who have gone before them, said Yeager.