The internet erupted on Thursday morning after Kiss bassist and singer Gene Simmons tweeted a photo of himself putting ice cubes in his cereal.
The Kiss frontman posted his breakfast practice late on New Year's Day. "Anyone else put ice cubes in their cereal?" Simmons asked in the tweet. In the photo, he mixed both Oreo O's and Frosted Mini-Wheats in a bowl of milk with a few ice cubes.
On Twitter, people roasted Simmons for his strange breakfast practice. Simmons' son, Nick Simmons, was among the critics. "30 years. 30 years watching him do this. This is my life," the musician's son responded to his tweet.
Other Twitter users simply called out Simmons for strange behavior. KSTP digital media director Tracy Maher called it "troubling." Former Tonight Show writer Chase Mitchell wrote that the ice cubes were just the tip of the iceberg. "That's only one of like six things I wanna ask about here," he tweeted. And News West 9 reporter Jolina Okazaki asked for prayers for Simmons.
Some just embraced the absurdity of Simmons' actions. YouTube critic Anthony Fantano responded to the bassist's tweet with a photo of a bowl filled with Advil. "Get on my level, Simmons," he tweeted. "That's great, my medication doesn't seem to be working," comedian Jessica Kirson wrote.
A few people did jump to the "Rock and Roll All Nite" singer's defense. Comedian and actor Alec Mapa wrote that Simmons gave him a large tip when he was a server. "So anything you do is fine by me," he wrote. Canadian comic Pete Zedlacher theorized that concoctions like this may be responsible for some of Kiss' biggest hits. "These are the kinds of great decisions that brought us Lick It Up," he tweeted.
A few also called out Simmons for posing the question on New Year's Day. Musician Billy Mays III wrote that Simmons was probably waiting to tweet the photos. "I swear this guy waited like 3 weeks to post this on Day 1 2020 to ensure that this will be yet another cursed decade in this wretched hellscape," he tweeted. NBC News reporter Kalhan Rosenblatt said that Simmons was "Entering 2020 at an 11."
In a statement given to Newsweek, Simmons said he didn't understand the reaction. "Dunno what the big deal is. Milk is never cold enough. Cereal with luke warm [sic] milk..Yuch [sic]," he said in an email to Newsweek.
Being shock rock pioneers, the Kiss frontman is no stranger to odd behavior. In November 2019, Kiss played a five-song set on an Australian boat, intended to attract sharks. No sharks came to hear "Calling Dr. Love."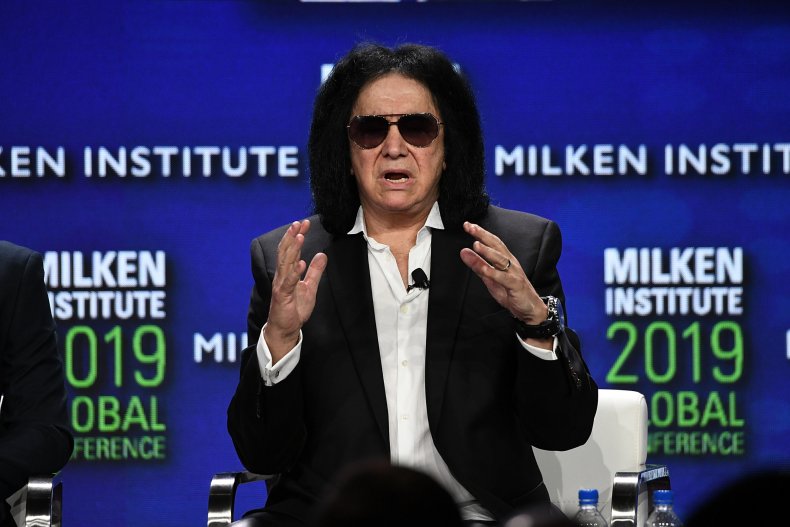 Update, 1/2, 1:20 p.m. EST: This story has been updated to include comment from Simmons, which was received after the story was published.