After eight episodes of watching Anne Lister (played by Suranne Jones) and Ann Walker's (Sophie Rundle) romance flourish, Gentleman Jack has come to an end.
Fans waited over two years for Season 2 to drop and now, many want to know the fate of the show's future after Season 3 reached a dramatic end.
Is Season 3 of Gentleman Jack on the cards?
Newsweek spoke to Showrunner Sally Wainwright to find out more.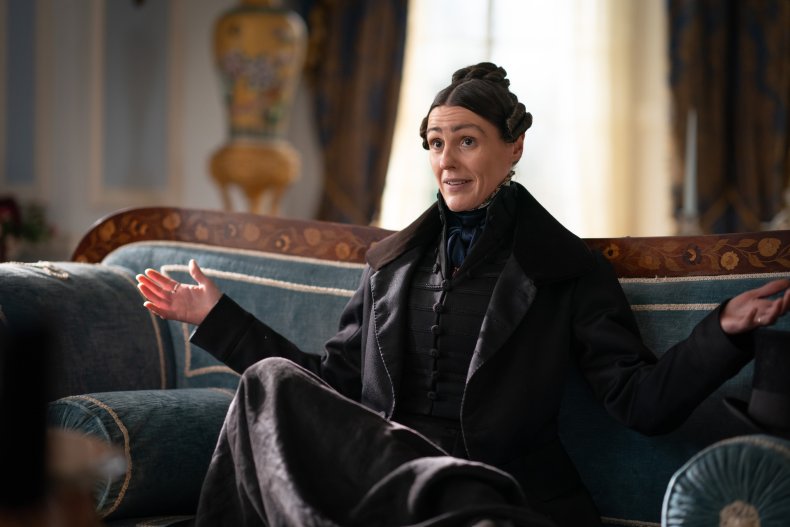 Will There Be A Gentleman Jack Season 3?
At the moment, there has been no news on the future of Gentleman Jack.
However, at this moment in time, no news is definitely good news. Gentleman Jack Season 2 has only just wrapped in the U.S., two weeks after the finale aired in the U.K., therefore it is a little too early to give an update on the show's future.
The good news is, one thing is for sure, creator and showrunner Sally Wainwright is interested in continuing Anne Lister's story and just like Seasons 1 and 2, it will be based on Lister's diary entries.
Speaking to Newsweek, Wainwright shared: "It's really exciting bringing them [Anne Lister's diaries] to life. I mean, the journal itself is a fabulous document. She was such a brilliant writer.
"There's so much detail every day, day after day. There are very few days that are missed from the journal, so you do build up—when you read it over a consistent period of time—you just build up a really, really vivid and exciting picture of their world and it's exciting because of Anne Lister, because of this formidable energy that she had, and that she brought to everything."
Wainwright also teased she would love to bring all of Anne Lister's diaries to the screen, which spanned 1806 and 1840, and take the show right up to the end of her life in September 1840.
Lister sadly died on September 22, 1840, of prolonged fever at the edge of the Russian Empire (in what is now Kutaisi, Georgia). She was 49 years old at the time of her death.
Wainwright shared: "In terms of seasons in Season 1 we covered 18 months and in season two, I think we've also covered 18 months, up to I think, September 1835ish, so Anne Lister is 43. She's got five or six more years before she dies.
"So I'm hoping I mean, I'd love to tell the rest of the story the rest of the life and beyond because it was very interesting the work of Anne Lister."
Wainwright also shared she is interested in exploring how Lister's journals survived and were analyzed for us to read today.
She said: "What I think is really exciting is the story of the journals now and how they survived, which I do hope to encompass if we get another season, and if we are able to go up to the end of her life. The story of how the diary survived in itself is an extraordinary tale."
Lister's diary entries were often written in code and were decrypted long after her death by her relative, John Lister, and his friend, Arthur Burrell. They were published by Helena Whitbread in 1988 and 1992.
Gentleman Jack Season 3 also has a lot of material to draw upon. In total, Lister wrote over five million words and over 27 volumes in more than two decades.
Season 2 ended with both Anne Lister and Anne Walker finally coming together as a team to take down Captain Sutherland (Derek Riddle), who had been trying to take the Crow Nest estate and portray Lister as a master manipulator over her Walker.
However, things are not looking so good for Lister's relationship with her sister Marian (Gemma Whelan), after Lister seriously disapproved of her engagement to Mr. Abbot (John Hollingworth).
In fact, Lister disapproved so much, that she threatened to cut her sister off and as a result, Marian and their father (Timothy West), decided to leave Shibden Hall and Lister, behind.
Season 3 will no doubt see Anne Lister picking up the pieces of her broken family, but hopefully, Anne Walker will be by her side.
Gentleman Jack is streaming on HBO Max now.