Latvian Defense Minister and Deputy Prime Minister Artis Pabriks has urged his NATO partners to make clear to Russian President Vladimir Putin that his ongoing invasion of Ukraine cannot end in victory, but only in costly defeat.
Speaking with Newsweek on the sidelines of the Lennart Meri Conference in Tallinn, Estonia, on Sunday, Pabriks said Putin is bent on restoring the Soviet Union and must be shown with force that this is not possible.
"The question is how Russia will lose," Pabriks said of the ongoing invasion, in which Russia troops again appear largely stalled, this time in the eastern Donbas region. Moscow's assault on Kyiv failed in March and now its effort to seize Ukraine's easternmost province also appears in danger of collapse.
"They must be made to understand that they will lose," said Pabriks, who since the invasion began in February has been outspoken on the need for Latvia's European Union and NATO allies to do more to support Kyiv and defeat Russia.
"The end game is very clear," the deputy prime minister said. "Ukrainians must win, the Russians must lose. Sovereignty must be restored. Then we talk."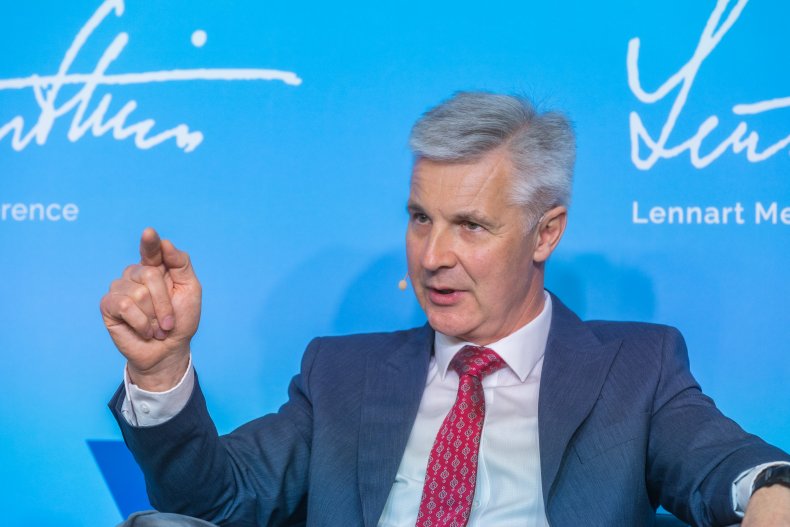 Ukraine's unexpected battlefield success has opened conversations on what might constitute victory for Kyiv. With the Russians struggling in the east, Ukrainian leaders are now suggesting they might look to seize back Crimea and the areas of the Donbas occupied by Russia in 2014.
Some prominent European politicians—including French President Emmanuel Macron and German Chancellor Olaf Scholz—are prioritizing calls for a ceasefire, though Ukrainians and more hawkish NATO partners say now is not the time to settle for a disadvantageous peace.
Asked whether the West should look to find Putin an off-ramp to end the fighting or a way to help the Kremlin save face, Pabriks replied: "It's not our concern," though added: "We don't need to humiliate the Russians."
"If he's a martial arts fighter, he must know how to lose," Pabriks said of Putin. "It's his problem. It's not our problem. If you commit a crime, why should we help you save face? You're a criminal, you apologize, you bow, you do something. Then, ok, let's talk."
This weekend, Estonian Foreign Minister Eva-Maria Liimets told Newsweek the war—and any subsequent peace—must leave Russia too weak to further threaten its neighbors. Pabriks, too, said the West must take this opportunity to solve its long-standing Russian problem.
"If the Russians will not be made lose, they will simply militarily recover," he said. "They will continue their policies with the diaspora in the Baltic countries, in Germany, in other places where you see these cars going around with Russian flags, London, everywhere else. Do we really want a next war, more tension?"
"No, we want them to become...a former empire without imperial ambitions," the minister said. "Work on yourself, create your economy, deal with your people. Don't look abroad anymore."
"This is a dream they never dropped. Thirty years since the collapse of the Soviet Union, they're still thinking to recreate this. Otherwise, they would not run around in Ukraine with red flags, with a Soviet anthem, with Soviet songs, with Soviet monuments."
Putin has often been accused of trying to recreate the Soviet Union, though primarily its geographical reach and global status rather than its socialist and communist ideology.
Soviet symbolism and hagiography is ingrained in Putin's revanchist, imperialist, oligarchic kleptocracy, in which he and his enablers are free to amass enormous wealth while suppressing internal pro-democratic dissent.
In recent years, Russia has launched military operations in Chechnya, Georgia, Syria, and Ukraine as it seeks to re-establish its influence on the world stage. Moscow has pulled Belarus and its President Alexander Lukashenko ever closer, while also stoking separatism in Moldova.
Ukraine holds a special place in the Russian imperial imagination as the home of the Kievan Rus civilization, which Ukraine, Belarus, and Russia all claim as their cultural ancestry. More recently, Ukraine was the breadbasket and a vital economic center of the USSR. Ukrainian tanks and troops also fought in the vanguard of the Red Army that destroyed Nazi Germany in World War Two.
Putin frames his invasion as reconstituting a nation divided by historical trauma, but the atrocities his troops have wrought belie Russian claims of brotherhood with their fellow Slavs in Ukraine.
"They want the empire back, it's very simple," Pabriks told Newsweek. "They must be made to understand—in this case by force, which they understand—there will be no empire [coming] back. You must think differently about yourself."
Newsweek has contacted the Russian Foreign Ministry to request comment.
Russia has increasingly framed its aggression in Ukraine as a war against NATO, a self-fulfilling prophecy given Moscow's latest invasion has prompted a seismic political and military realignment in Europe and North America.
NATO and the EU have rallied around Ukraine, and are now providing significant military support to assist its defense, while the former is on the verge of adding Finland and Sweden to its ranks.
There have been fierce debates over what weapons should be sent to Ukraine, and what should be held back for fear or provoking Russia. Initially the bulk of supplies were framed as "defensive" in nature; ammunition, small arms, and shoulder-launched anti-tank and anti-air weapons.
As the invasion wore on, Western partners began sending more significant and "offensive" weapons like helicopters, anti-aircraft systems, anti-ship missiles, drones, artillery, tanks, and other armored vehicles.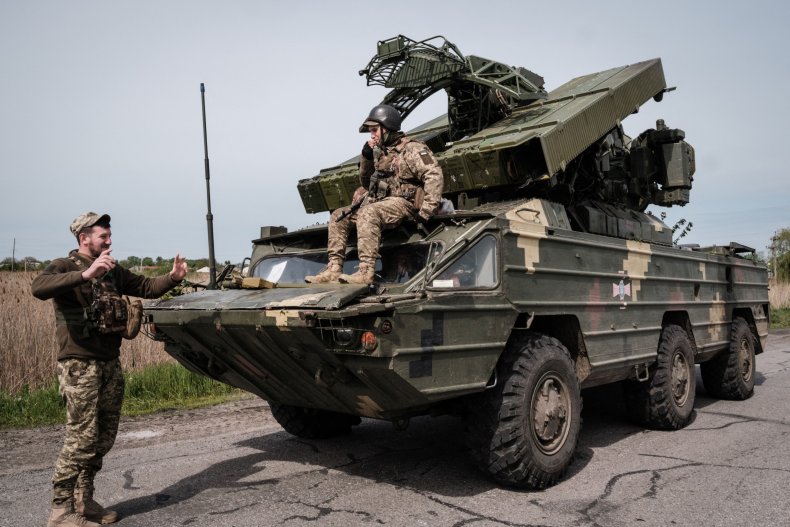 Pabriks dismissed Western debates over such arms as irrelevant. "What does 'heavy weapons' mean? What does 'defensive weapons' or 'offensive weapons' mean? This is just language to do nothing," he said.
The debate over whether or not to provide Ukraine with fighter jets was particularly heated—and ultimately embarrassing—for NATO.
"I really think this is not just a question of fighter jets," Pabriks said. "The media just picked up on [fighters] because that was a kind of a mistake, with these delays and the concerns over what Russia will think. We should not think about what Russia will think."
"We need a victory for Ukraine. And from that perspective any type of weapon, any kind of assistance which is needed for Ukrainians to fight should be simply given without hesitation," he added.
"What are we waiting for?" the minister asked. "There will be more blood, there will be more civilian casualties. What are we waiting for?"
"There are no compromises, we must make Ukraine win this war. So do whatever you can, pay for this. It's a humiliation for the whole Western alliance if you have Russia with maximum 3 percent of world GDP standing against Ukraine, which has behind it something like 40 percent of world GDP. And we still can't manage this? Maybe we should look in the mirror and ask, what's wrong with us?"
Latvia, like Estonia, has committed the equivalent of around one third of its annual defense budget to support Ukraine militarily. " If everybody would help as we do, things would be totally different," Pabriks said.
Western—and particularly EU—backing for Ukraine has come with much internal bickering. Member states have clashed over what sanctions are suitable, what weapons should be sent to Ukraine, what the West's broader Russia strategy should look like, and whether NATO and the EU should expand to include new members including Ukraine.
Germany has been criticized for its perceived hesitance on all fronts, though German leaders point to the nation's historic pivot away from Russia and towards greater military spending as a direct response to Moscow's invasion.
In the Baltic states, there are deeper dissatisfactions. Those on the eastern flank have long warned their western partners that Russia cannot be trusted, and feel their warnings were ignored in favor of profit. Baltic capitals, including Riga, now see themselves as vindicated.
"To revive the trust, first of all, it's in the hands of those who lost the trust," Pabriks said of western partners like Germany. "There is no plausible German policy in the Baltic area. There are differences, of course, between Germany and France. France simply always thought that this region was further away and a different one."
"Germans on the one hand have always been a part of the Baltic Sea area, the Baltic area. They always neglected us because of hiding—this is an important key word—behind their history of the Second World War, saying: 'We can't do this to the Russians because we are so guilty. But of course we can do this to Ukrainians.'"
"I think they have to readjust, and I believe that they must take into account the practical and real needs and concerns of this region," Pabriks said. "They're slowly starting, but there are hindrances...We'll see who is who."
"We want real action," the defense minister added, including military reinforcements and the abandonment of NATO's "tripwire" concept in which small military forces and territory in the Baltic states would be sacrificed to a Russian military advance in the event of war.
"I understand that the Germans are really making huge progress," Pabriks said. "But we need it fast. We need a deeper understanding, and we need the roots of these changes to really take root and become deep enough. At the moment they are not deep enough."
"There is a huge oak, but its roots are very weak," Pabriks said.." The wind will blow and that might change again."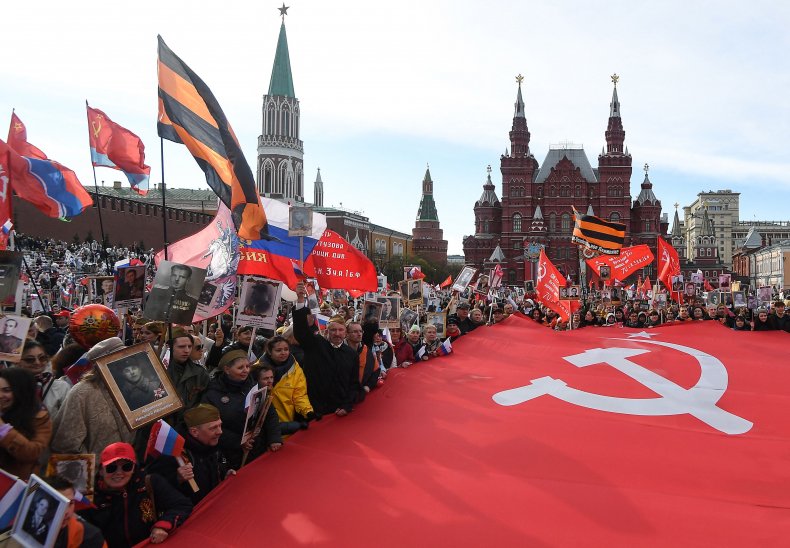 Ukrainian EU membership, Pabriks said, is one area where Germany can begin to regain the trust it has lost in Latvia. Kyiv is currently waiting for the European Commission to publish its opinion on whether Ukraine should be given EU candidate status, a key step on the long and difficult road to full membership.
"This is where Germans must not play games, they must support it," Pabriks said. "There must be this acceptance that we want Ukraine to come in. We want to reform it, we will do this, and we are ready to do this."
Not everyone is on board. Austrian Foreign Minister Alexander Schallenberg, for example, has suggested Ukraine's accession might weaken the bloc.
Others have dismissed President Volodymyr Zelensky's repeated appeal for "fast-track" membership. Macron, for example, said this week it could take "decades" for Ukraine to join.
Germany has been largely supportive, though is also opposed to accelerated membership.
Foreign Minister Annalena Baerbock, for example, said during a visit to Kyiv this week: "When we talk about the candidate status, I am confident that the president of the Commission...will find a good way that we can pave the way for the internal deepening of the EU."
Such a move, Baerbock said, would make it clear that "Ukraine belongs to the European Union."
Pabriks on Sunday urged his German allies to fully commit to supporting Ukrainian accession: "There must not be this hiding behind, I don't know, Austria, [because] they are against," Pabriks said. "We know who is against."
"We're a small country. You can have moral authority, but we don't have hard power for that in the EU. I hope that the Nordics will be on board, Poland. And we should try to force this. But we need them to understand in Berlin, and Paris how they should act."
The French Ministry for Europe and Foreign Affairs told Newsweek in a statement: "As President Macron and the Minister for Europe and Foreign Affairs have noted repeatedly, Ukraine is part of the European family.
"Ukraine's request to join the EU, which is being examined by the European Commission, will be discussed by the heads of state and government at the European Council meeting in June.
"We are paying close attention to the concerns of our Baltic partners, with whom we are in very regular contact," the ministry continued, noting that France created a joint initiative with Estonia, Latvia, and Lithuania in January 2021, the latest meeting of which took place in Tallinn in April.
"This meeting, just like our regular discussions with our partners, provided an opportunity to hold successful discussions on the continuing support for Ukraine, sanctions targeting Russia, strategies to end our energy dependency on Russia and solidarity among allies.
"From this perspective, France is fully playing its reassurance role. We have been doing so for several years, with a detachment of the French armed forces present in Estonia since 2014 as part of NATO's enhanced Forward Presence, while our fighter aircraft, supported by around 100 aviators, patrol the skies in the Baltic states."
"In addition, on 25 February, immediately after the Russian invasion of Ukraine, President Macron announced that France would contribute to the NATO military build-up, which took the form of a deployment of additional aircraft to Estonia, air defence missions in Poland, a build-up of our troops in Estonia and a new military commitment in Romania."
Newsweek has contacted the German foreign ministry to request comment.
05/18/22 7:10 a.m. ET: This article has been updated to include comment from the French foreign ministry.