Geoff Duncan Criticizes Voting Restrictions and 'Divisive' Trump, Rules Out GOP Senate Run
Georgia's Lt. Governor Geoff Duncan, a Republican, criticized GOP-led efforts in his state—and across the country—to restrict voting while also slamming former President Donald Trump's "divisive" politics.
Earlier this month, Georgia's State House passed an omnibus election "reform" bill that voting rights advocates argue amounts to significant voter suppression. The Republican-sponsored legislation would limit early voting and require additional documentation to receive absentee ballots, among other changes. The GOP effort is one of many across the country in the wake of Democrats taking control of the White House and the Senate in the 2020 election.
Notably, Duncan has gone against his party and opposed the legislation in Georgia. Last week, as the Georgia State Senate began debating the legislation, Duncan boycotted the debate and left the chamber.
"Republicans don't need election reform to win, we need leadership. I think there's millions of Republicans waking up around the country that are realizing that Donald Trump's divisive tone and strategy is unwinnable in forward-looking elections. We need real leadership, we need new—new focus, a GOP 2.0 that includes moderates in the middle, to get us to the next election cycle," the Republican official told NBC News' Meet the Press in a Sunday interview.
Duncan pointed out that the Republican effort to restrict voting in Georgia began after the November election, when the traditionally red state flipped blue for President Joe Biden. Subsequently, Democrats successfully flipped both of Georgia's Senate seats in their favor, electing Senators Jon Ossoff and Raphael Warnock.
"This started shortly after the November elections when all the misinformation started flying up. And quite honestly, it hurt Republicans in any sort of conversation around election reform. We lost credibility," he said.
Following the November election, former President Donald Trump and his supporters repeatedly claimed without evidence that the election was "stolen" and "rigged" by Democrats. Duncan and other GOP officials in Georgia pushed back against the president's claims, asserting that the results had been fully verified by multiple recounts and audits.
"Look, we've got four years to win back the White House. We're not going to do it with a divisive tone. We're not going to do it missing, you know, solving big problems for real people," said the Georgia Republican.
Newsweek reached out to Georgia state Rep. Barry Fleming, a Republican and primary sponsor of the voting restrictions legislation, for comment. Fleming also served as the Hancock County commissioner until last week, when he was asked to step down after a wave of protests against him for pushing through the restrictive legislation.
At least 45 states have seen Republicans put forward legislation that would make it more difficult for residents to cast a ballot. Voting rights activists warn that these actions disproportionately impact voters of color, who historically have been targeted by voter suppression tactics. Democrats in the U.S. Congress are pushing to pass H.R. 1, the For the People Act, which would shore up voting rights—and supersede many GOP state-level efforts to restrict voting—but the future of that bill is uncertain due to the Senate's legislative filibuster rule.
In order for H.R. 1 to pass under the current Senate rules, at least 60 votes would be required, but the Democratic Caucus only controls 50 seats—holding a very narrow majority because Vice President Kamala Harris can cast deciding votes when there is a tie. As a result, most Democrats in Congress are pushing to end the filibuster or change Senate rules to make an exception when it comes to voting rights legislation.
"What we're witnessing across the country is a coordinated campaign by the Republican Party to further restrict access to the ballot and prevent millions of Americans from participating in future elections. Instead of standing up to Trump's 'Big Lie,' they're using it as an excuse to ram through racist voter suppression measures," Stand Up America founder and president Sean Eldridge said in a statement emailed to Newsweek.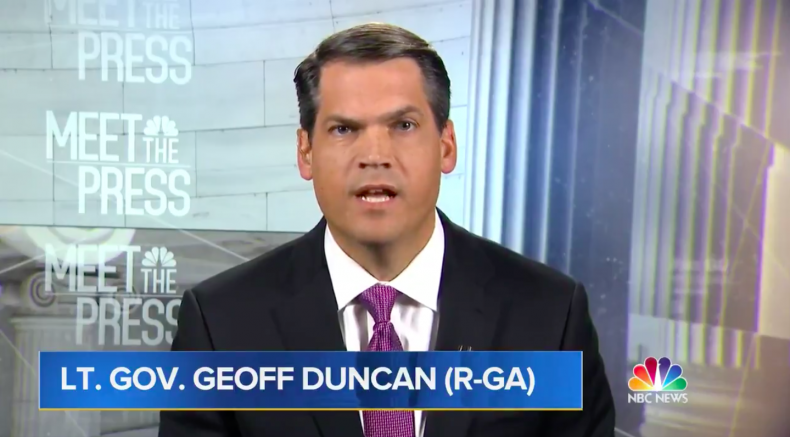 Voting rights activist and former Georgia State House Minority Leader Stacey Abrams told CNN on Sunday that the GOP efforts were "a redux of Jim Crow in a suit and tie." The name Jim Crow refers to the era in the South after the Civil War and before the success of the Civil Rights movement in the 1960s that allowed for the legal segregation of Black Americans.
The Georgia Chamber of Commerce came out against the Republican-led effort as well, telling CNBC on Sunday that it opposes changes that "restrict or diminish voter access." Among its members are Delta, Coca Cola, and Home Depot.
During his Meet the Press interview, Duncan also said that he is not interested in running for the U.S. Senate in 2022, despite some people urging him to do so.
"You know what, my family and I have talked about it, and we're not going to run for the U.S. Senate seat," he said. "We're going to stay focused on being the lieutenant governor here in Georgia. And we're going to focus hard on trying to rebuild this party and refocus GOP 2.0."