Although a vocal faction of Republican lawmakers hope to end former President Donald Trump's hold over the GOP, new polling shows that they represent just a slim minority of their party's voters.
A new national survey was conducted by prominent GOP polling firm Fabrizio, Lee & Associates, which has worked with Republican clients including Senate Minority Leader Mitch McConnell and GOP Senators Rand Paul, Marsha Blackburn, Rick Scott and Bill Cassidy, among numerous others. It showed that the majority of Republican voters would be favorable of a Trump 2024 run, with only 15 percent of respondents identifying themselves as "Never Trump" Republicans.
Meanwhile, the survey divided respondents into four additional categories. These included 10 percent who were "Infowars" Republicans, meaning they were believers in the QAnon conspiracy theory and very pro-Trump. "Trump Boosters," Republicans that strongly approve of the former president but are more loyal to their political party, made up 28 percent.
"Diehard Trumpers" comprised 27 percent of the Republican respondents and 20 percent were classified as "Post-Trump GOP," meaning they liked Trump but do not believe he should continue to lead the party.
As a whole, 88 percent of the Republican voters said they approved of the job Trump did while in office. Interestingly, even 25 percent of those that identified as "Never Trump" said they approved of his performance as president. But 75 percent of the faction disapproved.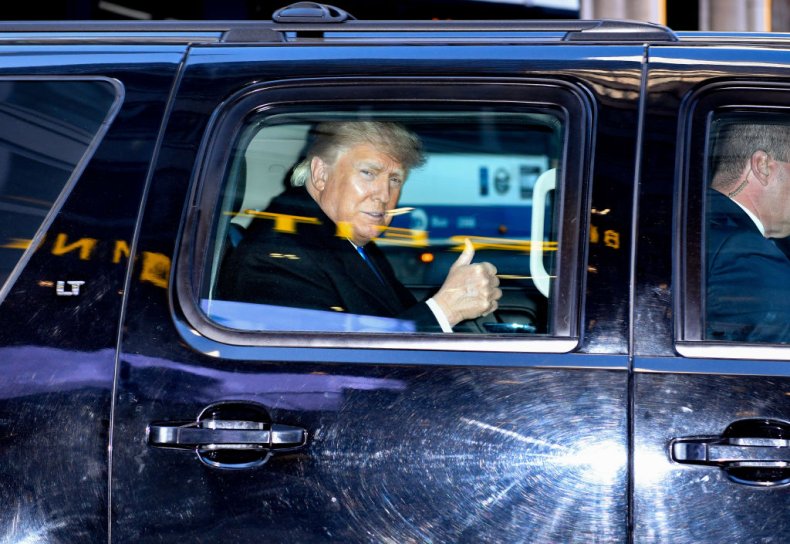 Trump was the clear frontrunner for the party's 2024 nomination. The former president was backed by 51 percent of respondents while his nearest potential challenger was former Vice President Mike Pence with just 9 percent. Florida's Governor Ron DeSantis came in third with 7 percent support.
Furthermore, 57 percent of the Republican voters said they'd "definitely" vote for Trump if he were to run again in 2024.
In the wake of the violent insurrection against the U.S. Capitol by Trump's supporters, a faction of Republican lawmakers came out and condemned the former president. Ten GOP House members—including House Republican Conference Chair Representative Liz Cheney of Wyoming—voted with their Democratic colleagues to impeach Trump for helping to incite the attack. Seven GOP senators also voted to convict Trump in his Senate trial, along with all 50 members of the Senate's Democratic Caucus. Although this was the most bipartisan presidential impeachment vote in U.S. history, it fell short of the high constitutional threshold of a two-thirds majority required for a conviction.
Several other GOP lawmakers, including McConnell, condemned the former president's actions but declined to vote to convict, arguing that it was unconstitutional to hold the trial after Trump had already left office.
Trump has come out swinging against Republicans who condemned his actions—vowing to support primary challengers and to campaign against them. The former president has also teased a possible 2024 presidential run.
Despite the strong condemnation from some top Republicans, polls have consistently shown that Trump remains widely popular among GOP voters. An early February poll conducted by CBS News/YouGov showed that 71 percent of Republican voters viewed GOP lawmakers supporting the former president's impeachment or conviction as "disloyal." Following Trump's impeachment trial, polling by Morning Consult showed that nearly 60 percent of GOP voters believed the former president should continue to play a "major role" in the party going forward.