George Floyd's brother, Terrence, urged Americans to "stay woke" as members of his family joined rallies across the country to mark the one-year anniversary of the Black man's murder that sparked worldwide protests and a national reckoning on race.
Tuesday will mark a year since 46-year-old George Floyd's death. Then-police officer Derek Chauvin pinned a knee to his neck for more than nine minutes as he gasped for air on a street in Minneapolis.
Chauvin, who is white, was convicted of murder and manslaughter last month.
Terrence Floyd said supporters should not believe the fight for racial justice is over.
"Stay woke. Don't just open your eyes, stretch, yawn and think that it's over," he said at a gathering in Brooklyn, New York, on Sunday.
"No, stay woke. Now that your eyes are open and you know what my culture goes through, I want my culture to stay woke, but I want the other cultures that's supporting us to stay woke. To keep this movement flourishing, to keep my brother's name ringing in the ears of everyone."
Terrence Floyd described the past year as "a rollercoaster ride" for his family and thanked those who showed their support.
"One year later, man. This year has been a rollercoaster ride for us," he said.
"And I'm just thankful. Thankful, thankful, thankful for the people, for this nation for showing so much love to the Floyd family, so much love to the movement, so much love to justice, what is right."
Other members of Floyd's family led a march in Minneapolis to mark the anniversary and call for justice for the families of Black men killed by police.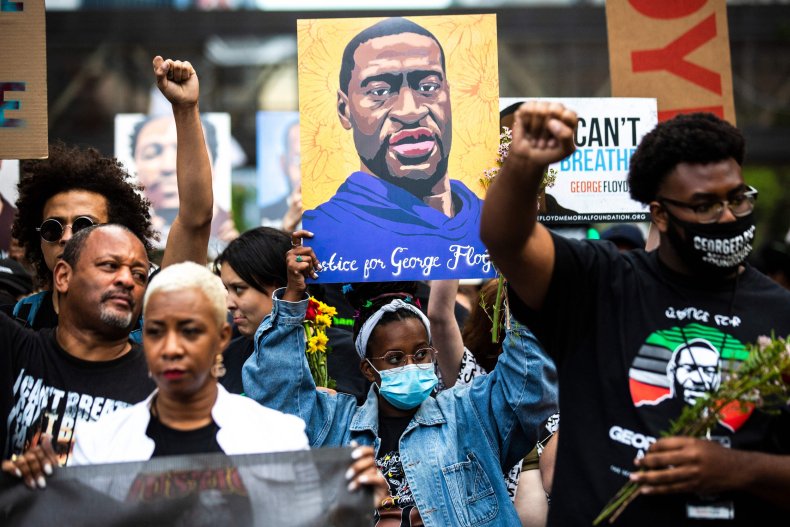 Hundreds of people gathered for the rally in front of the courthouse where Chauvin's murder trial concluded in April, the Associated Press reported.
Carrying signs featuring pictures of Floyd, Daunte Wright and other Black men killed by police, attendees chanted "no justice, no peace!" and "Say his name."
"It has been very frustrating for me and my family for our lives to change in the blink of an eye—I still don't know why," Floyd's sister Bridgett told attendees, which included Minnesota Gov. Tim Walz and Minneapolis Mayor Jacob Frey.
Other speakers at the event included the Floyd family's attorney Ben Crump and the Rev. Al Sharpton, who called on the U.S. Senate to pass the George Floyd Justice in Policing Act—legislation that would ban the use of chokeholds and establish a national database of police misconduct and a national standard on the use of force.
The event was organized by the George Floyd Memorial Foundation, a nonprofit launched by Floyd's siblings with a mission to to honor his legacy "by uniting and activating our communities to challenge the root causes of racial inequity and end the systemic violence affecting Black Americans," according to its website.