Four High School Students Suspended After Recreating George Floyd's Death on TikTok
Four high school students in South Carolina will not be allowed to attend the rest of the academic year after they shared a video online mocking the death of George Floyd.
According to a media release from Lexington District One, the video saw the students from White Knoll High School re-enact the death of Floyd. It was posted over the weekend.
George Floyd died of asphyxiation from sustained pressure in 2020 after police officer Derek Chauvin knelt on his neck for nine minutes and 29 seconds. Floyd's death ignited a summer of protests across the world. Chauvin was found guilty of second-degree unintentional murder, third-degree murder and second-degree manslaughter.
"Though the video was created off campus at a private home and shared outside of school hours, the unacceptable and disturbing actions of these students negatively impact their school and all of our students. The four students will not be allowed to return to school nor participate in any athletic or extracurricular activities, for the remainder of the 2021-2022 school year," reported the school district.
The video was shared to TikTok and was met with outrage from fellow students at White Knoll High School who signed a petition to demand the school take action.
"As many of you know [four] students posted a TikTok recreating and mocking the event of George Floyd's death. No matter your opinion on George Floyd himself we can agree that mocking his death is immoral, racist and wrong," wrote student Arielis Rivera who started the petition.
Rivera also prompted students to email their school principal and district school board members to "bring attention to this and make sure that it is properly handled."
The petition received almost 500 signatures and Rivera closed it after the school took action against the four students. The student also encouraged others not to dox or harass the suspended students, and pleaded that they let the school "properly punish" them instead.
Lexington 1 superintendent Greg Little added that the school and district "strongly condemn the actions of these students."
"Racism, in any form, will not be tolerated by our students or staff and will be addressed immediately," he said.
"Over the last few years, White Knoll High's staff and students have worked collectively toward bringing people together," said WKHS Principal Ted Daughtrey. "This incident highlights that we still have work to do. We reaffirm our commitment to ensuring all of our students and staff respect and learn from each other."
The school is also working with the Lexington County Community Mental Health Center to aid students with processing the event and are making in-school counselors available for students.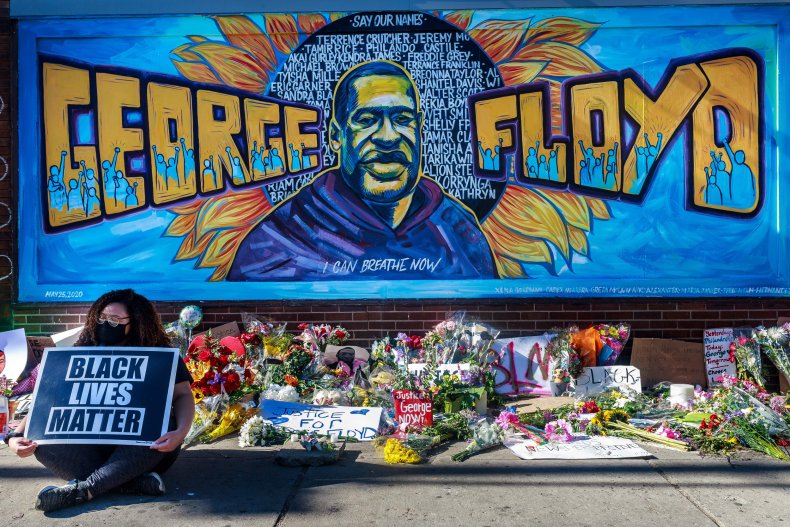 This week, a school in Wisconsin was also met with outrage after students shared an image recreating Floyd's death to a Snapchat group. Racine Lutheran High School reportedly emailed parents to say they were aware of the post and confirmed the students had been disciplined.
In 2020, concerns over a so-called "George Floyd Challenge" spread online as images and videos of individuals recreating Floyd's death circulated.
The "challenge," however, was not widespread and Newsweek was unable to find any evidence of a real trend online at the time, despite many claiming so. Instead, only a handful of images and footage recreating the death were posted online by individuals, with just one containing a reference to any challenge.
Two Minnesota construction workers were fired after posting an image of one kneeling on the other's neck and three teenage boys from the U.K. were reportedly arrested on suspicion of committing a hate crime after doing the same and captioning the image "police brutality."
A high school wrestling coach was also fired from his position after an image of a man kneeling on his neck circulated online. One image online, reported to be taken in Chicago or Ohio, did include the phrase "George Floyd Challenge" but was reportedly the only one to do so.
Despite concerns of a rising challenge, the hashtag #georgefloydchallenge contains videos raising awareness of the challenge, rather than actual evidence of it.
Correction 11/04/2021, 11:24 a.m ET: This article was updated to include extra information and comment from the school district.