George Floyd Did Not Have a Pulse When Medics Placed Him in Ambulance, Minneapolis Fire Department Report Shows
A report from the Minneapolis Fire Department shows George Floyd was unresponsive when emergency medical personnel transferred him into an ambulance at the site of his violent arrest on Monday.
The department's notes, which were shared to Twitter Wednesday afternoon by KARE reporter Lou Raguse, describe Floyd as "pulseless" upon its crew members' arrival to assist in his hospital transport.
"Medics performed pulse checks several times, finding none, and delivered one shock by their monitor," the report states, adding that Floyd's condition "did not change." It also recalls a prior encounter with an off-duty firefighter who witnessed his arrest and saw Floyd "go from struggling to unresponsive on the ground while handcuffed and subdued by PD."
The information corroborates what viral video footage released earlier this week indicated and further contradicts details included in the Minneapolis Police Department's original incident report.
In the first of two videos that surfaced related to his death, Floyd, a 46-year-old black man, struggles to breathe while a white officer kneels on his neck for several minutes. The officer does not stand up after Floyd eventually stops moving. The video recording was shared to Facebook on Tuesday, one day after the Minneapolis Police Department released a report saying Floyd "physically resisted officers" and seemed to be under "medical distress."
The report said Floyd passed away at Hennepin County Medical Center, the hospital where he was transported, "a short time later."
Footage from a store's security tape released later appeared to show Floyd complying with officers as they arrested him for suspected forgery. The four police officers involved in Monday's arrest were fired the same day, announced Benjamin Crump, the civil rights attorney hired by Floyd's family in a case against the Minneapolis Police Department, on Twitter.
Crump is also one of the lawyers representing the family of Ahmaud Arbery, the Georgia jogger killed in February, and previously represented the families of Trayvon Martin and Michael Brown.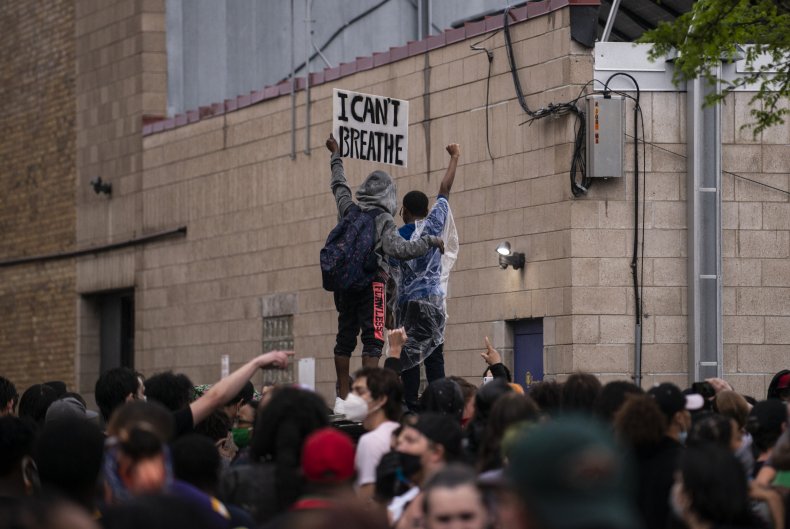 The Minneapolis Police Department updated its incident report on Tuesday to confirm the Federal Bureau of Investigations' additional involvement in Floyd's case.
Demonstrations have taken place in Minneapolis in the aftermath of Floyd's death. City police appeared to use tear gas against a group of protestors on Tuesday evening, and rubber bullets on Wednesday afternoon.
In a Tuesday statement, Minneapolis Mayor Jacob Frey apologized to Floyd's family and condemned the officers involved in his killing.
"Being black in America should not be a death sentence," Frey said. "When you hear someone calling for help, you're supposed to help. This officer [who knelt on Floyd's neck] failed in the most basic, human sense."
President Donald Trump also commented on Floyd's death Wednesday, telling reporters that it was "a very sad event." Trump added that he is expecting a full report on the incident on Wednesday, though he did not specify from whom.
Newsweek reached out to the Minneapolis Fire Department and Minneapolis Police Department for additional information but did not receive replies by time of publication.