George Floyd's Family Bringing Lawsuit Against Minneapolis, Police Officers
Attorneys for George Floyd's family will announce a civil lawsuit against the city of Minneapolis and the police officers charged in his death.
Civil rights attorney Ben Crump, along with co-counsel Antonio Romanucci, will announce the lawsuit on behalf of the Floyd family during a news conference planned for 11 a.m. CST on Wednesday.
The news conference will take place outside the Diana Murphy U.S. Courthouse in Minneapolis. A spokesperson for Crump told Newsweek that members of the Floyd family would not be present at the news conference.
The city of Minneapolis have been contacted for comment.
Floyd, a 46-year-old Black man, died on May 25 after a white Minneapolis police officer kneeled on his neck for more than eight minutes while he struggled for air.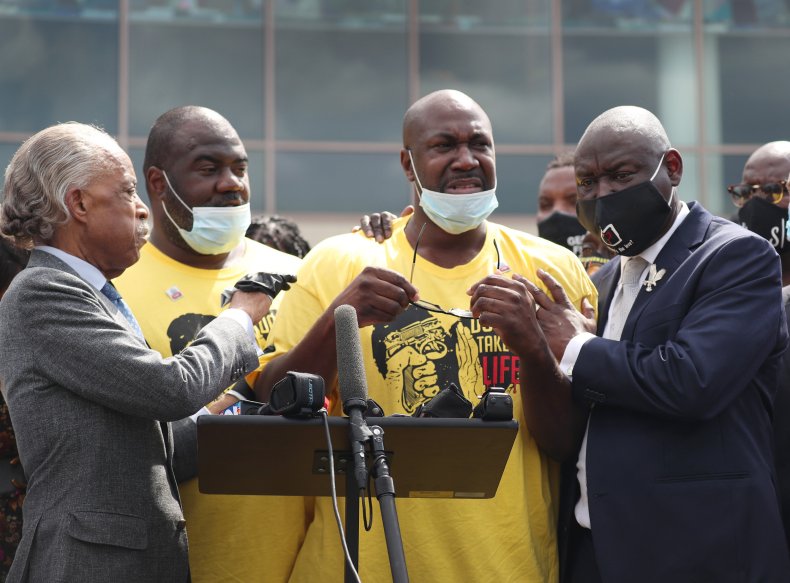 That officer, Derek Chauvin, and three others who were involved in Floyd's death—Tou Thao, Thomas Lane and J. Alexander Kueng—were fired by the Minneapolis Police Department the following day.
Chauvin has been charged with second-degree murder and manslaughter. The other three former officers are charged with aiding and abetting both second-degree murder and manslaughter.
Floyd's death set off protests in Minneapolis, which quickly spread across the U.S. and the world, with many calling to "defund the police" and reallocate funding to community organizations.
The Minneapolis City Council last month announced its plans to disband the city's police department and create a Community Safety & Violence Prevention Department to replace it.
President Lisa Bender said at the time that the move intended to "end our city's toxic relationship with the Minneapolis Police Department, to end policing as we know it, and to re-create systems of public safety that actually keep us safe."
Meanwhile, Janee Harteau, the former chief of the Minneapolis Police Department, previously told Newsweek that there "absolutely" is a problem of systemic racism in the department as well as in police forces across the country. "We need national standards. We need to start over," she said.
A virtual public hearing is due to take place on Wednesday evening about the proposal to abolish and replace the police department, before the issue can be presented to voters in order to make the change to the city's charter.
The nationwide demonstrations also triggered a reckoning on race in the country—with the effects seen in many facets of American life, from celebrities forced to apologize for wearing blackface to brands changing the names of products due to racist connotations.
Statues of Confederate leaders and other controversial historical figures, such as Christopher Columbus, have also been defaced or toppled by protesters or removed by authorities in recent weeks.
This article has been updated with a statement from a spokesperson for Ben Crump.