George Floyd's Family to Donate $500K to Local Businesses as Jury Selection Continues
The family of George Floyd dedicated $500,000 of a pre-trial settlement to local Minneapolis businesses, visiting his memorial as the process to select jurors for the trial proceeded.
"It's not the ultimate and full justice that we want, but I think it's the step in the right direction," Brandon Williams, the nephew of Floyd, said to CBS Minnesota of the $27 million settlement the city agreed to pay the family on Friday.
After accepting the settlement, the family came to 38th and Chicago Avenue in Minneapolis, where Floyd was killed last May as a Minneapolis police officer knelt on his neck. The intersection, known as George Floyd Square, has been turned into a memorial site, but the area's businesses have struggled to attract customers amid road closures and public associations of the area with the incident.
"That the largest pre-trial settlement in a wrongful death case ever would be for the life of a Black man sends a powerful message that Black lives do matter and police brutality against people of color must end," said attorney Ben Crump, who is representing Floyd's family, in a statement.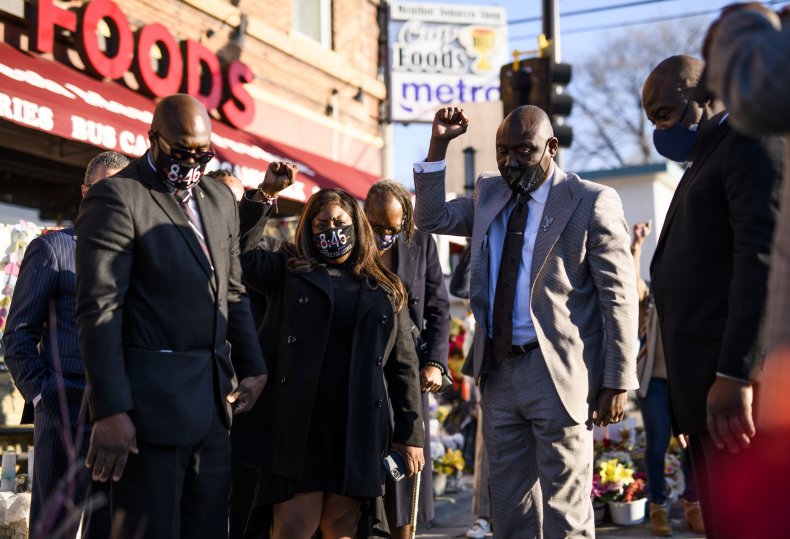 The family decided to give $500,000 of their settlement back to the community at 38th and Chicago. Floyd's relatives paid their respects at the memorial and engaged with businesses owners and employees who will be benefactors of their donation.
"It means a lot to give back and hopefully see these businesses flourish," Williams said.
The square was quiet earlier this week, the Star Tribune reported. A planned vigil and gathering of Black men at 38th and Chicago was cancelled last Saturday after a fatal shooting occurred.
The family's visit to the site of Floyd's killing came as the jury selection process continues for the trial of Minneapolis police officer Derek Chauvin, who has been charged with second-degree murder, third-degree murder and second-degree manslaughter. Half of the jurors who will listen to testimony in the trial were chosen by Friday after being questioned about their stances on police reform and racial basis, the Star Tribune reported.
The jurors selected so far include a multiracial woman in her 20s, a Black man in his 30s, a Hispanic man in his 20s, a white man in his 20s, and two other white men in their 30s, according to the Tribune.
The seventh juror, a white woman in her 50s, was selected Friday. In a live feed of the jury selection process, she said she had a "somewhat negative" view of Chauvin after seeing Facebook videos of Floyd's killing.
"A man died, and I am not sure that's procedure," she said. "Not all police are bad, but the bad behavior police need to go."
Hennepin County Judge Peter Cahill has given three weeks to select 14 jurors before the trial commences on March 29.