Man With More Favorable Opinion of BLM Than Police Chosen as George Floyd Trial Juror
A man who admitted to having a more favorable opinion of the Black Lives Matter movement than of the police was chosen as a juror on Wednesday for the trial of Derek Chauvin, a former Minneapolis police officer charged with killing George Floyd.
The juror, a white man who works in sales management, said he had a "very favorable" opinion of Black Lives Matter and a "somewhat unfavorable" opinion of the Blue Lives Matter counter-movement, according to the Associated Press.
However, the man said he "somewhat agreed" that police don't get as much respect as they deserve, and noted that the entire police force shouldn't be blamed for a few bad actors. He ultimately told the court that he would present an unbiased opinion during the proceedings.
"Are there bad police officers? Yes. Are there good ones? Yes. I don't think it's right to blame the entire organization," he told the court during his jury selection process.
The man was the fourth juror to be chosen since Tuesday, when the jury selection officially began.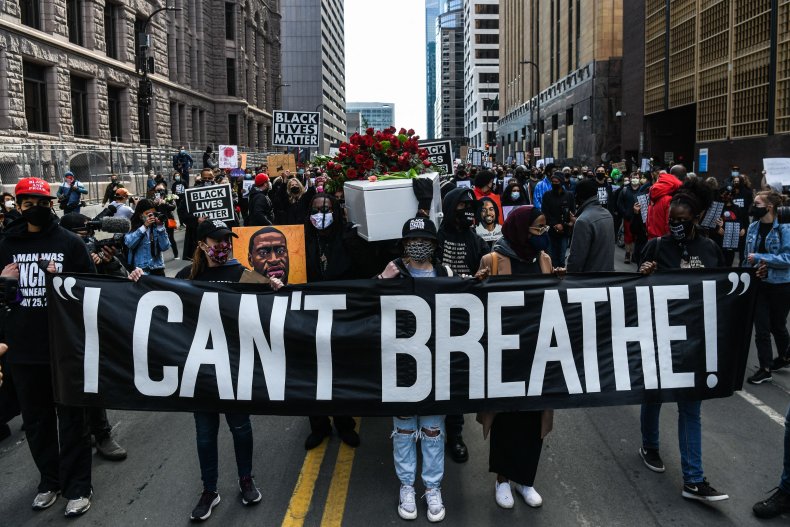 For more reporting from Newsweek, see below:
Floyd, a 46-year-old Black man, died on May 25 last year after Chauvin, who is white, pressed his knee into Floyd's neck for more than eight minutes while he cried "I can't breathe" multiple times. Chauvin and other officers were arresting Floyd for allegedly using a counterfeit $20 bill at a corner store.
Widely circulated cellphone footage of the encounter sparked protests against police brutality and racial injustice in Minneapolis that quickly spread across the U.S. and beyond.
Floyd's killing became a rallying cry for the Black Lives Matter movement, fueling a summer of protests and sparking a national reckoning on race and policing.
Chauvin, 44, and three other officers involved in Floyd's death were fired, and later arrested.
Chauvin is charged with second-degree murder and manslaughter. Earlier this year, Hennepin County Judge Peter Cahill ruled that Chauvin will be tried alone due to capacity issues.
Prosecutors have asked the Court of Appeals to delay the trial until the issue of whether or not to reinstate a third-degree murder charge is resolved. But Hennepin County Judge Peter Cahill said on Monday that he would continue with proceedings until the appellate court ordered otherwise.
The Jury selection process includes questions about racial justice and police that are meant to vet those who have biased opinions about the case.
On Tuesday, a defense lawyer for Chauvin dismissed a woman for calling the police officer's actions "unjust" and "not fair."
The juror, a mother of three from Mexico, said she saw video footage of Chauvin kneeling on Floyd's neck last summer, and couldn't understand why the officer didn't get up when Floyd said he couldn't breathe.
"That's not fair because we are humans, you know?" she said during the selection process.
For more reporting from the Associated Press, see below:
The juror chosen for the panel on Wednesday also said he has Minnesota Vikings' season tickets as part of a family group, but said under questioning that he doesn't have a problem with players taking a knee to protest racism and doesn't consider it disrespectful to police or the military, as critics of the practice do.
He said he had one potential problem — he's scheduled to get married May 1 in Florida but was prepared to change his plans if the trial continues that long. Opening statements are scheduled for no sooner than March 29 and testimony is expected to last about four weeks, so it could get tight.
"We'll do our best to get you to your wedding," Judge Peter Cahill said as he informed the man he was on the jury. "Go ahead and throw me under the bus with your fiancée."
The first four jurors who were selected — three men and one woman — all said they had heard some details about the case against Chauvin but would be able to put aside what they heard or opinions they had formed and make a decision based on evidence in court.
One of the selected jurors said he hadn't seen the bystander video of Floyd's arrest at all, while the others described seeing it minimally.