3rd-Degree Murder Charge in George Floyd's Death Under Review Days Before Jury Selection Begins
A third-degree murder charge related to George Floyd's death is now under review, just days before the jury selection process is set to begin in the trial of Derek Chauvin a former Minneapolis police officer, among those accused of killing the Black man.
On Friday, the Minnesota Court of Appeals called for a judge to reconsider reinstating the third-degree murder charge against Chauvin. Hennepin County Judge Peter Cahill dismissed the charge, one of seven issued against Chauvin, in 2020.
"In this pretrial appeal, the State of Minnesota challenges the district court's order denying the state's motion to reinstate a charge of third-degree murder against respondent, which was previously dismissed for lack of probable cause," the ruling from the Court of Appeals said.
The ruling called for Cahill to follow a similar path taken by the state's court of appeals last month, when it affirmed a third-degree murder charge in the case against former officer Mohamed Noor for his role in the 2017 fatal shooting of Justine Ruszczyk Damond.
"This court's precedential opinion in Noor became binding authority on the date it was filed," the appeals court wrote. "The district court therefore erred by concluding that it was not bound by the principles of law set forth in Noor and by denying the state's motion to reinstate the charge of third-degree murder on that basis."
Attorney General Keith Ellison wrote in a statement that "We believe the charge of 3rd-degree murder, in addition to manslaughter and felony murder, reflects the gravity of the allegations against Mr. Chauvin. Adding this charge is an important step forward in the path toward justice. We look forward to presenting all charges to the jury in Hennepin County."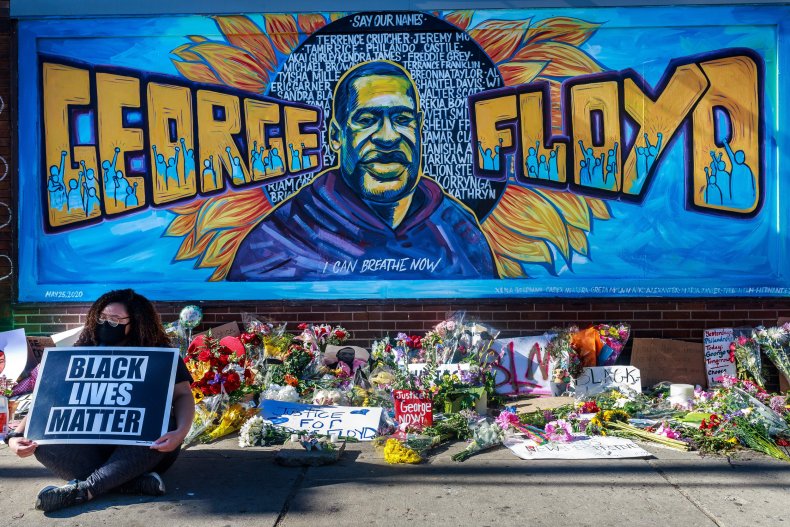 For more reporting from Newsweek reporter Katherine Fung, see below.
Floyd, a Black man, died after Chauvin, a white officer, knelt on his neck for nearly nine minutes during his arrest for allegedly using a counterfeit $20 bill.
A video of the incident went viral and sparked national and global protests against police brutality and systemic racism. Racial justice activists demonstrated in all 50 states over the summer.
Floyd was survived by his five children and two grandchildren, as well as his brothers and sisters, Philonise, Terrence, LaTonya and Bridgett, who became leading voices of protest in the wake of his death.
Chauvin's trial is scheduled to start next Monday, with jury selection and opening arguments to begin March 29.
He has been charged with second-degree murder and manslaughter.
The other three former officers involved in Floyd's arrest and subsequent death, Thomas Lane, J. Alexander Keung and Tou Thao, have been charged with aiding and abetting second-degree murder and manslaughter. Their trial is scheduled to start at the end of August.
For more reporting from the Associated Press, see below.
It was not immediately clear if Friday's ruling would force a delay in jury selection for Chauvin's case. Prosecutors did not immediately return a message seeking comment on whether they would seek a delay. Chauvin's attorney had no comment.
A reinstated third-degree murder count could increase the prosecution's odds of getting a murder conviction.
The appeals court rejected argument by Chauvin's attorney that the Noor ruling shouldn't have the force of law unless and until it's affirmed by the Minnesota Supreme Court, which will hear oral arguments in Noor's appeal in June.