Ben Crump, the attorney representing George Floyd's family, has called on the United Nations to intervene and investigate the circumstances around the middle-aged black man's death and to make recommendations about law enforcement reforms.
"Among the reforms requested were deescalating techniques, independent prosecutions and autopsies for every extrajudicial police killing in an effort to stop further human rights abuses including torture and extrajudicial killings of African Americans to protect their inherent and fundamental human right to life," Crump said in a statement about the June 3 letter sent to the U.N.
"The United States of America has a long pattern and practice of depriving Black citizens of the fundamental human right to life ...The United States government has consistently failed to hold police accountable and did not bring Federal criminal charges even in cases with irrefutable video evidence. When a group of people of any nation have been systemically deprived of their universal human right to life by its government for decades, it must appeal to the international community for its support and to the United Nations for its intervention," Crump said.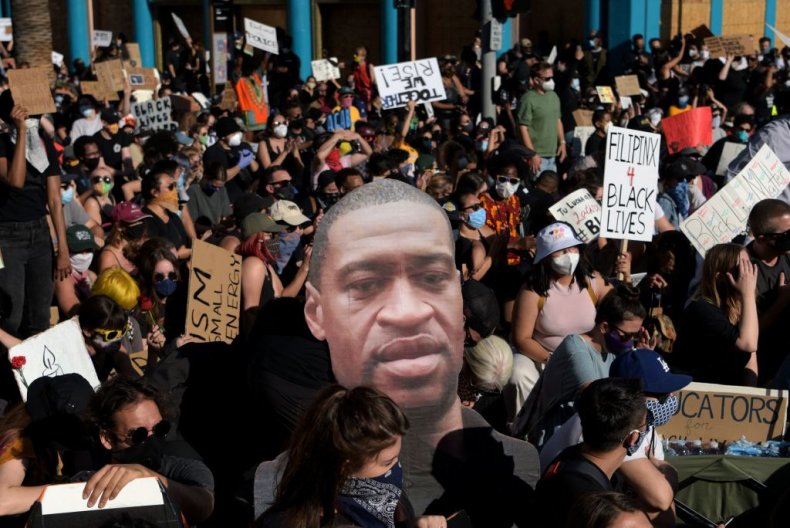 Newsweek reached out to the United Nations for comment on the letter from Floyd's attorney and family, but they did not respond by the time of publication.
Floyd was detained by police in Minneapolis, Minnesota on May 25 for allegedly attempting to use a counterfeit $20 bill. A video of the arrest went viral online, showing white officer Derek Chauvin kneeling on Floyd's neck for nearly nine minutes as he yelled: "I can't breathe." The unarmed black man was pronounced dead at a nearby hospital shortly later.
Chauvin and three other officers involved in the arrest have been fired and criminally charged over Floyd's death. The Minneapolis City Council also voted with a veto-proof majority on Sunday to disband the police department and instead invest in a new community safety plan. But protests have persisted nationwide, as activists have called for an end to what many see as systemic racism in policing and the justice system in the U.S.
Last Wednesday, Michelle Bachelet, the U.N. high commissioner for human rights, called out "structural racism" in the U.S.
"The voices calling for an end to the killings of unarmed African Americans need to be heard. The voices calling for an end to police violence need to be heard. And the voices calling for an end to the endemic and structural racism that blights US society need to be heard," Bachelet said.
U.N. Secretary-General António Guterres issued a more general statement on Friday about the problem of racism around the world.
"The fight against racism is at the core of the @UN's work. But if racism exists everywhere, it exists within the United Nations. Yesterday, staff joined together to express solidarity with victims & share concerns," Gutteres tweeted. "We must move forward with introspection, honesty & action."