Multiple Trump administration officials on Sunday pushed back against concerns expressed by protesters nationwide that there is "systemic racism" in the U.S. justice system, suggesting instead that there are individual racists that should be rooted out.
Massive demonstrations have been held across the country, and around the world, following the case of George Floyd, a middle-aged black man who died in police custody on May 25. Protesters have pointed to what many see as systemic racism in policing and the justice system, urging significant action and reform to address the problem.
While President Donald Trump and numerous administration officials have called for justice for Floyd, they have largely dismissed the suggestion that there is a systemic issue.
"I do not think that we have a systemic racism problem with law enforcement officers across this country," acting Department of Homeland Security Secretary Chad Wolf said on Sunday during an interview with ABC News' This Week. "Do I acknowledge that there are some law enforcement officers who abuse their job? Yes. And again, we need to hold those accountable."
During the interview, Wolf said that there are "criminals" in every profession. He also raised concerns about law enforcement officers being targeted, saying that they should be protected.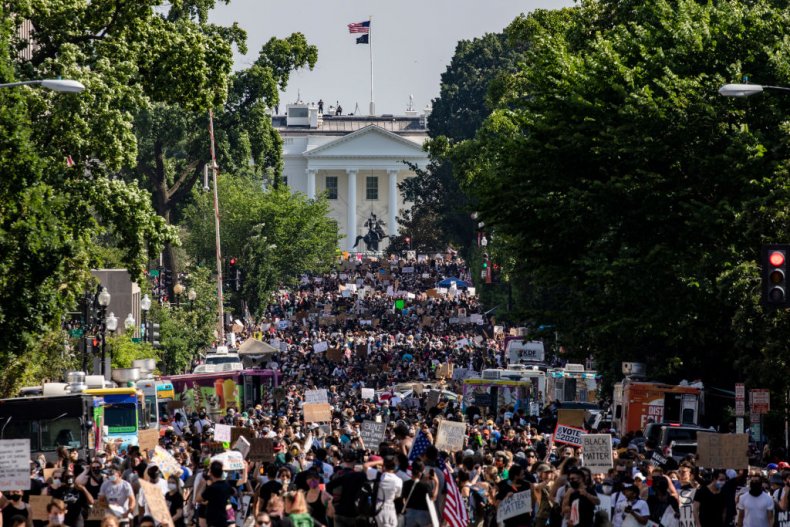 Attorney General William Barr made similar remarks in an interview with CBS News' Face the Nation on Sunday.
"I think there's racism in the United States still, but I don't think that the law enforcement system is systemically racist," Barr said.
"I understand the distrust, however, of the African-American community given the history in this country. I think we have to recognize that for most of our history, our institutions were explicitly racist," the nation's top prosecutor said. "Since the 1960s, I think we've been in a phase of reforming our institutions and making sure that they're in sync with our laws and aren't fighting a rearguard action to impose inequities."
Barr said that reform is "difficult" but argued that it is "working and progress has been made." He pointed to major shifts in how the military has operated and changed over the last few decades to ensure that it is not a racist institution. "I think law enforcement has been going through the same process," he said.
The attorney general went on to defend the police, saying that their immunity should not be reduced. "Policing is the toughest job in the country," Barr said, adding that he believes the "overwhelming majority of police are good people."
Secretary of Housing and Urban Development Ben Carson, who is African American, shared a similar response when he was asked about systemic racism during a Sunday interview with CNN's State of the Union.
"I grew up at a time when there was real systemic racism," Carson said, suggesting the issues today were not systemic. The cabinet official said there are still "racists" but argued that the present moment is an "opportune time" to address persistent issues. "We need to deal with some of the issues in the police departments, but it's an easy time to do it," he said.
The Trump cabinet officials' remarks reflected those made by National Security Adviser Robert O'Brien last Sunday during an interview with CNN's State of the Union.
"No, I don't think there's systemic racism," O'Brien said. "I think 99.9 percent of our law enforcement officers are great Americans and many of them are African American, Hispanic, Asian. They're working the toughest neighborhoods, they've got the hardest jobs to do in this country. I think they're amazing, great Americans, and they're my heroes. But you know what, there are some bad apples in there."
Newsweek reached out to the White House to ask if the president shares the same position voiced by the multiple administration officials.
Trump has expressed his condolences over the death of Floyd, while also calling for justice to be served in the case. However, the president has drawn widespread criticism for his response to demonstrations that have taken place across the country. He also said on May 30 that his administration was working "toward a more just society."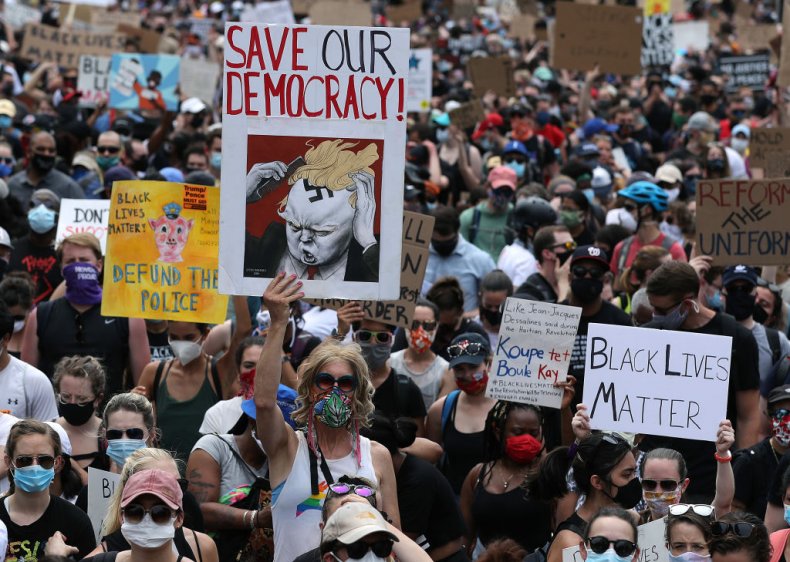 Speaking at the White House on Friday morning, the president said that having a strong economy would address the problem of racism in society.
"What's happened to our country, and what you now see — what's been happening — is the greatest thing that can happen toward race relations, toward the African American community, the Asian-American, the Hispanic-American community, for women, for everything," Trump said.
When a reporter pushed back, noting that black unemployment had actually risen slightly, even as unemployment overall had improved, he dismissed her question without answering. "You are something," the president said.
The Trump administration officials' remarks stand in contrast to those of prominent Democrats and even some leading Republicans, who have said that the country should address systemic racism moving forward.
"How do we end systemic racism in our society? The only way to see ourselves in a true light is to listen to the voices of so many who are hurting and grieving," former Republican President George W. Bush said in an official June 2 statement. "Those who set out to silence those voices do not understand the meaning of America — or how it becomes a better place." Many saw the statement as veiled criticism of Trump.
Senate Majority Leader Mitch McConnell, a Republican from Kentucky, also suggested that systemic racism is a problem in a response to a reporter's question about the issue last week.
"There's no question there is residual racism in America," McConnell said. "It's not in dispute. It's been a long time dilemma and we all wish we could get to a better place."
In a speech about Floyd's death last week, presumptive Democratic presidential nominee Joe Biden said that now is the time to address the issue of racial disparities in the justice system.
"We can't leave this moment thinking we can turn away and do nothing. The moment has come for our country to deal with systemic racism," Biden said.