George Santos Co-Sponsors Dog Bill Amid Accusation He Stole Puppies
George Santos has been accused of stealing two puppies from an Amish dairy farmer by purchasing them with a check which later bounced, as pressure on the House Republican mounts.
Despite controversy over his position Santos has co-sponsored 16 bills since arriving in Congress last month, including one to mint special coins to raise funds for working dogs.
However, a dairy farmer from Lancaster County, Pennsylvania, said the New York congressman's interaction with dogs has not always been so benign.
Talking to CNN on the condition of anonymity the Amish farmer, who breeds dogs as a side business, said a man he believes was Santos visited his farm with an assistant to discuss buying puppies.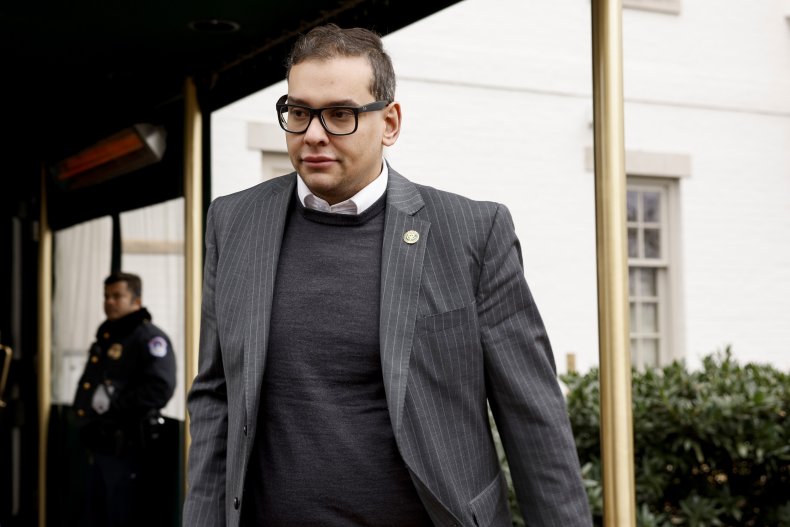 "He says, 'we are going to take that puppy and that puppy.' And his assistant grabs the two puppies, takes them out the door, and he pulls out a check. I was like, 'oh no, is this guy going to pay me with a check?' I was very suspicious," the farmer said.
When the farmer attempted to deposit the check, made out in the name of George Santos, he said it bounced, and he never received the payment that had been agreed.
Newsweek reached out to Santos for comment.
In 2017, Santos was charged with "theft by deception" after nine bad checks, totaling $15,000, were made in his name to Pennsylvania dog breeders.
Santos denied the allegation, claiming one of his checkbooks had gone missing, and the case was later dismissed.
Tiffany Bogosian, a lawyer and former friend of Santos who wrote to a Pennsylvania state trooper on his behalf saying one of his checkbooks was missing, told CNN she no longer believes this version of events.
Since being sworn into the House of Representatives, Santos has been listed as a co-sponsor of 16 bills, including legislation to repeal President Biden's 2022 Inflation Reduction Act and to financially penalize universities that don't ban TikTok on their campuses.
He also co-sponsored the Working Dog Commemorative Coin Act which instructs the Department of Treasury to mint a series of commemorative coins honoring service working dogs, with the proceeds donated to the America's VetDogs charity.
According to its website, America's VetDogs provides working dogs to veterans, active-duty service members and first responders who have physical or mental disabilities.
Santos has been under pressure to resign since allegations emerged in December that he fabricated much of his backstory, including his education, employment history and that he was the "grandson of Holocaust survivors."
Last week Derek Myers, who volunteered in Santos' congressional office in January, alleged the congressman groped him without consent. Santos denied the allegation, branding it "comical."
Santos rescinded himself from two House committees in January as he awaits the outcome of an ethics investigation into his conduct.