George Santos Confronted About Lies in Car Crash Piers Morgan Interview
George Santos admitted to having "been a terrible liar," and said he "got away with" it when he ran for Congress in 2020, during an interview with Piers Morgan.
The embattled House Republican spoke with Morgan on his TalkTV show, which was broadcast on Monday.
Santos was asked to begin his "cathartic process of redemption" by admitting, "I've been a terrible liar."
He said "sure," adding: "I've been a terrible liar on those subjects. What I try to convey to the American people is I make mistakes of allowing the pressures of what I thought needed to be done. This wasn't about tricking anybody."
Morgan replied: "Yes it was! The whole thing was about tricking people."
Santos said: "This was about getting accepted by the [Republican] party," rather than "tricking the people."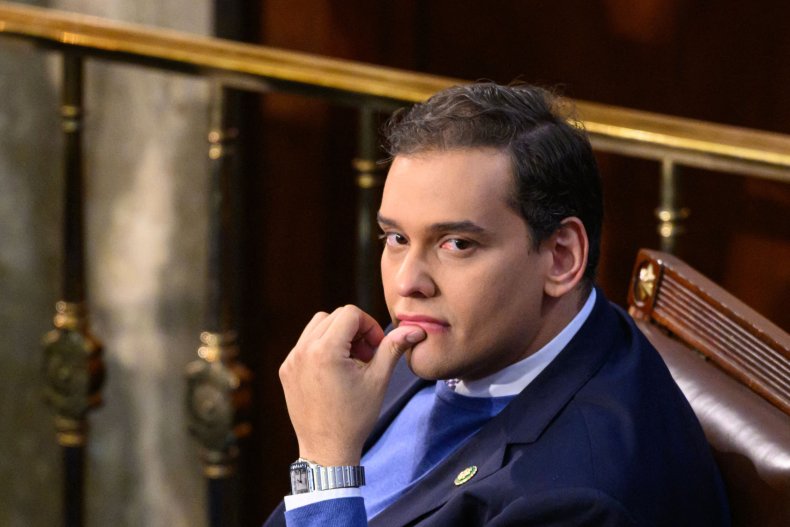 The New York Republican has been facing calls to resign since it emerged he fabricated much of his backstory, including his claims to have graduated from Baruch College, worked for two top Wall Street firms and lost three employees in the 2016 Orlando Pulse nightclub massacre.
Asked by Morgan why he felt able to get away with lying, Santos noted he'd run for the same congressional seat in 2020 "and I got away with it then."
Morgan brought up a number of specific allegations against Santos, including claims he lied about being the "grandson of Holocaust refugees" and lost his mother due to the 9/11 terrorist attacks.
Santos had claimed his maternal grandparents fled from first Ukraine, then Belgium, to avoid the Nazis. An investigation by The Forward concluded they were born in Brazil prior to World War II.
Santos told Morgan he'd "never claimed to be Jewish," but instead called himself "Jew-ish" and described this as "a party-favorite joke."
After Morgan asked, "what's funny about falsely claiming you're Jewish?" Santos replied: "No, no, no. Not falsely claiming I'm Jewish. I'd always say I'm, I was raised Catholic but I come from a Jewish family, so that makes me Jew-ish.
"It's always been a party favorite. Everybody's always laughed. And now that everybody's canceling me, everybody's pounding down for a pound of flesh."
Santos had previously claimed the 9/11 terrorist attacks "claimed my mother's life," and that she had been in the World Trade Center when they took place.
The New York Republican refused to discuss this when challenged by Morgan, saying: "Respectfully, please, I won't debate my mother's life, as she's passed in '16 and I think it's, it's quite unsensitive for everybody to want to rehash my mother's legacy."
Asked about his newfound fame, Santos said: "I can't stand it. And a lot of people think I love it. I just can't stand it."
Santos has been accused of unwanted groping by Derek Myers, who spent a week volunteering in his congressional office last month, which he "100 percent" denies.
Speaking to Newsweek Myers said he had complained to both United States Capitol Police and the House ethics committee, and believed the latter had "begun interviewing former co-workers of mine."
Newsweek has contacted Santos for comment.