George Santos Offered 'Landing Pad' as Drag Queen in Pride Parade
Republican Congressman George Santos' time as a performing drag queen in Brazil has drawn new taunts from one U.S.-based Pride group.
Earlier this month, multiple reports surfaced of Santos, 34, performing as an amateur drag queen named Kitara Ravache when he lived in Brazil about 15 years ago.
After initially blaming the media for publicizing "outrageous claims" and calling the allegations "categorically false," Santos confirmed days later that he had performed in drag at least one time during a festival in his youth.
San Francisco Pride, which annually hosts about 1 million attendees as part of the nation's largest gathering of LGBT individuals and allies, on Friday mocked Santos' "occasional moonlights" as Kitara Ravache and the various financial investigations currently taking place due to his myriad fabrications.
The first-term New York representative was even offered a faux invite to the city.
"All of us at San Francisco Pride are so excited to be able to give an up-and-coming drag queen a platform to showcase their art to large audiences," San Francisco Pride President Nguyen Pham said in a statement. "Santos is clearly not qualified to serve in the U.S. House of Representatives, vote on the federal budget, or authorize the declaration of war.
"We're honored to offer him this landing pad when his political career inevitably implodes."
San Francisco Pride interim Executive Director Suzanne Ford referred to Santos as "a modern-day Roy Cohn for the Republican Party" due to his defenses of Florida Governor Ron DeSantis' "Don't Say Gay" bill and "advancing the harmful lie that LGBTQ+ people in general, and drag queens specifically, are 'groomers' preying on children."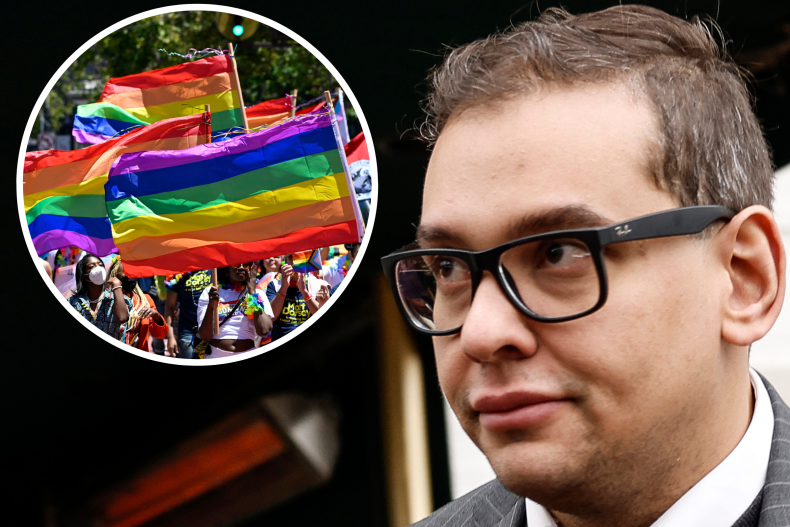 Ford added that Santos' theoretical appearance would allow for community members to practice their tomato-throwing skills.
"It is disgusting to see a gay man, someone who should be advocating for the rights and protection of his own community, to be peddling lies and deadly stereotypes," Ford said. "He's a 'pick me' for the worst elements of our society, and the sooner he resigns in shame, the better."
House Speaker Kevin McCarthy has mostly refrained from commenting on the numerous allegations against Santos, which have surfaced from Santos' distortions of his career background, educational history and even his Jewish heritage.
McCarthy instead has punted the congressman's problems to the House Ethics Committee, now chaired by GOP Representative Michael Guest—a major Donald Trump supporter.
Casey Burgat, an assistant professor and director of the Legislative Affairs program at the Graduate School of Political Management at George Washington University, told Newsweek that McCarthy's relative silence on Santos is an "Occam's razor" situation in that the simplest explanation is the right one: He can't afford to lose Republican votes.
"There's not a huge win for McCarthy here politically, especially in the honeymoon period, and Santos is a guaranteed McCarthy vote," Burgat said. "There's not a lot of wiggle room for him to lose votes, despite the potential embarrassment of other shoes to fall. Santos is that loyalist vote."
Other Republicans have been more vocal about Santos.
GOP Senator John Kennedy of Louisiana called Santos as "nutty as a fruitcake" and called for him to get the "boot" should his lies be verified through due process.
Former White House adviser Steve Bannon has referred to Santos as "bulletproof" as his litany of embellishments have piled up yet he remains a member of McCarthy's razor-thin majority.
The Pride organization did clarify that its real headliners would be announced soon, and that Santos "isn't allowed anywhere near the main stage" during the event in June.