George Santos' Pregame Super Bowl Tweet Sparks Wave of Jokes
Representative George Santos, a New York Republican, posted a tweet celebrating the Super Bowl on Sunday, sparking a wave of jokes and memes mocking him for allegedly making up parts of his resumé.
Santos has faced scrutiny after The New York Times reported that key aspects of his biography, including his academic and professional experience, were untrue just weeks after he narrowly won a competitive congressional race in a district encompassing parts of Long Island and Queens during the 2022 midterm elections.
The GOP lawmaker acknowledged that parts of his resumé were embellished, but more allegations about his past have since emerged, prompting some of his constituents to call for his resignation. Others, meanwhile, have poked fun of the scandals that marred Santos' first month in Congress.
When the congressman posted a tweet ahead of the Super Bowl, in which the Philadelphia Eagles will play against the Kansas City Chiefs, critics rushed to respond with jokes. Santos' tweet was simply just an emoji of a football and a bowl of ice cream.
Dan Hill, founder of public relations firm Hill Impact, tweeted in response: "Must be tough to not be out there. How many Super Bowl rings did you win again? I know it's more than Brady. Were you dating Rhianna when you wrote We Find Love? Honestly, I shouldn't be making light of your lies. Resign. Fraud."
Writer Ethan Sacks wrote: "Good luck in the game today! Amazing that you are the starting quarterback for both teams and performing in the halftime show."
Representative Eric Swalwell, a California Democrat, made his own jab at the GOP lawmaker, tweeting: "Does anyone have the set list for George Santos's Super Bowl halftime performance?"
Santos has faced significant backlash over his fabrications, with members of his own party calling on his resignation. Last week, GOP Senator Mitt Romney of Utah told him before President Joe Biden's State of the Union address that he "shouldn't have been there."
Sunday's ridicule come just days after Santos' latest scrutinized claim. During a recent Newsmax appearance, the congressman said that he founded his company, the Devolder Organization, in 2001, when he would have been 12 or 13 years old. He has also faced questions about his campaign finances.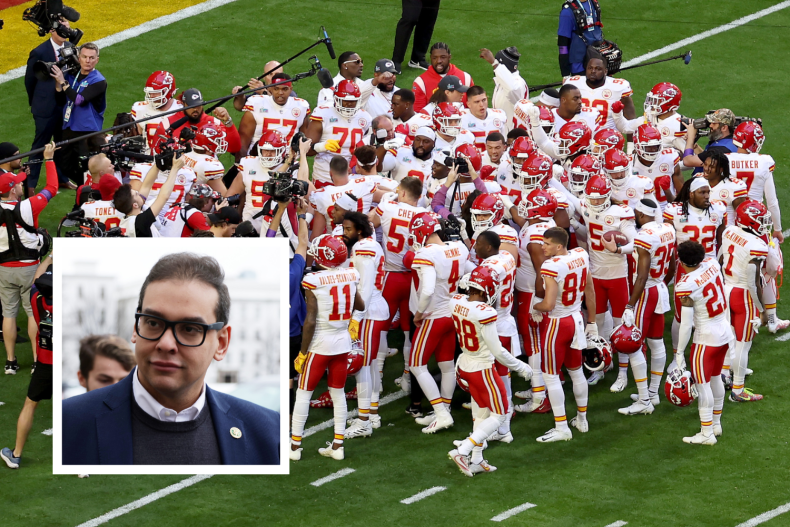 Santos' other disputed biographical claims include that he graduated from Baruch College in 2010, despite the school having no record of him ever attending as a student. He later admitted that he did not graduate from "any institution of higher learning."
He has also claimed that he worked for Goldman Sachs and Citigroup. He has also faced backlash for saying his mother was in the South Tower of the World Trade Center during the 9/11 terrorist attack, despite records showing she was not, according to the Times.
Newsweek reached out to Santos' office for comment.