Georgia Officer Feared Capitol Riots Repeat When He Arrested Park Cannon
The police officer who arrested Georgia state representative Park Cannon as she knocked on the door of Governor Brian Kemp's office to oppose a bill that tightened voter rules, said he feared her actions could spur other protesters to turn violent.
Lt. G.D Langford said when he saw Cannon refuse his requests to stop knocking on the door of Kemp's office who was signing the controversial SB 202 legislation, he feared a repeat of the insurrection in the U.S. Capitol.
"The events of January 6, 2021 at the U.S. Capitol were in the back of my mind," Langford wrote in an incident report obtained by The Atlanta Journal-Constitution.
Langford was concerned that a group of protesters had gathered in the lobby and "began to get louder as she was refusing to follow my commands." He said, "I didn't want the protestors to attempt to gain entry into a secure part of the Capitol."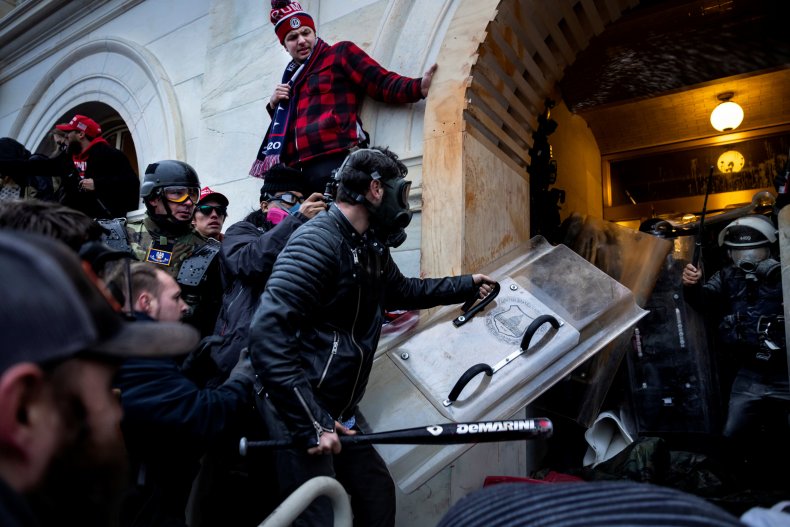 He said he had tried to stay calm and "de-escalate the situation" but Cannon continued to knock. In an action that has sparked widespread condemnation, he grabbed her right wrist and handcuffed her with the help of another officer and marched her out of the building.
"I believed Cannon's actions of obstructing law enforcement in front of agitated protestors to constitute a breach of the peace," he added.
In a statement, Georgia state troopers said that "she was instructed that no one was in the front office and to stop beating on the door," Fox 5 reported.
Two other officers said after Cannon was arrested, they rushed to secure the governor and the first lady, according to the Journal-Constitution. Officer Vince Mooney said he was inside Kemp's office when a staffer said that "the crowd was attempting to breach the wooden doors" that Cannon had been knocking on. However, witnesses told the publication there had been no attempt to breach the doorway.
Cannon's arrest highlighted the heated debate surrounding the Peach State's new election rules which include imposing voter ID requirements and limiting drop boxes.
Democrats such as Cannon say the changes are simply a response to the false claims by former President Donald Trump that the 2020 election was marred by fraud and will disenfranchise Black voters, who contributed to Democratic Party gains in Georgia.
Cannon has been charged with two felonies of obstructing law enforcement and disrupting a general assembly session. A conviction on obstruction can result in a jail sentence of up to five years.
The Georgia Democratic Caucus is calling for the charges to be dropped against Cannon, who returned to the state Capitol building on Monday, escorted by her supporters and Martin Luther King III.
Meanwhile, her attorney, Gerald Griggs, has vowed to fight the charges in court and disputes Langford's injury claims, telling CNN, "We're going to fight this case all the way to jury trial."
Newsweek has contacted Cannon's office for comment.