Georgia Sees Highest Single-Day Rise in Coronavirus Cases Since Reopening as More Restrictions Lifted
New cases of the coronavirus in Georgia rose by over 25 percent on Thursday, the same day that Georgia Gov. Brian Kemp lifted a shelter-in-place order for those aged 65 and older, among other restrictions.
The number of new cases jumped from 731 reported on Wednesday to 993 on Thursday, according to the latest figures from Johns Hopkins University. Thursday's spike marked a single-day increase of over 26 percent and the largest jump in cases since the state reopened in early May.
The increase, which brought the total confirmed cases in Georgia to 54,973, marks the largest single-day spike since May 1, when 1,236 new cases were reported. Most businesses resumed operations from early May, while a selection of venues were allowed to reopen from April 24.
The state's seven-day rolling average of daily cases has been on a mostly increasing trend from May 26, the day after Memorial Day, through June 1. That average has been on a mostly declining trend since June 1, according to preliminary reports of the daily case count from June 1 to 11, the Georgia Department of Public Health confirmed.
The latest spike in daily cases coincided with a new executive order issued Thursday by Kemp, which is in effect from June 16 to 30, unless otherwise stated in specific sections of the order.
The new order longer requires those aged 65 and older to shelter in place unless they fit certain criteria outlined in the order.
Under the new order, restaurants no longer have a limit on the number of patrons allowed per square foot. Restaurants and movie theaters no longer have a limit on the number of people who can sit together.
Barber shops, hair salons, tattoo parlors, massage and tanning facilities can accept walk-in customers.
Gatherings of more than 50 people are banned, unless a six feet distance can be maintained between each person. Camp workers may not attend overnight summer camps unless they've had a negative COVID-19 test result within 12 days prior to starting camp.
From July 1, live performance venues may also resume operations provided they meet certain criteria.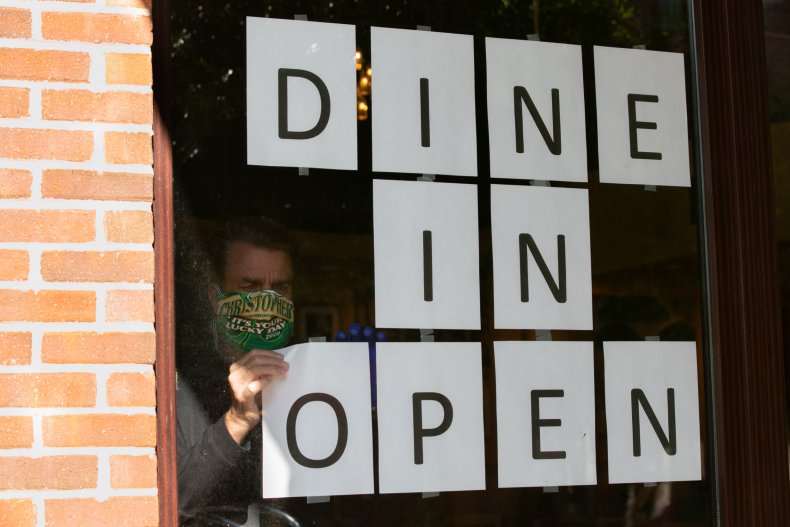 Several states across the country have reported a rise in cases since reopening.
On Thursday, Florida reported its largest single-day rise in cases since the outbreak began. Thursday's daily case count marked a nearly 70 percent increase on the figure reported since the state reopened on May 5, when 542 new cases were recorded.
Daily case counts in California and Texas, the country's two most populous states, have nearly doubled this month, from the daily case numbers recorded when the states began reopening in May.
The recent spike in cases seen in Arizona, where the stay-at-home order expired on May 15, was said to be "definitely related" to the state's reopening, according to a former director of the Arizona Department of Health Services.
The novel coronavirus, which was first reported in Wuhan, China, has infected more than 7.5 million across the globe, including more than two million in the U.S. Over 422,100 have died, while more than 3.5 million have reportedly recovered from infection, as of Friday, according to the latest figures from Johns Hopkins University.
The graphics below, provided by Statista, illustrate the spread of COVID-19 in the U.S. and the worst-affected countries.