Georgia Dem Ossoff Spars With Fox News Reporter On Air: 'C'mon Man'
Fox New's Peter Doocy sparred with Georgia Democratic Senate candidate Jon Ossoff, who is running against incumbent Republican Senator David Perdue, outside a political meet-and-greet in Suwanee, Georgia on Thursday.
Doocy asked Ossoff if he was concerned that someone linked to China could be attempting to influence him, referring to California Congressman Eric Swalwell, who had been reportedly targeted by a Chinese espionage operation.
"C'mon man. You're a serious reporter," Ossoff said to Doocy.
Doocy previously asked the Democratic candidate why he waited until after the primary to reveal his business dealings with a company in Hong Kong that was allegedly linked to the Chinese government.
To which Ossoff responded: "This is utter nonsense."
"My company has produced multiple investigations of atrocities committed by ISIS war criminals," Ossoff continued, referencing his previous work for a media business. "And these investigations have been aired by dozens of television channels in dozens of countries all over the world. And one of those television channels was in Hong Kong. That is the entire substance of Senator Perdue's campaign against me."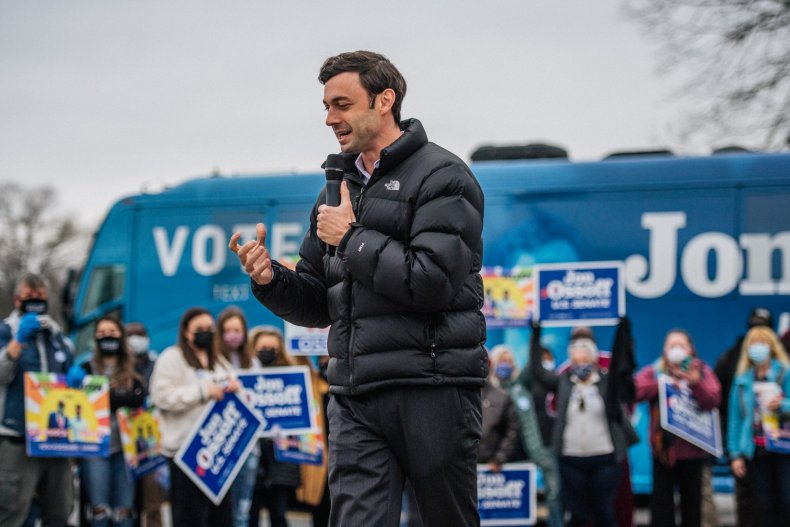 The Democratic candidate then claimed that Perdue ran factories in China's Shenzhen province in cooperation with the Chinese Communist Party and outsourced U.S. jobs to China.
Doocy's questions followed Perdue's allegations of Ossoff previously working with a company owned by the Chinese government.
"Jon Ossoff did business with a company owned by the communist Chinese government and then tried to hide it from Georgia voters," Perdue alleged in a November tweet. "Georgians can't trust him to hold China accountable."
An updated financial statement from Ossoff revealed the Democrat received $5,000 from PCCW Media Limited, a Hong Kong-based media corporation, over the course of two years. Ossoff, however, reportedly did not disclose his ties with the company in his initial financial statement published in May.
A spokesperson for the Ossoff campaign told the National Review that the payments from PCCW were for the airing of "two investigations produced by Jon's company of ISIS war crimes against women and girls," representing "one of dozens of TV stations and distributors in more than 30 countries that have aired Jon's work."
Ossoff's campaign believed that Perdue's claims were made to distract Georgia voters.
"It is nonsensical to claim that just because a broadcaster aired content by Jon's company that Jon, in turn, has a working business relationship with the government of a tangential country and an entirely separate economy," Miryam Lipper, Ossoff's communications director, previously said in a statement.
Newsweek reached out to Ossoff's campaign, but didn't hear back in time for publication.