Georgia Election Board Report Finds 'Myriad Problems' With Absentee Voting System
Absentee voting in Fulton County, Georgia, during the 2020 presidential race had "myriad problems," according to a nonpartisan report delivered to the county last month.
Carter Jones, a consultant for Seven Hill Strategies, produced the independent 14-page report on the county, which includes Atlanta, for the Georgia State Election Board.
The consultant spent nearly 270 hours observing "every aspect" of Fulton County's elections, from October to January. While he did observe a number of procedural problems regarding how the counting of absentee ballots was administered, Jones wrote in the report that "at no time did I ever observe any conduct by Fulton County election officials that involved dishonesty, fraud, or intentional malfeasance."
Jones also wrote that he did not witness any "ballot stuffing" or "double counting," which would "undermine" the certification of Fulton County's election and the victory of President Joe Biden in Georgia.
Andrea Young, executive director of the American Civil Liberties Union of Georgia, told Newsweek that Jones' confirmation that fraud did not occur is the "most important part of the report."
Jones did note gaps in the county's election process, however. He cited "sloppy data entry" that sent absentee ballots to incorrect addresses, and a "sloppy and replete" procedure regarding the chain of custody of the absentee ballots "bounced" around the Fulton County government headquarters building.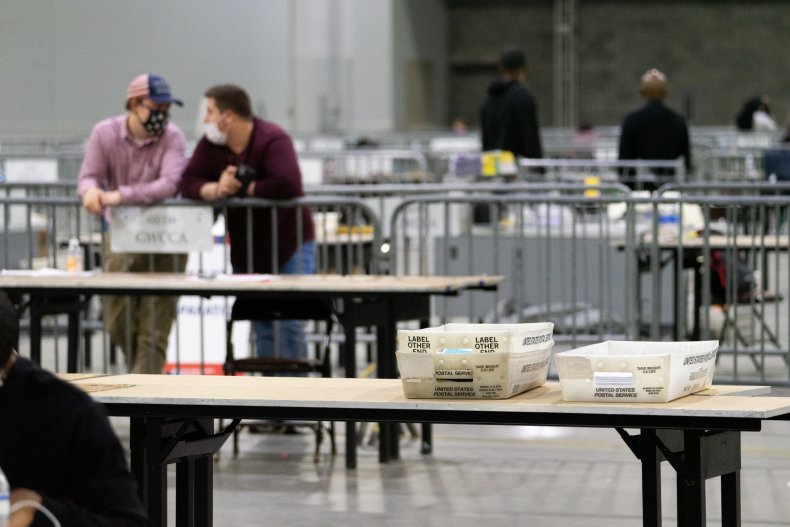 Registration Chief for Fulton County Ralph Jones created the system to count the absentee ballots, and Carter Jones said this system appeared to a collection of "ad hoc solutions" to organizational problems or lack of staffing. Carter Jones noted that Ralph Jones needed to "intervene" to halt a staffer from transporting "recently-accepted but unverified" ballots into the stack that goes to be scanned and counted.
"Had Jones not been there with me to catch this mistake, it is safe to assume that those ballots would've been counted as if they had been verified," Carter Jones wrote. He added that the procedural chain of counting the ballots was so inefficient, the system would never have been able to meet the requirement to process absentee ballots by end of business on the day after the ballot was received.
Still, the consultant credited Ralph Jones for "tremendous" improvement to the counting process by the January 5 Georgia Senate runoff elections. While staff pre-scanned only 80,000 ballots leading up to the runoffs, Fulton County processed 106,117 by the end—a "stark dichotomy" in procedure.
"The ACLU of Georgia warned Fulton County and other metro counties that they were not giving adequate planning, preparation and resources ahead of the 2020 elections and worked diligently with [Fulton County] on strategies to compensate for that and the impact of COVID-19," Young said.
"We understand poorly run elections to be a subtle form of voter suppression, and we urge Fulton and all counties, as well as the Legislature in Georgia, to work harder to make access to the ballot easy for all Georgia citizens," she said.
The report presented evidence against President Donald Trump's baseless claims that voter fraud in Georgia hurt him in the 2020 presidential race. Trump's personal lawyer Rudy Giuliani lost a case trying to pursue those allegations of fraud in Georgia at the end of last year.
During a phone call, Trump reportedly pushed Georgia Secretary of State Brad Raffensperger, a Republican, to find allegedly missing votes for him, claiming that "we won the state." Raffensperger reportedly told Trump his information was incorrect.
Trump's actions in the phone call could have violated three Georgia state laws.
After the runoff elections, Raffensperger certified the victories of Jon Ossoff and Raphael Warnock, giving the Democrats a narrow majority in the Senate.
Newsweek reached out the Raffensperger's office for comment but did not hear back before publication.