Georgia GOP Files Lawsuit to Reduce Access to Ballot Drop Boxes for January Runoff
The Georgia Republican Party and the Republican National Committee filed a lawsuit that aims to reduce access to absentee ballot drop boxes ahead of the January 5 runoff election in the state.
The lawsuit was filed on Tuesday in the Fulton County Superior Court. Instead of allowing the absentee boxes to receive ballots 24 hours a day, Republicans hope to limit their use to normal business hours. Additionally, the lawsuit argues that poll watchers should be given increased access to monitor the results of the January 5 election. The Atlanta Journal-Constitution first reported the lawsuit.
"The Secretary of State's office has repeatedly instructed county elections officials to ensure access for observers. We have also made it clear that absentee ballot drop boxes need to be monitored 24/7," Georgia's Deputy Secretary of State Jordan Fuchs told Newsweek in an emailed statement.
"David Shafer and the Georgia GOP need to stop passing the buck for failing to deliver Georgia for Trump and actually focus on getting out the vote in January," she added. Shafer serves as the chairman of the state's Republican Party.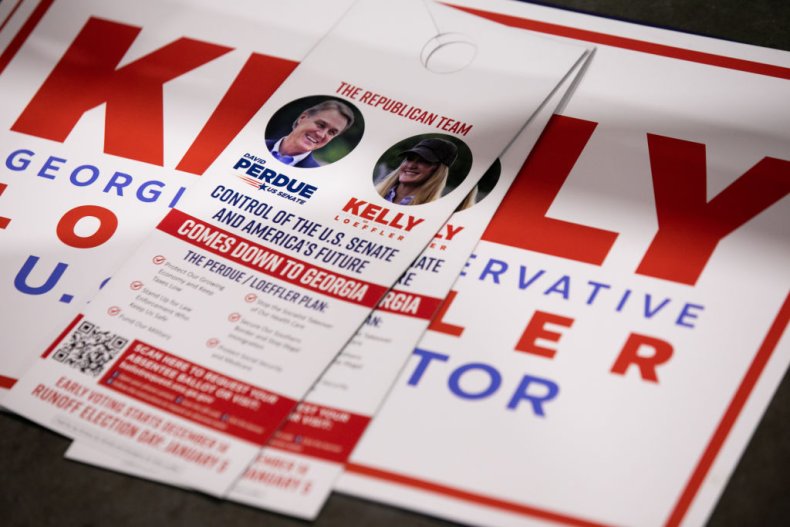 President Donald Trump and some Georgia Republicans have disputed the results of the state's November 3 election. President-elect Joe Biden narrowly won the state by a margin of nearly 12,000 votes. Although Biden's victory was confirmed by three tallies and two recounts, Trump has dismissed the results and claimed the election was "rigged" against him.
The president has described Georgia's Secretary of State Brad Raffensperger, a Republican who voted for and donated to the president, as an "enemy of the people" for refusing to overturn the state's results. Trump has also repeatedly attacked Georgia's Governor Brian Kemp, a Republican he endorsed in 2018, for not interfering with the results.
Although Trump and Republican supporters have filed lawsuits in Georgia attempting to overturn the results there, the new lawsuit aims to address their concerns ahead of the January 5 runoffs. Republican Senators David Perdue and Kelly Loeffler will face off against Democratic challengers Jon Ossoff and Raphael Warnock after none of the candidates garnered more than 50 percent in the November election.
"Limiting access to absentee ballot boxes is a sneaky, underhanded attempt to make it more difficult for Georgians to vote," Nsé Ufot, CEO of the New Georgia Project founded by Democratic activist Stacey Abrams, said in an email to Newsweek.
"Our charge in a democracy is to ensure each and every eligible voter has the opportunity to cast their ballot. Now, especially as COVID-19 cases continue to rise, GA's elections officials need to be doing everything they can to ensure, and expand, safe access to the vote—not stripping it away," Ufot said.
The stakes are particularly high, as the results will determine whether Republicans or Democrats control the Senate. If Democrats win both seats, they will narrowly control the upper chamber of Congress. Although it would be evenly split, with 50 Democrats and 50 Republicans, Vice President-elect Kamala Harris would cast tie-breaking votes. If Republicans maintain one or both seats, they will keep narrow control of the Senate.
Georgia's state Senate Republicans have vowed to make it more difficult to vote moving forward—fueled by their frustration over Trump's loss in their state. "As soon as we may constitutionally convene, we will reform our election laws to secure our electoral process by eliminating at-will absentee voting. We will require photo identification for absentee voting for cause, and we will crack down on ballot harvesting by outlawing drop boxes," they said in a joint statement released Tuesday.
Ufot told Newsweek that her organization particularly concerned about suppression of voters of color ahead of the January runoff. "No matter what we look like or where we live, we should all have an equal say in our democracy," she said.
Nearly half of Georgia's state GOP senators voiced their support for a lawsuit filed by Texas' Attorney General Ken Paxton in an attempt to overturn their state's election results. Paxton filed the case with the Supreme Court this week, also taking aim at Michigan, Wisconsin and Pennsylvania—which also went for Biden. The lawsuit alleges these states unlawfully changed their election rules during the COVID-19 pandemic.
"We applaud the State of Texas for recognizing that the failure of the State of Georgia to follow its own election laws has violated the Equal Protection Act of the U.S. Constitution," the Republican lawmakers said in a Tuesday statement. Loeffler and Perdue released a similar statement on Wednesday.
In a statement emailed to Newsweek, Katie Byrd, a spokesperson for Georgia's Attorney General Chris Carr, said: "the Texas attorney general is constitutionally, legally and factually wrong about Georgia."