Loeffler, Perdue Throw Support Behind Texas Lawsuit Contesting Election
Georgia's Senators Kelly Loeffler and David Perdue, both Republicans, threw their support behind a lawsuit filed by Texas with the Supreme Court attempting to overturn the election results in Georgia, Michigan, Pennsylvania and Wisconsin.
The lawsuit brought by Texas Attorney General Ken Paxton, a Republican who is currently under investigation by the FBI, alleges that the four states—all of which went for President-elect Joe Biden over President Donald Trump—unlawfully changed their voting laws during the pandemic. A spokesperson for Georgia's Attorney General Chris Carr, a Republican, told Newsweek on Tuesday that "the Texas attorney general is constitutionally, legally and factually wrong about Georgia."
But Loeffler and Perdue, who are facing close Senate runoffs against Democratic opponents on January 5, threw their support behind Texas—disregarding the position of the Republican administration in their own state.
"We fully support President Trump's legal recourses and Attorney General Paxton's lawsuit. The President has every right to use every legal recourse available to guarantee these simple principles: every lawful vote cast should be counted, any illegal vote submitted cannot be counted, and there must be full transparency and uniformity in the counting process," the GOP senators said in a statement.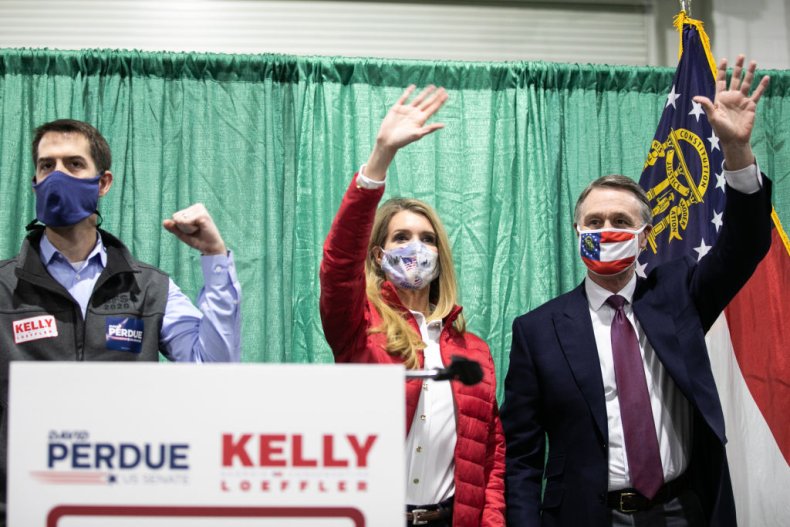 A spokesperson for Georgia's Governor Brian Kemp, a Republican who was endorsed by Trump in 2018, referred Newsweek to the state's attorney general for comment. The attorney general's spokesperson reiterated her previous comment when contacted Wednesday morning.
Georgia has already tallied its ballots three times, with two recounts—including a hand recount—showing no significant change in the state's overall results. Biden narrowly beat Trump in the state by nearly 12,000 votes. The president-elect's lead in Wisconsin was more than 20,000 votes, more than 150,000 votes in Michigan and more than 80,000 votes in Pennsylvania.
The president and his supporters have claimed, without providing evidence, that Biden won through widespread voter fraud. Although the Trump campaign and Republican supporters have filed numerous lawsuits in multiple states across the country challenging the outcome of the election, nearly all of these have been dismissed or rejected by judges—including several appointed by Republican presidents and Trump himself. The judges have repeatedly pointed out in their rulings that Trump and his supporters have not provided evidence to back their claims.
Trump has taken particular aim at Georgia, despite the fact that the state is led by Republicans who voted for and supported his candidacy. The president described Georgia's Secretary of State Brad Raffensperger as an "enemy of the people" for refusing to overturn the state's election results.
"By all accounts, Georgia had a wildly successful and smooth election. We finally defeated voting lines and put behind us Fulton County's now notorious reputation for disastrous elections. This should be something for Georgians to celebrate, whether their favored presidential candidate won or lost," Raffensperger wrote in an article for USA Today published on November 25.
"For those wondering, mine lost—my family voted for him, donated to him and are now being thrown under the bus by him," the Republican official added.
Despite the pushback against Trump and his false claims from some of Georgia's Republican leaders, the state GOP remains split. Nearly half of Georgia's Republican state senators released a statement Tuesday backing the Texas lawsuit.
"We applaud the State of Texas for recognizing that the failure of the State of Georgia to follow its own election laws has violated the Equal Protection Act of the U.S. Constitution," 16 of the 34 GOP state senators said in a statement. The Republican lawmakers urged the Supreme Court to take up the Texas lawsuit.
The Supreme Court rejected on Tuesday a lawsuit brought by Representative Mike Kelly, a Pennsylvania Republican, attempting to overturn the election results in his state. None of the justices publicly dissented from the decision. Trump responded to the Supreme Court's decision on Wednesday morning, suggesting that the Texas lawsuit was more important.
"This was not my case as has been so incorrectly reported. The case that everyone has been waiting for is the State's case with Texas and numerous others joining. It is very strong, ALL CRITERIA MET. How can you have a presidency when a vast majority think the election was RIGGED?" the president tweeted. There is no evidence to back the president's claim that the election was "rigged."