Georgia High School Orders Removal of Black Lives Matter Display on Classroom Door
A high school in Georgia ordered the removal of Black Lives Matter display on a classroom door, drawing frustration and anger from some students.
Administrators at Kennesaw Mountain High School in Cobb County instructed students last week to remove the Black Lives Matter display, which was first put up by students in early February. The display included the names of Black Americans who had been killed by police, such as George Floyd and Breonna Taylor. The words "Black Lives Matter" and "Say Their Names" were included in yellow cut-out letters.
"It wasn't just the Black students that made the door, all types of races made that door," Jariyah Butler, a 15-year-old in ninth grade at the high school, told Fox 5 Atlanta. "It showed that actual people care about us and they believe in the message that Black lives matter."
Christopher Bryant-Beasley, an 11th grader, told the news channel that he took the decision "very personally," suggesting that he could be killed in a similar way as Floyd was last year in Minneapolis.
"We were just all confused, like why should we take it down, what's the main reason you want us to take it down?" Bryant-Beasley said.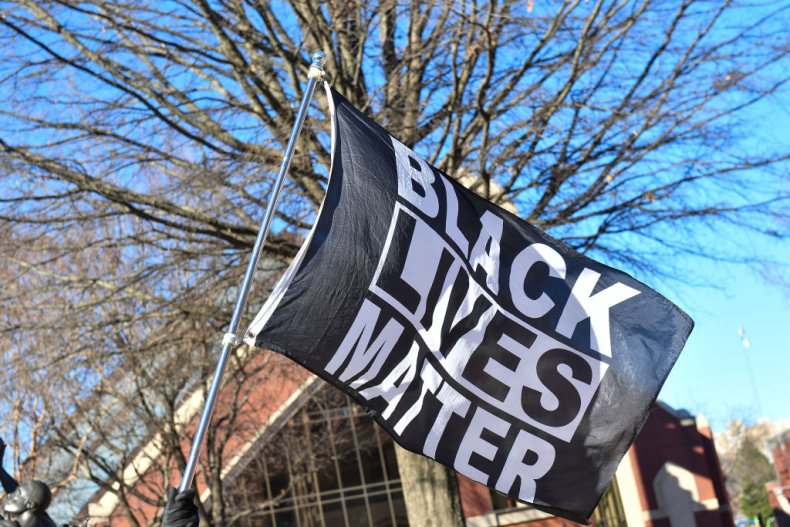 Students expressed frustration over a lack of communication about the decision as well. They explained to the local news channel that the display had been up for months and administrators had not mentioned any concerns.
Newsweek reached out to the high school's principal, Nathan Stark, for comment on the decision, but did not immediately receive a response.
"Objectivity, balanced points of view, and not identifying personal positions on controversial issues is part of Board policy," a spokesperson for the Cobby County School District told Fox 5. "Board policy provides guidelines for Cobb students and staff to teach and learn about controversial issues and directs teachers to use classrooms to teach, not influence students towards any side of any political or partisan issue."
Black Lives Matter is a decentralized social movement that was founded in 2013, as activists protested against the killings of Black Americans. The movement drew renewed national and international attention in 2020 following the murder of George Floyd, an unarmed Black man, at the hands of former Minneapolis police officer Derek Chauvin last May. Floyd's death sparked a massive wave of anti-racism demonstrations across the country and around the world.
A survey published in March by USA Today/Ipsos found that 50 percent of Americans said they had trust in the Black Lives Matter movement. However, that marked a significant decline from June 2020—when 60 percent said they trusted the political movement.