A man has been charged with aggravated assault and reckless conduct after he threw what appears to be a smoke grenade at protestors, then pointed a gun at them outside Savannah City Hall on Saturday.
Thirty-four-year-old Fredrick James, from Decatur, Georgia, is accused of throwing something at a group of Black Lives Matter protesters as they lie on the floor in peaceful demonstration on Bay Street, near the Savannah River, and he is also accused of pointing a gun at the members of the public.
In a video captured on the day, a black truck pulls over to the protesters, who are lying on the floor. The group was planning on remaining on the floor for eight minutes and 42 seconds, in solidarity for George Floyd, who was killed after Minneapolis officer Derek Chauvin knelt on his neck for the same amount of time.
A green smoke canister appears to be thrown from the black vehicle. Protestors respond by jumping up from the floor. Some run away from the scene and others attacked the vehicle. One man is seen kicking the car, another throws his bike at the vehicle. Another man launches something at the car.
A man in a yellow top is clearly seen exiting the vehicle at the driver's side, walking around the truck and pointing what appears to be gun at the protesters who are attacking his car.
Protesters clear the scene and the man gets back in his vehicle and drives off.
Protest organizer Kate Bender told WTOC on Sunday that she has co-led an anti-racist march from Forsyth Park to City Hall.
Newsweek has contacted Savannah Police Department for further information about the incident.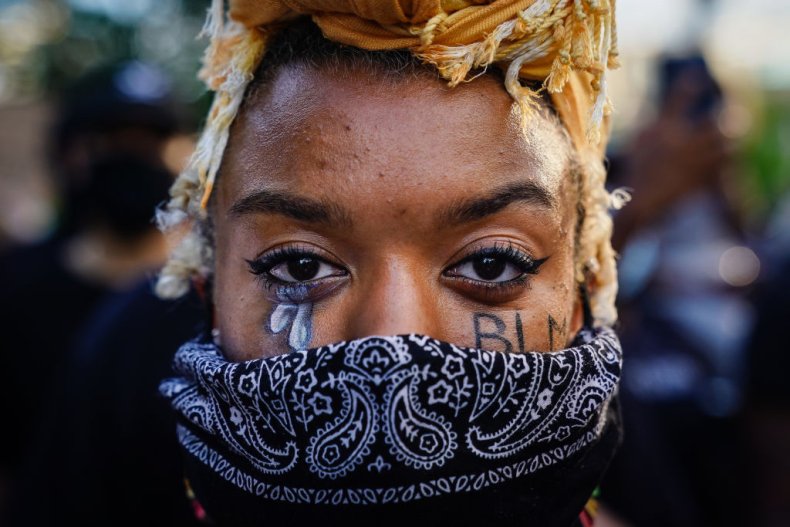 This wasn't the only protest resulting in confrontation last weekend. Black Lives Matter protesters in Oregon also witnessed guns being pulled out, during clashes with Trump supporters on Saturday. A peaceful protest turned violent after a Black Lives Matter protester allegedly stole a Trump flag.
A video captured at the scene showed people in the crowd running in pursuit of the alleged thief, and others being punched, tasered and maced during a brawl.
At the same event police were later blocked by anti-racism protesters, as the officials were trying to leave. An investigation is ongoing into multiple allegations filed on the day.