Giorgia Meloni Set to Give Steve Bannon a Huge Victory for His 'Revolution'
Former White House strategist Steve Bannon may be another step closer to achieving his goal of seeing a far-right populist movement spread across Europe should Giorgia Meloni become Italy's new prime minister.
Meloni, leader of the Fratelli d'Italia (Brothers of Italy) party, is ahead in the polls for the September 25 election, leading to the possibility of Italy having its first far-right leader since the end of World War II.
According to Politico's collection of national surveys, Brothers of Italy could achieve 25 percent of the total votes on Sunday, with the center-left Democratic Party in second place on 22 percent. In comparison, the Brothers of Italy party achieved just 4.5 percent of the votes in the 2018 election.
While Meloni denies accusations of being a fascist, she joined the youth wing of the neo-fascist Italian Social Movement (MSI)—set up by supporters of Benito Mussolini—with the Brothers of Italy's logo featuring the tri-color flame, the same used by post-World War II far-right parties in Italy.
Despite it fascist roots, the Brothers of Italy party now paints itself as a more mainstream conservative movement, while still heavily focusing on anti-migrant rhetoric.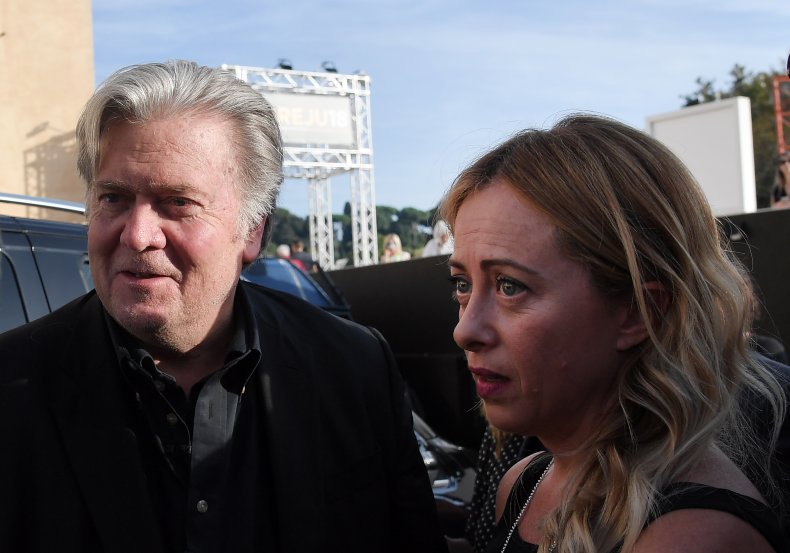 In a recent interview with The Times of London, Bannon—who spearheaded Donald Trump's successful 2016 presidential election campaign—praised Meloni as being similar to former British Prime Minister Margaret Thatcher.
"Like Thatcher, she will face opposition — but like Thatcher, she will win. And like Thatcher, history will prove her right," Bannon said.
"I've said for years that Italy is the worldwide laboratory for the populist-nationalist revolution. The world needs to be watching very attentively to Giorgia Meloni, and taking note. She is going to transform Italy from a failing, stagnant, bankrupt mess into Europe's strongest economy with jobs and prosperity for all."
Bannon has long supported Meloni and the Brothers of Italy. In 2018, Bannon described how he was working with the Brothers of Italy to The Guardian, calling them "one of the old fascist parties," but predicted they will become one of the far-right movements who will "become quite mainstream, over time."
In a 2018 interview with The Daily Beast, Meloni also described Bannon as an "ally" to her cause "because we share ideals. We need to hear what he says."
Bannon, a leading member of the so-called "alt-right" movement in the U.S., has frequently waded into European politics over the years after helping Trump into the White House.
In 2017, Bannon announced he was launching a European operation called "The Movement" which sought to unite European nationalists such as Nigel Farage, British politician and key Brexit campaigner, France's Marine Le Pen of the National Rally party and Hungary Prime Minister Viktor Orbán, in a bid to get more far-right politicians elected in the European Parliament elections.
However, "The Movement" eventually lost momentum, with a number of parties not willing to formally accept the coalition set out by Bannon.