Georgia Primary Mishaps Raise Concerns for General Election's Credibility
Problems that marred Georgia's primaries have raised concerns over issues that could occur for voters during November's national elections.
Voters in Georgia on Tuesday faced issues with long queues, with some spending hours in line. There were also problems with machines and sites pulling out due to COVID-19.
Coronavirus was also blamed in part for queues, with warnings suggesting safety measures implemented to stem its spread caused delays.
Michael J. Abramowitz, president of research and advocacy group Freedom House, said work must be done to prepare for November 3.
"There is no excuse for systemically disenfranchising voters," he said.
"Once again, we are seeing lines of American citizens waiting for hours to exercise their constitutional right to vote. Absentee ballots were requested but never delivered. Scores of polling places were shut down. Clearly no lesson has been learned from Wisconsin. We expect record turnout on November 3, and the United States needs to be ready.
"The elections in Georgia featured a confluence of many problems and should be a wake-up call regarding how much work needs to be done to ensure a credible general election in November. We must especially ensure that we are not disenfranchising citizens from marginalized communities."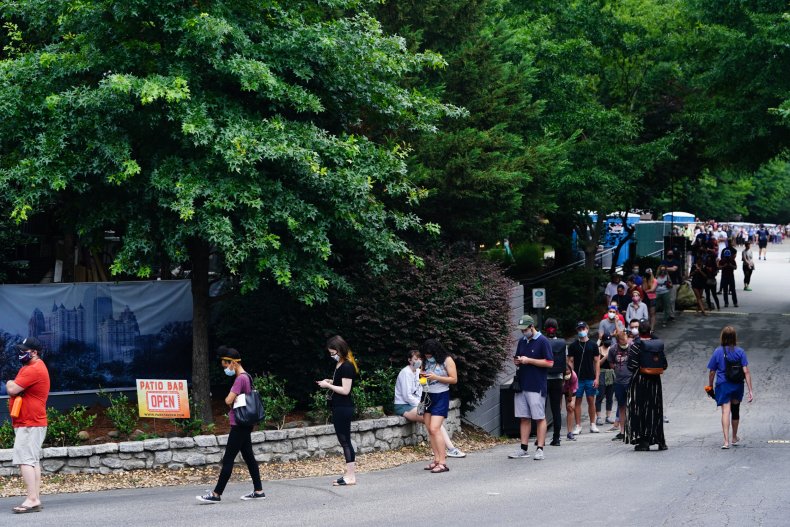 He then referenced similar issues when primaries were held in Wisconsin in March, saying: "Steps that should be taken to protect elections include mailing a ballot to every registered voter, ensuring ample time for early voting, and creating online voter-registration systems in every state."
"These kinds of changes require a tremendous amount of time to put in place, so we should begin without delay," Abramowitz said.
In a further statement provided to Newsweek, Isabel Linzer from Freedom House's elections team said: "Crises have a way of magnifying preexisting disparities. COVID highlights inequalities in our society and economy, and it's no different when it comes to our democracy. We can't fully respond to the challenge of holding an election during the pandemic without also addressing the disenfranchisement and racial injustice built into our voting systems."
Sen. Kamala Harris (D-CA) also called for an expansion to vote-by-mail when addressing issues in Georgia, reiterating calls for her VoteSafe act to expand voting options due to the COVID-19 pandemic.
She tweeted: "We must ensure what happened in Georgia yesterday does not happen anywhere ever again.
"Voting is a fundamental right. It must be protected."
In further comments shared with Newsweek, Harris said: "From Wisconsin to Georgia, communities across the country are fighting to access the ballot box in the face of elected officials who have put their interests ahead of the safety of voters. Even before the pandemic, Native Americans, Black and Latinx voters, and voters with disabilities too often faced long lines, inaccessible voting locations, and outright hostility by election officials.
"What we saw this week in Georgia was voter suppression. It reaffirms the need for innovative tools and resources to ensure everyone can safely have their voices heard and votes counted. That is why I introduced the VoteSafe Act, which would both expand safe options for in-person voting and vote by mail."
Founder of Fair Fight Action and former Congresswoman Stacey Abrams, who is reported to be among those in the running to be the Democratic vice presidential candidate, said the primaries were an "unmitigated disaster," criticizing Georgia's Secretary of State Brad Raffensperger and calling for voting by mail in an interview for The Late Show on CBS.
She also commented on how issues such as long queues lead to voter suppression, which could impact communities of color.
"People sacrifice a day's wage to try to cast a vote. These are largely communities that are working class, working poor. They're not making a lot to begin with to cast a ballot. It's a poll tax," she told MSNBC.
Abrams and Harris have been contacted for further comment.
Newsweek has also contacted Raffensperger for comment in regards to the problems.
In a statement on the day of the primaries, he said investigations were being opened into the situation in certain counties, specifically targeting Fulton and DeKalb for their issues.
He said: "The voting situation today in certain precincts in Fulton and DeKalb counties is unacceptable. My office has opened an investigation to determine what these counties need to do to resolve these issues before November's election. Obviously, the first time a new voting system is used there is going to be a learning curve, and voting in a pandemic only increased these difficulties. But every other county faced these same issues and were significantly better prepared to respond so that voters had every opportunity to vote."
The calls for vote-by-mail expansion come after President Donald Trump alleged this could lead to election fraud, though there is no evidence to support his suggestions of widespread mail-in voting fraud.
While many states have expanded the capacity for votes to be cast in this way, some are yet to do so. Polling has shown a majority of Americans support allowing people to vote this way in November.
This page was updated with additional comments from Sen. Harris.