Georgia's GOP Secretary of State Says No Widespread Voter Fraud, All Parties Will Observe the Recount
Georgia Secretary of State Brad Raffensperger said on Thursday that his office is investigating allegations that election ballots were cast illegally but said there was no evidence to suggest widespread voter fraud.
Raffensperger spoke with CBS This Morning to discuss Georgia's statewide ballot recount, which will be conducted by hand. Official sources have yet to declare a winner in the presidential race in the state, although President-elect Joe Biden led President Donald Trump by about 14,000 votes as of Thursday afternoon.
Though several media outlets called the national race for Biden on November 7, Trump has yet to concede.
"We do have ongoing investigations," Raffensperger said when asked about allegations of voter fraud in Georgia. "But it doesn't rise to the level of 14,000." Raffensperger said investigators will continue to look into "every case we hear" about illegally cast ballots but said so far "we don't see widespread voter fraud."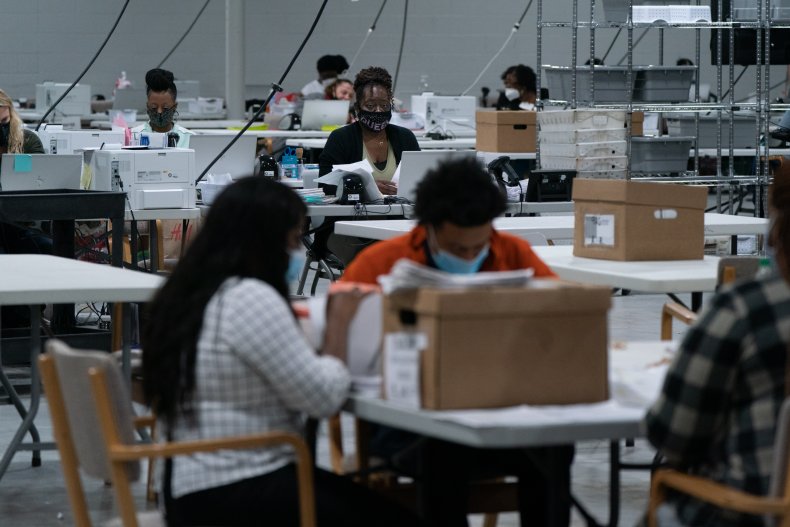 "We had record turnout, we had record registrations, and people were just participating on both sides of the aisle," Raffensperger said. "At the end of the day, I think you'll find that when we do the hand recount of all the votes, it'll substantiate what we've gotten with the electronic ballot counting with the machines."
Raffensperger, a Republican, has received criticism from other members of his party over the past week as ballot-counting efforts continued. The state's two GOP senators, both of whom are headed for runoff elections in January, called upon Raffensperger to resign earlier this week. Raffensperger responded to their calls in a statement that began by saying, "That is not going to happen," then explained how Georgia handled the record-high voter turnout and how it would handle its recount.
The head of the Georgia GOP, David Shafer, and Representative Doug Collins—who is representing Trump's campaign as the "recount team leader" in Georgia—also co-authored a letter sent to Raffensperger earlier this week, which requested that he authorize a hand recount. Raffensperger announced during a Wednesday news conference that the statewide recount will in fact be done by hand.
Raffensperger described the hand recount as the "gold standard of audits" and told CBS This Morning that while it will be "a big lift," he expects the state to complete the recount by November 20, which is Georgia's deadline to certify its election results.
"We think it's the way to go for Georgia. We want to stay at the cutting edge of election integrity," Raffensperger said of the hand recount decision.
In addition to proceeding with Georgia's risk-limiting audit, Raffensperger said individuals of differing political backgrounds will be permitted to observe the recounting efforts to ensure an "open and transparent process," which he said he believes will "give voters confidence" about both the original election results and those produced by the recount.
"We'll have Democrat eyes on that, Republican eyes on that, we'll have independent eyes on that to make sure it's an accurate recount," Raffensperger said. "At the end of the day, our job is to make sure that we walk that line of integrity."
Newsweek reached out to the Georgia GOP for comment but did not receive a response in time for publication.