Police Hunt 24-Year-Old Tunisian in Connection With Berlin Truck Attack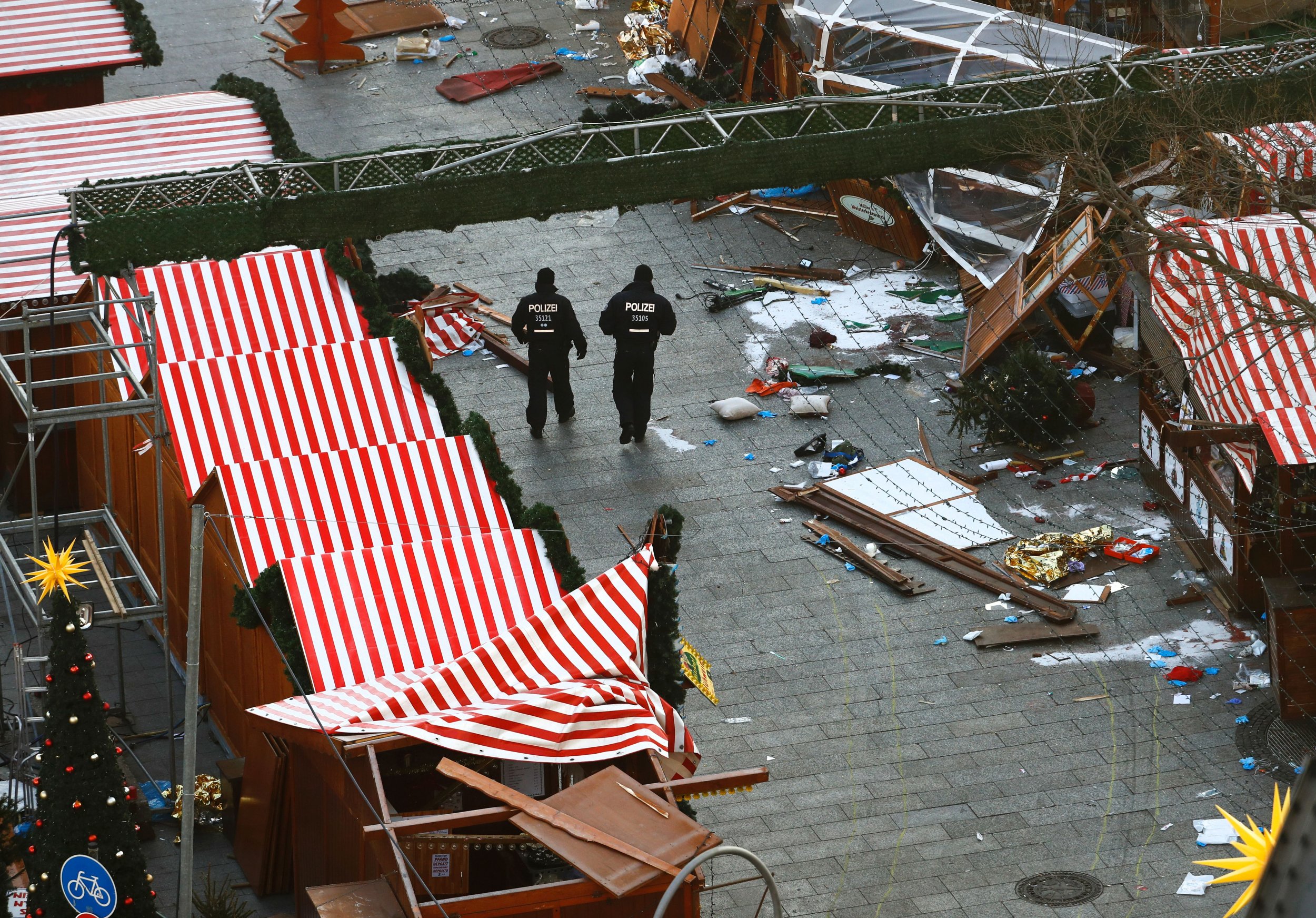 Updated | Police are searching for a Tunisian national in connection with Monday's truck attack on a Christmas market in central Berlin that killed 12 people, German officials said on Wednesday.
The Federal Prosecutor's Office released a picture of the suspect, identifying him as 24-year-old Anis Amri and warning the public that he may be armed. Police offered a reward of up to 100,000 euros ($104,260) for information on the suspect.
German Interior Minister Thomas de Maiziere had confirmed on Wednesday afternoon that authorities were seeking a new suspect in connection with the attack, without giving details on the suspect. However, Ralf Jaeger, interior minister of the state of North Rhine-Westphalia, said the suspect was an asylum seeker who had recently been in the state. The man appeared to have arrived in Germany in July 2015. Jaeger said that the suspect's asylum application had been rejected but he was not deported because he did not have documents that proved he was Tunisian.
Amri is thought to have connections with an Islamist network and and was identified as a potential threat by security agencies in November according to Reuters.
German media had earlier reported that investigators had a new suspect in the case connected to papers found in the cab of the Scania truck used in the attack.
An earlier report in news magazine Der Spiegel said that the documents bore the name Anis A. Reports in German daily newspapers Allgemeine Zeitung and Bild say the Tunisian man sought by the police is believed to be between the ages of 21 or 23 years of age and may have used several names.
Authorities had said they were looking into 500 possible leads after the attack. They have warned that perpetrator could be armed and dangerous, and may not have acted on his own.
"We don't know for sure whether it was one or several perpetrators," Germany's federal prosecutor Peter Frank told reporters on Tuesday. "We don't know for sure whether he, or they, had support."
The Islamic State militant group (ISIS) claimed the attack on Tuesday, calling the driver one of its "soldiers" in what represents a rare claim of responsibility while the main perpetrator of an attack remains alive.
The new information was the latest twist in the manhunt for the driver of the 25-ton truck that plowed into huts selling wine and sausages at the foot of the Kaiser Wilhelm Memorial Church in the German capital. Authorities had arrested a 23-year-old Pakistani man named only as Naved B. near the scene of the attack but released him on Tuesday citing a lack of evidence.
The perpetrator of the attack is also suspected of hijacking the truck before stabbing and shooting its original driver, 37-year-old Polish national Lukasz Urban, according to his cousin Ariel Zurawski, who owns the transport company based in northern Poland. Zurawski said authorities asked him to identify his cousin, and said that Urban's "face was bloodied and swollen."
If the involvement of a Tunisian attacker in an assault claimed by ISIS is confirmed, it would not be the first. In July, Tunisian national Mohamed Bouhlel plowed a 19-tonne truck into revelers as they watched the Bastille Day fireworks, killing 86 people. In June 2015, a Tunisian man murdered 38 people, mostly British tourists, on the beach in the coastal city of Sousse.
Tunisia itself has been one of the biggest exporters of jihad since the rise of ISIS, with approximately 5,500 Tunisians believed to be fighting for radical Islamist groups in Syria, Iraq and Libya.
This article has been updated with further details after statements by German officials.