How a Love of The Sea Led A German Couple Into The Hands of Pirates, ISIS And Death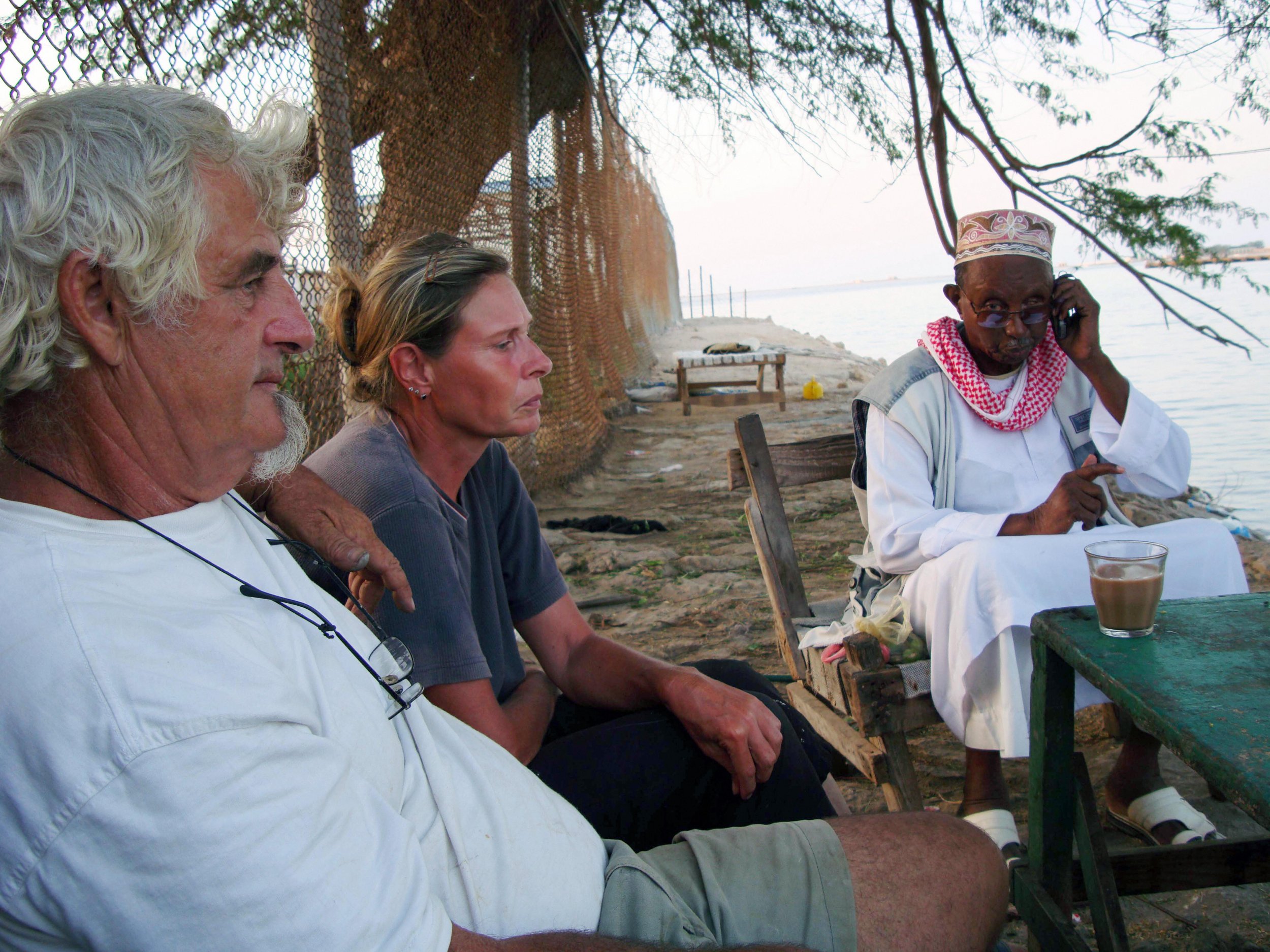 In a jungle clearing in the southern Philippines, 70-year-old German national Jurgen Gustav Kantner, visibly ashen and dressed in a black jacket, kneeled as a masked man stood over him, a curved knife wrapped around his throat. He uttered his last words to camera: "Now he kill me."
After the executioner beheaded Kanter, several gunmen surrounding him shouted "Allahu Akbar," or "God is great." The perpetrators belonged to Abu Sayyaf, the Philippine militant group that has pledged allegiance to the Islamic State militant group (ISIS).
On February 27, the group released the one minute, 43-second video of Kantner's killing. According to SITE Intelligence, the killing was carried out a day earlier on the southern island of Jolo in the Sulu Archipelago, when the group's 3 p.m. deadline expired for the payment of a three million pesos ($600,000) ransom in return for his release. The group had released an earlier ransom video of Kantner on January 12.
On Sunday, the Philippine military found Kantner's remains in the municipality of Indanan on the group's island stronghold after a week-long search. German chancellor Angela Merkel condemned his killing as an abominable act, while Philippine President Rodrigo Duterte apologized for failing to stop the beheading. Kantner's remains are currently in a military hospital morgue as authorities make preparations with the German embassy to transport the body back to his homeland for burial.
This is not the first time that radical Islamists aligned to ISIS have targeted and beheaded hostages in the country. Last year, the group decapitated Canadian nationals John Ridsdel and Robert Hall and 18-year-old Filipino Patrick Almodovar.
For Kantner, his murder was not only the conclusion of 111 days in captivity with radical Islamist bandits, but the last episode of more than three decades at sea. It was a passion he shared with his 59-year-old wife, Sabine Merz, who died aboard the couple's 53-foot yacht, the Rockall, in November, when Abu Sayyaf hijacked the boat.
The pair had been sailing in the treacherous Sulu Sea between Malaysia and the Philippines when the attack happened. Their last reported location was Malaysia in 2009, where they had arrived on the Rockall . Kidnappings are on the rise along the route and Germany's Federal Foreign Office advises sailors to avoid travel in the area.
This was not the first time Kantner and Merz had been kidnapped. On June 23, 2008, Somali pirates abducted the couple as they sailed in the Gulf of Aden. The pair remained in captivity for 52 days at a mountain hideout until an unknown party paid a reported ransom of $592,000.
In Somalia, the couple suffered mental and physical torture and, after their release in 2009, Kantner told German sailing magazine Yacht: "I pray to God they won't catch us again."
So why did the couple continue sailing in dangerous regions, undeterred by their ordeal with pirates? According to German-language interviews with the couple in 2008 and 2009 the answer is clear: because of an unwavering love of the sea.
"Why Should I Go Back To Germany?"
A self-professed sailing "nut," Kantner said his boat meant more to him than anything else in life. A year after his release from Somali pirates, Kantner traveled back to the Somali port of Berbera to retrieve his vessel, where he earned himself the moniker the "mad German sailor" from residents.
Hailing from Altenheim, a small town in western Germany, he had lived at sea for what he said was decades, disavowing friends and family. "I have no friends back home because I lost contact in 32 years living on my boat. Why should I go back to Germany where I have nobody to help me?" he asked in the interview with Yacht after being freed from captivity in Somalia. Kantner has two children, but their whereabouts are unknown, the New York Times reported. "I lived for 14 years on a sailing boat with my family. Both of my children grew up there," he told Stern, a weekly German magazine, in 2008.
His need to embark on another trip was partly fueled by this lack of belonging in Germany. In interviews, Kantner talked about his homeland as though it had betrayed him, a stance hardened by his claim that, upon release, the German government sent an invoice for more than $26,000 as payment organizing their release.
Despite his commitment to the ocean, Kantner said he "felt queasy" about his forthcoming trip to Asia, where he hoped to set down roots with Merz and live and work. "But what else should I do? I was sleeping on the floor of my mother's retirement room—should I go back to that?" he said, referring to his return to Germany from Somalia with no home or job.
Kantner was pragmatic about his chances of release if captured again by pirates, and his love of the ocean was so strong he was prepared to ignore the risks. In one of his interviews with Yacht, he joked that the German government would not pay another ransom fee. "They will tell the pirates: keep them!"
Read more: Kidnappings at sea rise to 10-year high, maritime watchdog warns
Germany, which has a policy of paying ransoms for hostages, unlike the U.S. or Britain, appeared to have decided against doing so in the case of Kantner. It remains unknown who funded the couple's release in 2008. German does not confirm ransom payments and neither Kantner or the German government have publicly commented on the resolution of the 2008 hostage situation.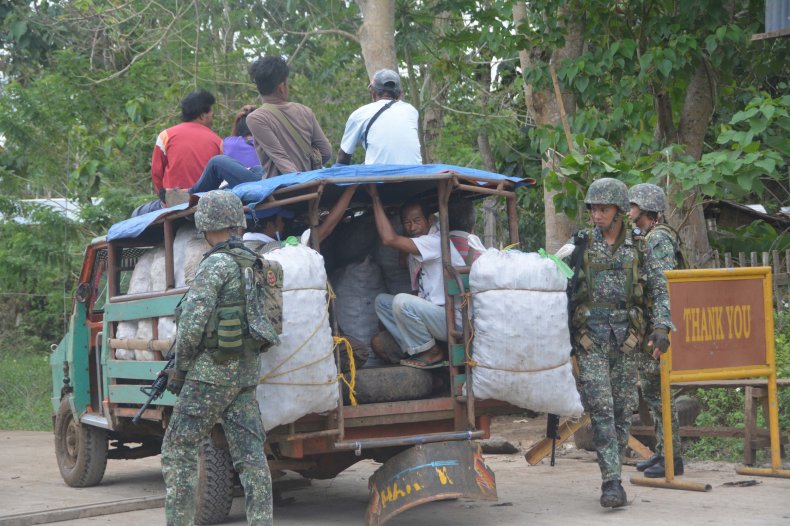 "Many current and former security officials criticize the willingness of the government to pay but by and large there is the tendency to try and save lives," says Guido Steinberg, former counter-terror adviser to German Chancellor Gerhard Schröder. "[Politicians] know that it's only a solution for the short-term but they prefer not to take the fire of public opinion here in Germany." The German federal foreign service, the body responsible for assisting German nationals abroad, did not respond to Newsweek 's request for comment.
Abu Sayyaf relies on ransom payments to fund its activities, which include extortion and drug and human trafficking, and in the past has released hostages when it receives the funds it requests, as it did with Norwegian hostage Kjartan Sekkingstad in September.
President Duterte apologized for "failing" to rescue Kantner, but said the government is sticking to a "no-ransom" policy. He said: "If you give in and pay there will be more victims and this will not end."
"I Won't Be Taken Prisoner Again"
The day before Kantner's beheading, the Philippine military launched airstrikes on Jolo to intimidate Abu Sayyaf into giving up their German hostage. Yet, the chances of a rescue from this "largely mythical organization"—which has conducted kidnappings and beheadings for almost two decades—were always remote, Tom Smith, a southeast Asian terrorism expert at Portsmouth University tells Newsweek .
Using airpower to prompt Abu Sayyaf to release Kantner was akin to using a sledgehammer to crack a difficult and unknown nut, he adds. "Sadly in the long term I have to say it's good the ransom was not paid, the supply of ransom money to [Abu Sayyaf] has only made things worse." The Philippine Army said it had lost men while trying to rescue Kantner, according to a statement.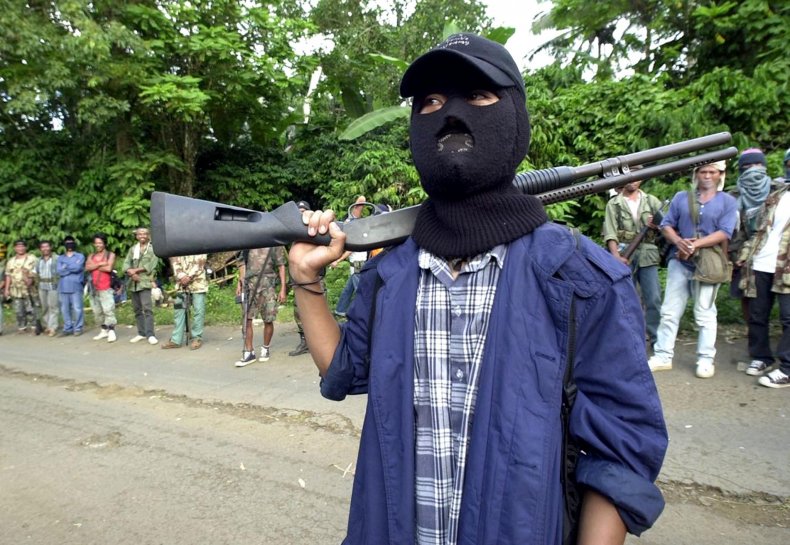 In regard to military action against the group, Kantner may have agreed with Smith. When asked about the use of force against his Somali pirate captors, he said: "One of our kidnappers said, 'I am a Muslim, I am not afraid of death.' You want to threaten such people with force? Completely useless."
Nevertheless Kantner and Merz were traumatized by their stint in Somali pirate captivity and Merz spoke of being haunted by her experience with the Somali pirates, where she had been subjected to a mock execution and an attempted rape, according to the interviews. When the pirates fell asleep after drinking the alcohol on board, the pair considered "beating them to death" with a butcher axe and iron pipe, but refrained.
A year after their release from the Somali pirates, Kantner told Yacht: "We would rather let ourselves be killed. I won't be taken prisoner again. I will fight, no matter how, with everything I have." Before setting sail to Asia, the couple developed a small arsenal of weapons in their boat to protect themselves. In their previous hijacking, Kantner recalled the pirates going straight for his drinks cabinet, so he filled the schnapps bottle with poison and lined up Molotov cocktails in the cockpit.
Both were prepared for a future kidnapping attempt and were aware of the pirate threat. But Kanter and Merz refused to recognize the perils of navigating such waters, despite their previous kidnapping.
When they returned to Somalia in 2009 to find their hijacked vessel, they sourced spare parts, renovated the boat, rigged the mast, and set sail to Asia.
The events of the seven years between their return to Somalia and the hijack in the Sulu Sea remain largely unknown. Friends and family of Kantner are relatively few and far between, largely due to his age and his 30-year absence from Germany as a sailor. Whether foolhardy, or just two people in love with life on the water, the pair knew they were taking a risk considering the dangerous territory they were planning to sail through.
"Everyone knows you could die driving a car," Kantner told Yacht in 2009. "If someone dies on the way from Hamburg to Frankfurt, you could always say: What an idiot, why didn't he take the train or a plane, that is much safer."
Merz, speaking on the couple's determination to sail through the Gulf of Aden and into pirate territory, defended their decision to sail to Asia after the Somali pirate kidnapping: "There is no alternative—except the way around the Cape of Good Hope, around the whole of Africa."
Their undying dedication to the seas may have blinded both to what would become their worst nightmare. That was not only being killed at sea, but being taken hostage again and held on land.
Upon his 2009 return to Somalia, for what would turn out to be his final voyage, Kantner sat at a plastic table with Merz, looking out to sea. Sipping a glass of sweet milk tea, he gazed out towards the ocean. "This is my life and it's wonderful. I have all my things on my boat and I travel to many places in the world," he told AFP. "Sailing is how I want to live and die."
Sabine Schwab contributed translation from London.