Germany Wanted Ukraine to Surrender to Russia, Boris Johnson Claims
The German government wanted Ukraine to "fold" quickly if Russia invaded, according to former British Prime Minister Boris Johnson.
Speaking to CNN Portugal on Monday, Johnson claimed Berlin wanted the situation resolved "quickly," as "Russian battalion tactical groups" massed, ahead of the invasion of Ukraine which began on February 24.
He said: "I'll tell you a terrible thing, the German view was at one stage that if it were going to happen, which would be a disaster, then it would be better for the whole thing to be over quickly and for Ukraine to fold.
"I couldn't support that, I thought that was a disastrous way of looking at it, but I can understand why they thought and felt as they did."
Johnson also had sharp words for Paris and Rome, claiming "the French" were "in denial right up until the last moment."
He added: "I remember the Italians again, massively reliant on Russian hydrocarbons, at one stage simply saying they would be unable to support the position we were taking."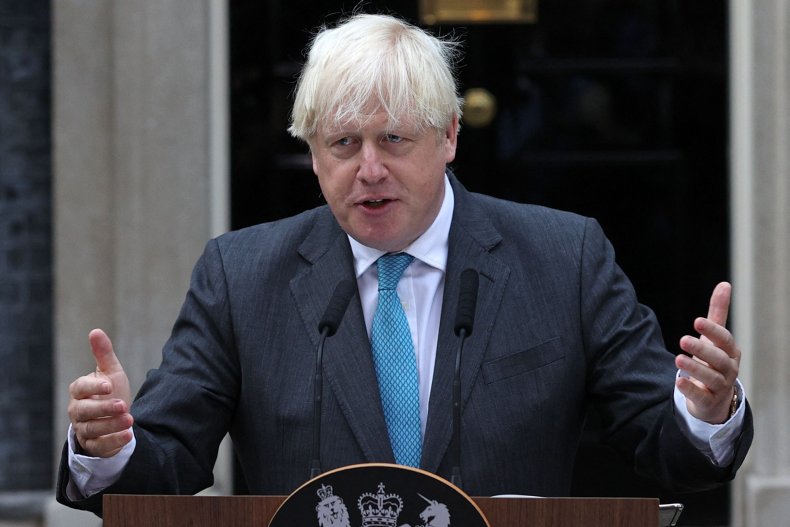 On February 24 Russian troops attacked Ukraine from the north, east and west, in what President Putin described as a "special military operation."
Some of Moscow's forces entered Ukraine from Belarus, in the north, where they made an unsuccessful attempt to seize the Ukrainian capital of Kyiv.
Other units attacked out of Crimea in the south, seizing the provincial capital of Kherson, and from Russian controlled parts of the Donbas region in the east.
In response, western powers (including Germany, France and Italy) imposed economic sanctions on Russia and sent weapons to Ukraine.
French President Emmanuel Macron spoke with Putin by telephone both before and after the invasion began.
Macron, speaking in October during an address to French ambassadors at the the Elysée Palace, defended his decision to continue talking with Putin after the invasion began. He said: "The job of a diplomat is to talk to everybody and particularly to the people we disagree with.
"Who wants Turkey to be the only world power that is talking to Russia? We must not give in to any form of mistaken morality that would seek to weaken us."
Macron also used his address to brand Moscow's invasion "imperialist," adding that "Russia cannot be allowed to win the war."
Earlier this month, Ukrainian forces recaptured Kherson, after Russian forces withdrew across the Dnieper river.
They were welcomed by crowds waving Ukrainian flags, as they liberated a city that Russia seized in the first weeks of the war.
On Wednesday an update from the British defense ministry claimed Russia had "likely very nearly exhausted its current stock" of Iranian-manufactured 'kamikaze' drones, and will "will probably seek resupply."
Putin has been accused of "hiding" from the council of mothers and wives of mobilized soldiers, a grassroots movement which has requested a meeting.
The German, French and Italian foreign ministries have been contacted for comment.