'Get Over Yourselves': Michigan Doctor Tells GOP Lawmakers to Work With Dems and Back Mask Mandate
Michigan Doctor Rob Davidson asked state GOP officials on Saturday to work with Democrats on a mask mandate and stricter social distancing measures.
Davidson, who works as an emergency physician in West Michigan, posted a video on social media describing his experience in COVID-19 units and called on GOP officials to step up their efforts to curtail the virus.
"COVID-19 is just dominating the number of people getting admitted [into hospitals]," Davidson said, adding that hospitals and intensive care units across West Michigan are either full or almost full with coronavirus patients at any given moment.
"We need masks, we need people to stay away from each other, and to not gather with non-household members for Thanksgiving. Just give us all a break–not just for us in hospitals, but for yourselves and your loved ones."
Davidson went on to explain that his statement was geared toward "the doubters" of the coronavirus, namely, several Republican representatives throughout the state.
"Just get over yourselves. This is not about freedom. This is a mask... a two plied piece of cloth, and we are asking you to join the governor in creating a mandate for the people in this state so we can get through this," Davidson said
Last week, Democratic Governor Gretchen Whitmer asked the Republican-controlled legislature for help mandating a state mask requirement, but it's unclear whether or not the GOP will comply.
"This is the law under epidemic orders, but we do think that it would be helpful to our health, our safety and our economy if it was codified in a bipartisan way by the legislature," Whitmer said.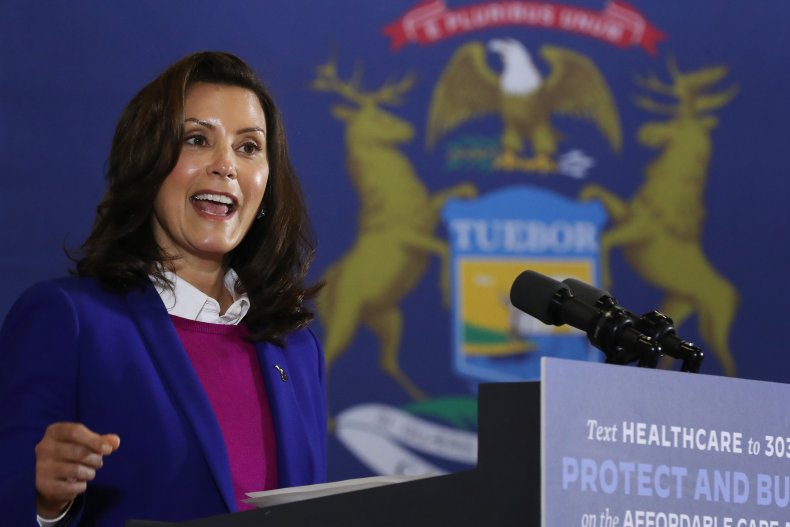 Whitmer has maintained that if Republicans sign on to a bipartisan legislature, it could help dissolve the political polarizations surrounding COVID-19, and allow Michigan to combat the virus more effectively.
"Let's work together to avoid these preventable deaths and build confidence in our economy," Whitmer wrote in a letter to GOP lawmakers.
This week Michigan surpassed its previous single-day COVID-19 case record, reporting 8,516 new cases on Friday. On Saturday, the state recorded 7,072 new cases and 65 additional deaths.
As COVID-19 continues to surge across the country, states including North Dakota and Iowa have implemented mask mandates, while others such as Illinois, New York, and Oregon have announced new restrictions to curb the spread of the virus.
Newsweek reached out to Whitmer and GOP House Speaker Lee Chatfield for additional comment on the mask mandate.