What Giannis Antetokounmpo Said About Racism in America After Capitol Mob Violence
Milwaukee Bucks star Giannis Antetokounmpo has spoken of his fear for his son growing up in the U.S. as a Black man in the current social, racial and political climate.
The past two days were momentous for the country, albeit for vastly different reasons.
On Tuesday, prosecutors decided not to file criminal charges against the officer who shot Jacob Blake in Kenosha, Wisconsin, in August.
A Black man, Blake was left paralyzed after being shot in the back at point-blank range seven times by officer Rusten Sheskey as he opened the door of his car.
Footage of the shooting, which occurred in front of Blake's three children who were in the back seat, sparked several days of protest in Kenosha.
Kenosha County District Attorney Michael Graveley decided not to press criminal charges against Sheskey nor Brittany Meronek and Vincent Arenas, the other two officers at the scene.
On Wednesday, a mob of Donald Trump supporters stormed the U.S. Capitol and temporarily halted the tallying of Electoral College votes to certify Joe Biden as the winner of last November's presidential election.
Like the rest of America, Antetokounmpo watched the riots unfold on TV and was left shocked and concerned by what he saw.
"My kid is going to grow up here in America and my kid is Black," he told reporters after the Bucks' 130-115 win over the Detroit Pistons.
"I cannot imagine my kid going through what I see on TV. And if while I'm living I can do something about it to change it for the better [to the extent] I'm capable of doing, I'm going to do it. I'm going to speak up about it."
Back in August, Bucks players boycotted Game 5 of their first-round playoff series against the Orlando Magic to demand justice for Blake's shooting. The franchise reiterated its stance on social justice and police brutality following Graveley's verdict.
"The Bucks organization remains firmly against excessive use of force by law enforcement," the Bucks said in a statement on Tuesday. "This past year shed light on the ongoing racial injustices facing our African American and other marginalized communities.
"Reoccurring instances of excessive use of force and immediate escalation when engaging the Black community must stop. We will continue to work to enact policy change so these incidents no longer exist.
"As an organization, we remain strongly committed to address issues of social injustice and anti-racism and to make meaningful change for African Americans and all marginalized members of our community."
Speaking on Wednesday night, Antetokounmpo added: "We know it's time for change. Whenever we see something that's not right, we're going to use our platform and use our weight.
"I think the NBA and the Milwaukee Bucks give us a great platform to talk about anything that bothers us and this [racially inequality] really bothers me."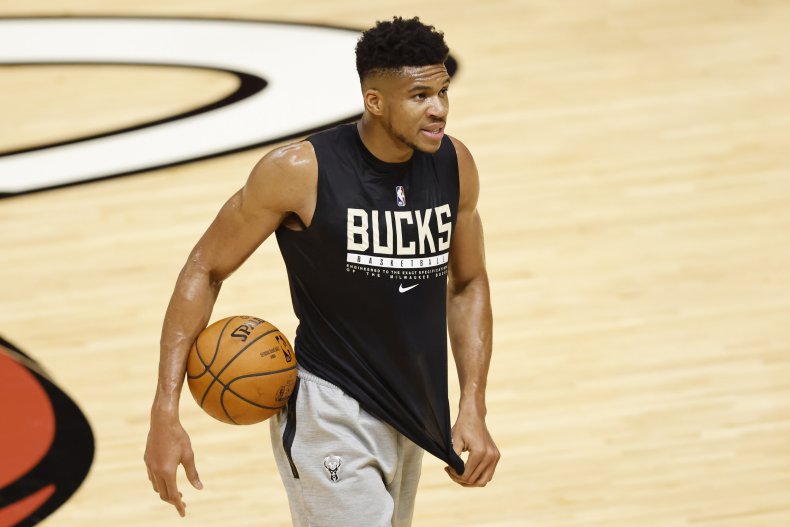 The two-time MVP was just one of several NBA players and coaches to speak out in the aftermath of the riots in Washington, D.C.
Philadelphia 76ers head coach Doc Rivers pointed out the discrepancy in how Trump supporters were treated, compared with the way police forces handled mostly peaceful protests over the summer.
On Wednesday, Army Secretary Ryan McCarthy and acting defense secretary Christopher C. Miller took the decision to deploy the D.C. National Guard to support the local police. Significantly, The New York Times reported the order had been approved by Vice President Mike Pence and not Trump, who reportedly rebuffed a request to mobilize the force instead.
The National Guard was deployed in Kenosha as protests erupted following Blake's shooting in August and was again mobilized earlier this week ahead of the decision on whether to file criminal charges against the officer who shot Blake.
It was also deployed in the nation's capital in August ahead of a major Black Lives Matter protest.
"It basically proves a point about a privileged life in a lot of ways," Rivers said.
"I will say it, because I don't think a lot of people want to: Can you imagine today, if those were all Black people storming the Capitol, and what would have happened? That, to me, is a picture that's worth a thousand words for all of us to see, and probably something for us to reckon with again."
Atlanta Hawks head coach Lloyd Pierce echoed the sentiment.
"There's a reason why there isn't shootings and brutality and looting and things of that nature, and people are just walking around the Capitol building as if it's nothing," he said.
"We all understand that would've been guns ablaze and fires ablaze right now if that was Black people protesting. If that was Black people protesting on the outside—we haven't even mentioned people getting inside and tearing up the [Capitol] building."