LeBron James, NBA Players Speak out on Jacob Blake Verdict: 'It's a Blow to the Heart'
LeBron James has described prosecutors' decision not to file criminal charges against the officers who shot Jacob Blake as a "blow to the heart" of the Black community, as several NBA players spoke out against the verdict.
A Black man, Blake was left paralyzed after being shot in the back at point-blank range seven times by a police officer on August 23 in Kenosha, Wisconsin, as he opened the door of his car.
Footage of the shooting, which occurred in front of Blake's three children, who were in the back seat, sparked several day of protest in Kenosha.
On Tuesday, Kenosha County District Attorney Michael Graveley decided not to press charges against the shooter, police officer Rusten Sheskey.
Brittany Meronek and Vincent Arenas, the other two officers at the scene, were also not charged.
"I do not believe the state [...] would be able to prove that the privilege of self-defense is not available," Graveley said in his ruling, adding there was "incontrovertible" evidence Blake was armed with a "razor blade-type knife" at the time of the shooting.
The decision not to charge Sheskey was met with widespread disappointment among NBA players, who last year publicly condemned police brutality and systemic racism in the wake of Blake's shooting and the deaths of George Floyd and Breonna Taylor.
A Black man, Floyd died on May 25 while in custody of the Minneapolis Police Department as officer Derek Chauvin knelt on his neck for nine minutes. Taylor was shot dead by Louisville Metro Police Department officers who were serving a "no-knock warrant" back in March.
"To hear what happened in Kenosha today was a blow to the heart and to the gut—not only to that community but to us and to every, I guess, Black person that has been a part of this process and seeing these outcomes for so long," James said after the Los Angeles Lakers' 94-92 win over the Memphis Grizzlies.
"And not only in the Black community but in the white community as well, who see moments like this happen to us, to happen to his family, to happen to [Blake] himself. [...] But we've got to continue to stay strong, continue to believe in each other and continue to push for the greater change and the greater good."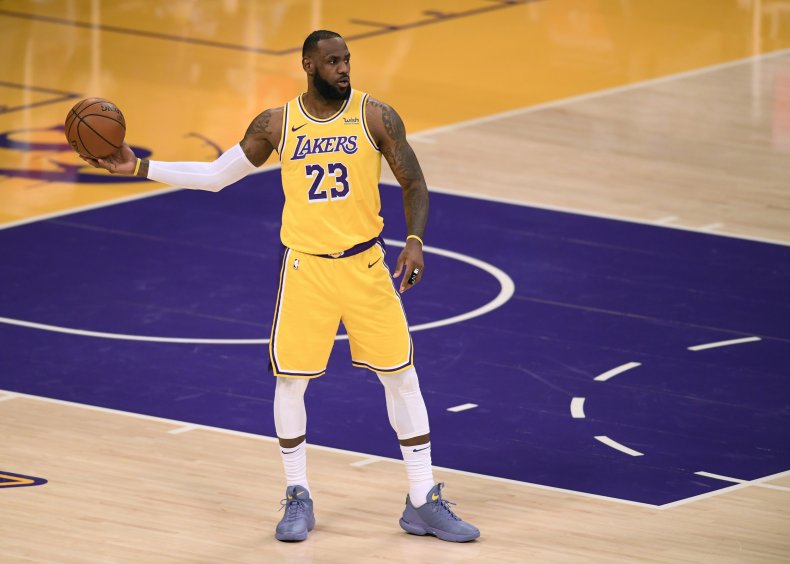 Los Angeles Clippers star Kawhi Leonard said any meaningful change had to be driven by an overhaul of the police forces.
"You know, just time [and] again, it keeps happening," he said after the Clippers lost 116-113 to the San Antonio Spurs on Tuesday night.
"We are still doing things to better the community and try to get some better laws for the officers with those firearms but it's sad. You know, it's hard to think about.
"It's the shooter. You got to change the people that's in the uniform pretty much. I can't change people's thoughts. You got to get those people out of those uniforms."
Utah Jazz star Donovan Mitchell echoed Leonard's thoughts.
"It just gets to a point of like, what more? What else? You know what I mean? That's really where I'm at," he said.
"You look at that, you look at Breonna Taylor. It's just like, what else? What else? I don't have words. It's sad that it's become a thing where you don't expect any justice out of these things."
At the time of Blake's shooting, NBA teams were secluded in the bubble in Orlando and with limited opportunities to make their voices heard, Milwaukee Bucks players opted to take action into their own hands to demand justice and boycotted Game 5 of their first-round playoff series against the Orlando Magic on August 26.
The Houston Rockets, Oklahoma City Thunder, Los Angeles Lakers and Portland Trail Blazers swiftly followed suit.
On Tuesday night, the Bucks issued a statement reiterating their commitment to social change and to end police brutality.
"The Bucks organization remains firmly against excessive use of force by law enforcement," the statement read. "This past year shed light on the ongoing racial injustices facing our African American and other marginalized communities.
"Reoccurring instances of excessive use of force and immediate escalation when engaging the Black community must stop. We will continue to work to enact policy change so these incidents no longer exist.
"As an organization, we remain strongly committed to address issues of social injustice and anti-racism and to make meaningful change for African Americans and all marginalized members of our community."
All five NBA games scheduled for Tuesday night went ahead as planned following the verdict.