A former member of Israel's parliament faced a backlash on social media after calling Tuesday's deadly port explosions in Beirut a "gift" from God in a post shared to Facebook.
The leader of Israel's far-right Zehut party, Moshe Feiglin, appeared to delete the post Facebook post before Thursday afternoon. Feiglin initially shared it on Wednesday, screenshots of the message show. Screenshots were published by news outlets and tweeted by social media users alongside their criticism.
"Today is Tu B'Av, a day of joy, and a true and huge thank you to God and all the geniuses and heroes really (!) who organized for us this wonderful celebration in honor of the day of love," Feiglin wrote on Facebook, according to Middle East Monitor. Tu B'Av is a Jewish holiday similar to Valentine's Day.
"Marking Tu B'Av holiday, we've got a fantastic fireworks show from Beirut's port," he reportedly said elsewhere in the post. He also suggested the explosions were not caused by an industrial accident and reportedly told a local radio station later that Israel "should be proud" if it was somehow responsible.
Israel denied any involvement in the explosions. On Wednesday, Israeli Prime Minister Benjamin Netanyahu said the country has "no fight with either the Lebanese people or the Iranian people but with their governments" during a meeting of the Knesset, Israel's parliament. Ongoing political tensions have existed between Israel and Lebanon for decades, and more recent conflicts sparked the 2006 Lebanon War.
Feiglin released his comments online one day after the two explosions caused extensive damage in Lebanon's capital, killing at least 100 people and injuring more than 5,000. Israel is offering aid to Lebanon, along with Syria, Iran and the United States.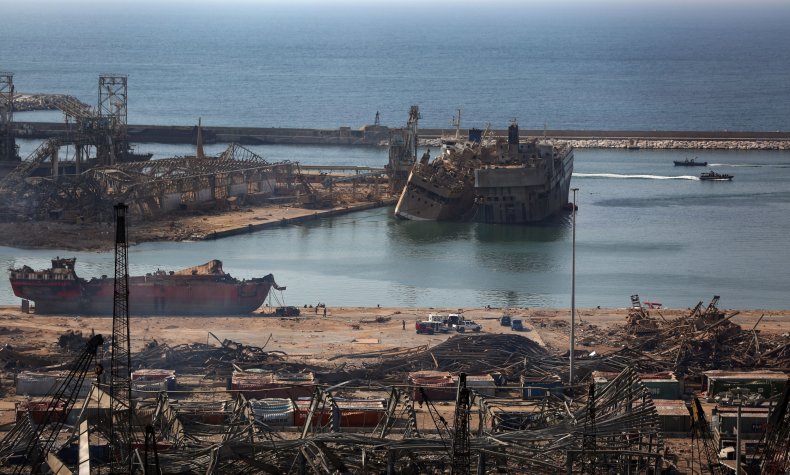 The source of the explosions remains under investigation by Lebanese authorities. Prime Minister Hassan Diab attributed the second blast, which was significantly larger that the first, to 2,750 tons of ammonium nitrate stored at the port since 2014. Ammonium nitrate can become highly explosive at high temperatures. Videos of the explosion showed an enormous fire burning at the port during the early evening.
The blast that followed shook Beirut with force akin to that of a 3.3 magnitude earthquake. Witnesses in Cyprus, more than 150 miles from Lebanon's capital, reportedly heard and felt the explosion across the Mediterranean.
Social media users condemned Feiglin's response to the massive destruction in Beirut, voicing disapproval in the comments section of his Facebook post and in numerous tweets shared independently. Many described the post as "hateful" and disturbing.
"How can @moshefeiglin celebrate the explosion that happened in Beirut without any consequences? Action must be taken against him," Twitter user Layek Hakim wrote on Thursday.
Tamir Friedman tweeted that Feiglin "does not represent Israel," adding, "We should all condemn [these] kind of talks from our side."
Newsweek reached out to the Knesset and Israel's Ministry of Foreign Affairs for comments but did not receive replies in time for publication.