The Gilded Age is the new historical drama from Downtown Abbey creator Julian Fellows. The highly-anticipated new series is set in New York City during the period of extreme economic growth and social change that spanned the late 1870s to 1900, known as The Gilded Age.
The series features a star-studded cast, including Christine Baranski, Cynthia Nixon, and Carrie Coon.
Newsweek has everything you need to know about the series including start time and streaming details so you don't miss a thing.
What Time Does The Gilded Age Start?
The Gilded Age premieres Monday, January 24 on HBO.
The first episode, titled "Never the New, Part 1" will begin at 9 p.m. ET, concluding at 10 p.m. ET.
There are nine episodes in the new series, which will air every Monday at 9 p.m. ET on the channel.
Newsweek has the full release schedule and episode titles available below:
Episode 1: "Never the New, Part 1" — Monday, January 24
Episode 2: "Never the New, Part 2" — Monday, January 31
Episode 3: "Money Isn't Everything" — Monday, February 7
Episode 4: "Face the Music" — Monday, February 14
Episode 5: "A Long Ladder" — Monday, February 21
Episode 6: "Charity Has Two Functions" — Monday, February 28
Episode 7: TBC — Monday, March 7
Episode 8: TBC — Monday, March 14
Episode 9: TBC — Monday, March 21
How To Watch The Gilded Age?
The Gilded Age will air exclusively on HBO and HBO Max in the U.S.
If you do not have access to the HBO network, you can sign up to become an HBO Max customer now for $14.99.
Via HBO Max, you will be able to stream episodes of The Gilded Age every Monday from 9 p.m. ET or catch up after they have aired.
Audiences in the U.K. will be able to watch The Gilded Age every Tuesday, starting January 25, via Sky Atlantic and NOW TV.
What Is The Gilded Age About?
The Gilded Age is set during the late 1880s, at a time when economies across the world were changing. In many people's eyes, this economic change was for the best but for others, it brought great chaos and upheaval to their lives.
The series takes place during the transformation and follows the story of Marian Brook (played by Louisa Jacobson), who moves from her family's farm in Pennsylvania to New York City to live with her wealthy aunts Agnes van Rhijn (Christine Baranski) and Ada Brook (Cynthia Nixon).
However, the movie is not as plain-sailing as hoped, thanks to culture wars, social class struggles, misogyny, new freedoms, adolescence, and a whole load of money.
The official synopsis for The Gilded Age via HBO reads: "The American Gilded Age was a period of immense economic change, of great conflict between the old ways and brand new systems, and of huge fortunes made and lost.
"Against the backdrop of this transformation, HBO's The Gilded Age begins in 1882 with young Marian Brook moving from rural Pennsylvania to New York City after the death of her father to live with her thoroughly old money aunts Agnes van Rhijn and Ada Brook.
"Accompanied by Peggy Scott (Denée Benton), an aspiring writer seeking a fresh start, Marian inadvertently becomes enmeshed in a social war between one of her aunts, a scion of the old money set, and her stupendously rich neighbors, a ruthless railroad tycoon and his ambitious wife, George (Morgan Spector) and Bertha Russell (Carrie Coon). Exposed to a world on the brink of the modern age, will Marian follow the established rules of society, or forge her own path?"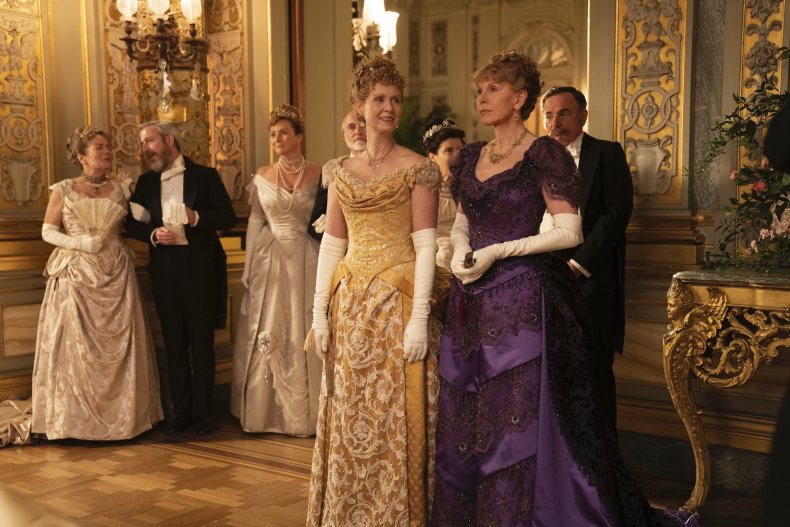 Who Stars in The Gilded Age?
The Gilded Age features an assembled cast, including Carrie Coon, Morgan Spector, Denée Benton, Louisa Jacobson, Taissa Farmiga, Blake Ritson, Simon Jones, Harry Richardson, Thomas Cocquerel, and Jack Gilpin.
Sex and the City's Cynthia Nixon stars as Ada Brook and The Good Fight's Christine Baranski takes on the role of Agnes van Rhijn.
Also starring in The Gilded Age is Ben Ahlers, Michael Cerveris, Kelley Curran, Claybourne Elder, Linda Emond, Katie Finneran, Amy Forsyth, Michel Gill, Ward Horton, Bill Irwin, Sullivan Jones, Celia Keenan-Bolger, Nathan Lane, Audra McDonald, Debra Monk, Donna Murphy, Kristine Nielsen, Kelli O'Hara, Patrick Page, Taylor Richardson, Douglas Sills, John Douglas Thompson, Jeanne Tripplehorn, and Erin Wilhelmi.
The Gilded Age premieres Monday, January 24 on HBO Max.