'The Good Fight' Creators and Christine Baranski on the Big Changes in Season 5
The Good Fight season 5 is streaming now on Paramount+, and there is a lot of change at Reddick Lockhart. At the start of the season (read the show's creators breaking down the premiere here), fans had to say goodbye to both Cush Jumbo as Lucca Quinn and Delroy Lindo as Adrian Boseman.
But that is not the only change in the spin-off to The Good Wife, whose first episode saw Christine Baranski's Diane Lockhart join an all-black law firm.
Speaking to Newsweek, Good Fight creators Robert and Michelle King said: "It was Christine Baranski that made the joke that in this season we lose three main characters: Boseman, and Lucca, and Trump."
Diane and most of the firm may be pleased that they now live under a Biden administration, but the fall-out from the Trump years continues as the season continues. A major plot of the season sees Diane's husband Kurt (played by Gary Cole) tied up with the January 6 attack on the Capitol.
Per Baranski, this plotline was a late addition to the season. She told Newsweek: "When the writer's room started, January 6 had not even occurred. And we had Gary Cole for eight out of 10 episodes this year and it was like, 'what do we do with Gary?'
"And then January 6 occurred, and they rather brilliantly wrote a plot for Kurt and Diane that involves, whether or not Kurt was inadvertently involved, helping an insurrectionist, and the conflicts that it might impose on a marriage. And so it's been a rich season for me, in terms of my work with Gary, because, politics really entered the bedroom there."
Before that plot kicks off, however, the show had to say goodbye to two characters. Originally, per the Kings, the plan was for Lindo to leave at the end of Season 4, and Jumbo to leave in season 5, but due to the former being cut short, both left at the end of the current season.
Per Baranski, she knew Jumbo was leaving during filming on season 4.
"Cush very much lives in England," Baranski said, "her husband is English. She has a family, grandparents who want to see her little boy. She wanted to see me for a lunch and told me personally...it was difficult for her, and I think she regretfully left. She loved the show, she loved her character and all, but it was practical."
Michelle King said of their exit: "These were two actors we felt were irreplaceable and yet we had to replace them. So how do you move forward there? I do feel like we have, got very fortunate with Charmaine Bingwa as Carmen who's just terrific. And Mandy Patinkin is a real kick."
As introduced in Episode 2 of The Good Fight season 5, Bingwa is a new associate with a disturbing willingness to work with some of the firm's shadier clients.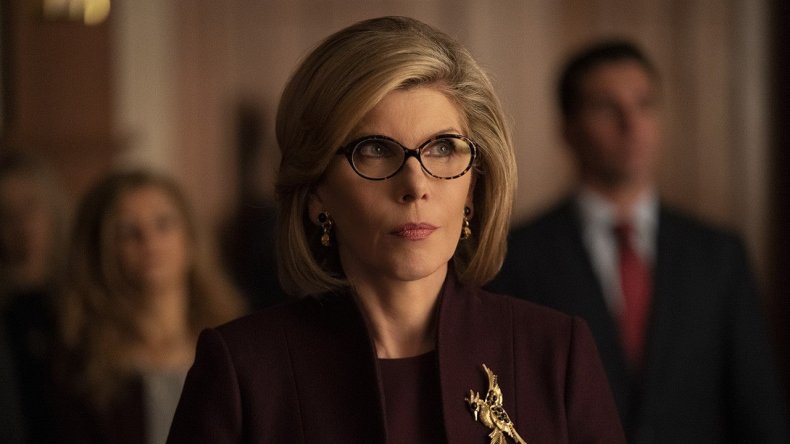 In the Emmy and Tony-winning Mandy Patinkin, however, the show has one of its strangest characters ever: Hal Wackner, a man who literally takes the law into his own hands by setting up a law court in the back of a copy shop.
Per Robert King, the idea came from writer Aurin Squire, who "pitches this idea of a courtroom in the back of the Kinkos and we all laughed.
"Then we thought well maybe that's just enough for one episode but then with more, we thought about everything that was going on in the news and the absurdity that was all around us."
The Good Fight creator explained: "There was a worry last year and for the last 40 years the guard rails would not hold. And the guard rails at least legally did hold. 62 cases were brought against the election results and 61 were turned down by judges, even Trump appointees.
"The worry with January 6 is not that the guardrails won't hold, it's that the country will fracture within the guardrails. That is our worried about the law...that someone has this idea, 'I don't love the court system the way it is, it's too slow, I have a better idea. I'm going to do it in the back of a Kinkos.'
"That I think is funny, and we wanted to be comic but also there's a dangerous instinct underneath it which is If everybody can create their own justice system, what is our country then?"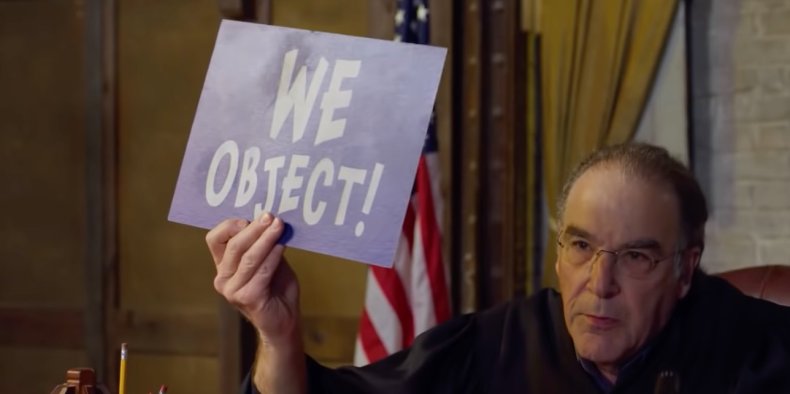 For Baranski, it was an opportunity to work with another of the many New York theater legends who have appeared on the show over the years. "The show is a bit of a revolving door for great actors to come in and do work," she said. "And now this season, we have Mandy for the whole season, playing such an eccentric, marvelous character, giving a tour de force.
"It's really a subplot involving a kangaroo court, people taking the rule of law into their own hands, and he's dispirited about the legal system, and creates his own court. And much of it is very funny, it's audacious, and yet it raises a lot of questions about the justice system failing us, and people wanting the justice system to work better and work faster."
Robert King added that what made the character such a key part of season 5 was how he filled in the role left by Lindo, without being anything like Adrian Boseman. He said: "it's a very different temperature, which I think is good. Mandy had fun with it. I think every actor coming out of the pandemic, wants to stretch their legs...he said yes to us and he came in and there was this explosive quality to what he was doing.
"He's not a replacement for Delroy at all. He's playing a completely different character, so we're just thrilled to get him while he's hot basically."
As for what Diane will face this season, Baranski teased, "she has a nocturnal confidante...this season introduces historical figures as people in the show, and so we're going to have that element with Diane as well.
"There was a point where the Kings wanted to write the Kurt and Diane story as though it really wasn't going to work out and she sends him packing, but I fought that. So what you will see, it's two people trying to working out that marriage. She's in a crisis in her personal and professional life and she's trying to stay afloat in both, so, it's been very rich, dramatic material for me, all the way through all 10 episodes."
The Good Fight season 5 marks Baranski's 12th year playing Diane Lockhart, who she first starred as in The Good Wife's pilot in 2009.
Over the years, however, the character has deepened, mellowed and evolved—it is difficult to imagine the Diane of The Good Wife getting into ax-throwing, or having a microdosing phase as she did previously on The Good Fight.
Asked about the evolution of the character, Baranski said, "when the show started, the pilot, Diane had to be something of an adversary for Alicia [Florrick, played by Julianna Margulies in The Good Wife] because she didn't want Alicia to come in because she was the wife of the state's attorney.
"She was the tough boss, she has to be established as a tough female lawyer, but over the course of The Good Wife, the Kings and I agreed that we didn't want that character to fall into the cliché of being the bitchy boss or the older woman who has a successful career but has no personal life. Or, she drinks at night or is a victim. We try to avoid all the clichés."
The Emmy and Tony winner added that the character also developed as the Kings discovered her range. "They got to know me as an actor and a person," Baranski said, and realized how much of a sense of humor I have....they've added funny scenes because they know I can do funny things, and I think Diane has loosened up.
"You live through all this stuff and you become more fluid, or you just become totally rigid and maybe you self implode, or go on tranquilizers. It's been a tough time to be a liberal feminist!"
Despite having worked with the Kings for over a decade, Baranski says she still gets challenged by them, especially with the flights of surrealism that make The Good Fight such an enjoyable show.
Asked what moment she had found the weirdest on The Good Fight, she laughed: "I suppose when Diane had to be in that latex catsuit with Gary, I thought, 'wow, you're really asking someone my age to be in the latex, with the whip and be the dominatrix...of course, I was very brave to just stuff myself into a latex catsuit! I just thought, 'how many actresses get to do that? I mean, at any age?!'"
The Good Fight season 5 airs Thursdays on Paramount+