'The Good Fight' Season 5 Showrunners Break Down Episode 1
The Good Fight is back for Season 5, more than a year after the show left viewers with the unforgettable image of Jeffrey Epstein's cryogenically frozen penis. A lot has happened in the world since then, and the show tries to recap it all in its premiere "Previously On…"
In the first episode of Season 5, we see Jay (played by Nyambi Nyambi) as one of the first victims of COVID-19, Diane (Christine Baranski) teaming up with the real-life Michael Bloomberg (playing himself) to bring a case to the Supreme Court, and watch along with Diane and Adrian (Delroy Lindo) as they witness the election of President Joe Biden and the Capitol riots on January 6.
While Episode 1 spends much of its time showing us how the characters dealt with the real-life events of 2020 and early 2021, it also had to give endings to Adrian and Lucca (Cush Jumbo) after both Lindo and Jumbo left the show.
Newsweek spoke to Good Fight creators Robert and Michelle King to find out how they managed it, and to preview what else fans can expect from the series named one of the best shows of 2020. This interview has been edited for length and clarity.
The premiere takes us all the way through 2020 and up to the attack on the Capitol on January 6. When did you start writing and filming it?
Michelle King: January, February. We started in the writer's room in November.
Robert King: Yeah, like November 7, and then we started shooting, I believe in the end of January, early February. So we're shooting right now. We're shooting Episode 9 and 10 on Monday.
The events of the Capitol attack are a big part of Episode 1 and the season in general. Did that mean a lot of rewriting as you were already two months in by then?
RK: Not as much as you would think, because we tend to build carefully and write quickly. So, very last minute, you could find something where you meant to go to the left, but now you're going to the right, because of some change.
But we did know that this was going to be a show that ended on January 6. We did because it seems like a big demarcation, like before Christ and after Christ for America, and maybe for the world too.
MK: From the very start of the writer's room, the question was, how do you deal with the pandemic? Do you address it in the show? Or do you jump past it? And the feeling was when the writer's room got together virtually, we spent the first block of time just trying to catch up with each other, what we all had gone through, and then the feeling was we're going to want to know what the characters went through as well. And yet we didn't want to spend an entire season there, so hence "Previously On…"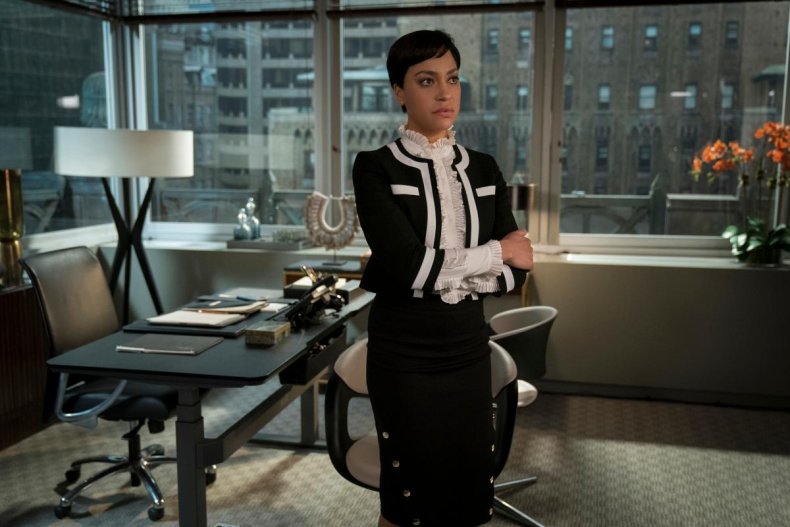 Did the difficulties of the pandemic affect any of your plans for the premiere? Am I right in assuming that Cush Jumbo's character is in London because the British actor was unable to travel back to the U.S.?
RK: Yes, 100%. Even stuff that's supposed to be in her apartment in Chicago, we shot in London.
MK: What was great about it was we've never been able to get out of New York to film anything. So suddenly we were in London for London, it was kind of thrilling.
One of the most surprising elements of the premiere was the cameo from Michael Bloomberg. How did you convince him to appear?
MK: Well, Mike Goldberg has been on The Good Wife [The Good Fight is a Good Wife spin-off], I think, twice? So, there is a relationship there and so we were able to reach out. We have a relationship with one of his aides.
RK: For that moment, we needed Diane to get an invite to argue this case from a top person the audience would believe. So we scripted it where if we need to go to somebody who wasn't real, that was easy, but Bloomberg became available.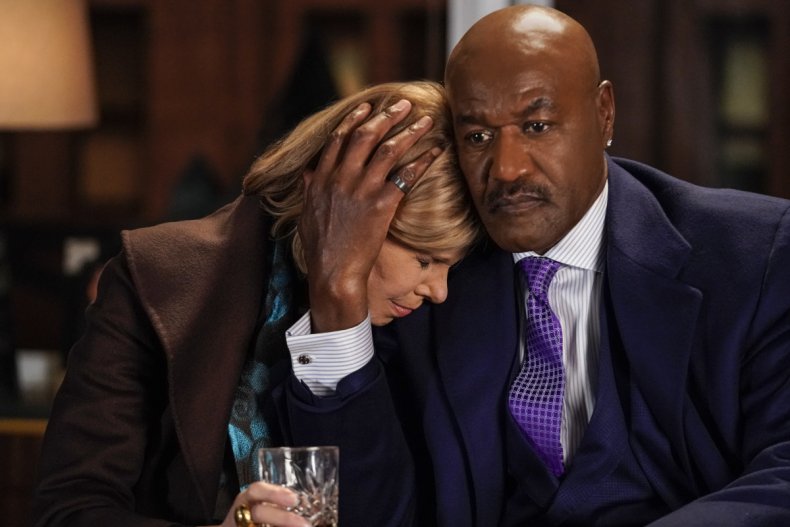 Season 4 was cut short due to the pandemic. How much of what we see about the Memo 618 storyline and Delroy Lindo leaving in the premiere was originally meant for last year's finale?
RK: There was a plan to say goodbye to Delroy and Cush around the end of the fourth season, and we were writing towards that. But we didn't want to say goodbye to two characters in one episode, so we were going to save Cush for the beginning episode of this season.
But then obviously the pandemic had a different idea, so we decide to go this other route. Oddly, what we thought we were gonna do is we're going to have Delroy be the Black politician in the 2024 campaign. That was when it was looking like Biden or any Democrat was going to win. God, that feels like a century ago.
We thought that Memo 618 would somehow get Julius Kane [Michael Boatman] out. That Julius Kane was going to be convicted and there was going to be this last cynical beat that got him out with Memo 618. Because even though it's something that can trap you, if you're entitled enough, you can be saved by it too. Just like a Monopoly get-out-of-jail-free card, that can work both ways.
But Memo 618 is still in play and will still come back. It's still a moving piece in our universe. We don't love giving away or throwing away good plot points. And it's a good plot point because it plays as a strong metaphor for the way the American justice system often works for the entitled.
If you can see what's going on with Trump's possible prosecution, it seems Memo 618 is in play there in some way.
Why did you choose Jay as the character who gets really sick with COVID at the start of the pandemic?
RK: The thought of a man with some physical strength being bedridden by the pandemic was a moving thought, so that was one thing. Also, Jay seems to be so upset about the way the government of the United States is going on racial issues. And then, with George Floyd, it felt appropriate that he would go somewhere in his mind. We've been moved by all these accounts of [COVID] long haulers having still some hallucinations. So we decide to use that combination.
Then Aurin Squire, one of our writers, and he mentioned this commercial from Soul Train that had Frederick Douglass.
MK: The Afro Sheen commercial.
RK: It just felt like an interesting way to not be pretentious about it that your inner mind would go to something like that.
The Good Fight has been tied up with the Trump presidency since its first episode, which was set just after his election. Have you given any thought of what the show looks like under a Biden presidency?
MK: Well, it was Christine Baranski that made the joke that in this season we lose [Adrian] Boseman and Lucca and Trump.
But we still had an insurrection to look at this season. So, it wasn't as though everything flipped over just to some idyllic world. Although if you saw the end credits that was our, "Oh look, it's Biden and now it's bunnies and kittens" joke.
RK: I think Michelle's right. After January 6, you can't get a moment of peace when it's moved from one man to a movement.
The Good Fight Season 5 airs on Thursdays on Paramount+.