'Gilmore Girls' Creator Amy Sherman-Palladino on New Amazon Show 'The Marvelous Mrs. Maisel,' Those Final Four Words and Boycotting Network TV
Last Thanksgiving, Lorelai and Rory Gilmore returned to TV screens in Netflix's Gilmore Girls revival. The reunion was 10 years in the making, and it served as the perfect cure for turkey-induced comatose. This year, Gilmore creators Amy Sherman-Palladino and Daniel Palladino have a new show they hope will capture that same holiday-weekend viewing magic: Amazon's The Marvelous Mrs. Maisel.
Set in the 1950s, the dramedy follows New York housewife Midge (Rachel Brosnahan) as her perfect suburban life is upended. Her husband, an aspiring but talentless comedian decides to end their marriage, sending Midge to find solitude in the dive bar where her husband tried out standup routines. Drunk, Midge finds herself onstage and lamenting her failed relationship—which delights the crowd. Turns out Midge is the comedy talent in the family, which opens up a new path for her.
The repartee in Maisel is as snappy and witty as Gilmore Girls and Brosnahan is as infinitely watchable as Alexis Bledel and Lauren Graham. If you missed the Gilmore train and can't bring yourself to catch up on the show's more than 100 episodes, Maisel serves as a satisfying entry point into the wacky and wonderful minds of the Palladinos. They talked with Newsweek about their new Amazon show, the one-year anniversary of Gilmore Girls: A Year in the Life, the famous final four words and whether we'll see Rory and Lorelai again.
Amy, your father, Don Sherman, was a comedian. Did that have some influence in writing a show set in the comedy world?
Amy Sherman-Palladino: I think my dad's musings about the Greenwich Village basket house days, the Catskills and being on tour burrowed its way into my tiny brain. And then my early comedy upbringing was Mel Brooks, comedy albums. But I didn't want to do comedy today. There was something about that time, a woman in that time. We didn't want to do a show about standup comedy. We wanted to do a show about a woman in a certain time who thinks that she's got everything she wanted, and when the rug is pulled out from under her she suddenly realizes there's this whole world out there she didn't know about. Her journey is going to be: "Do I like this new world?" She discovers a drive in herself, an ambition, she never would have discovered if she was living the life she was.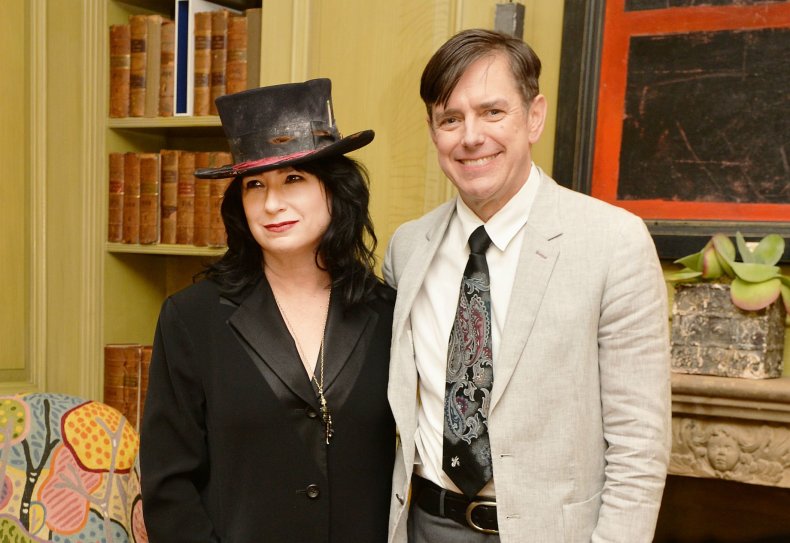 This show has the same fast-paced dialogue delivery as Gilmore Girls. Was there ever a question of using the slower cadence usually heard on television?
Daniel Palladino: The fast-talking, we've always been of the opinion that people talk fast in life. If someone wrote the character of you in a TV show, the actor would be speaking half as fast as you're speaking because the director doesn't say, "Hey, he actually speaks like this." It can feel fast to an actor, because people are not just used to talking as fast as they do in real life. It's a rhythm. It's the way we see the world.
Sherman-Palladino: I think that's just the way we write. It's like music. We have our way of writing. I think people who liked Gilmore will enjoy this because it's going to have an energy and drive to it like that. But they're very different characters. Lorelai's humor was very much about guarding [herself] and having protective layers. Midge doesn't need any protective layers, because she's Midge.
You've lucked out with another great female lead in Rachel Brosnahan. How did you decide she was your Midge?
Sherman-Palladino: We had a casting director in LA who called us up and said, "Look, there's nothing on her resumé that says she's right for this role, so don't bother looking." Her speciality was being zip tied and thrown in a box. She did a lot of those sorts of parts. She didn't do a lot of comedy, but I absolutely believed she could be our girl. Then she came in and Rachel is naturally energetic and vivacious like Midge is. She's very confident. Actors walk in, even good actors, and those [script] pages will shake ever so slightly—not Rachel's. There was no fear.
The discussion wasn't over whether is it Rachel or isn't it Rachel. It was more, do we tell Amazon it's Rachel or do we wait to hear what they think? Do we let them think there's some flexibility? We had [broadcast] network PTSD where they want to see 40 people. We just got on the phone with them and were like, "Let's just tell them it's Rachel." We said it was Rachel and they said they wanted Rachel, too.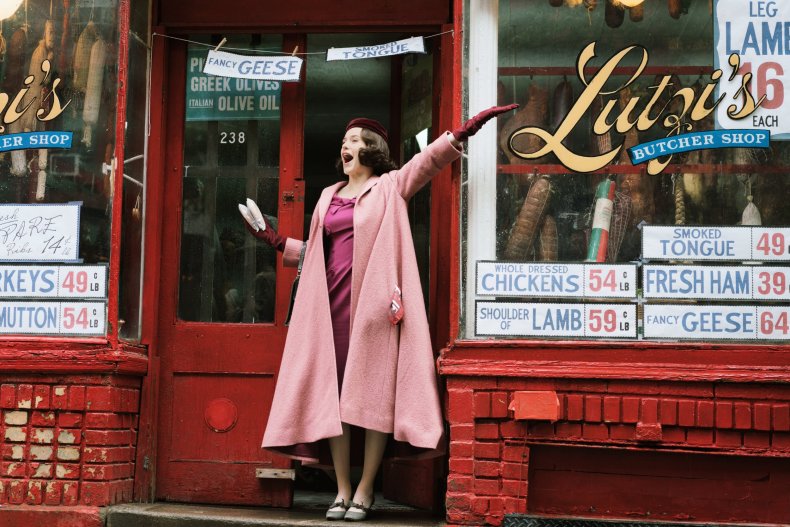 Regarding the network PTSD, are you done with network television now?
Sherman-Palladino: We're done. The networks aren't like they were when we did Gilmore Girls. They're much worse. They've only gotten worse, oddly enough, the more streaming services came into play.
Palladino: Our back-to-back experiences at Amazon and Netflix were very similar. They brought us in, they wanted our voice. The process was great. It's very streamlined. We love this world because it allowed us to do exactly what we wanted to do. We plan on working with those kind of outlets for the rest of our careers.
We need to talk about those final four words in Gilmore Girls: A Year in the Life. How does it feel to have them out there in the world after 10 years of holding on to them? And does it feel good that no one guessed them?
Sherman-Palladino: That's the best part. [Laughs]
You tricked everyone…
Sherman-Palladino: I know! There's been so many guesses over the years. Lauren would text and go, "Here's a new one." I didn't think it was very hard to get to, because it's mother like daughter. They're so similar. Rory was brought up by mom, only by Lorelai, so I'm surprised more people didn't see it coming.
We actually had Lauren loop it because she said, "Yes," and it was, "Yeah." And I go, "Look, I've been living with this for 10 fucking years. It's gotta be 'Yeah,' not 'Yes.'"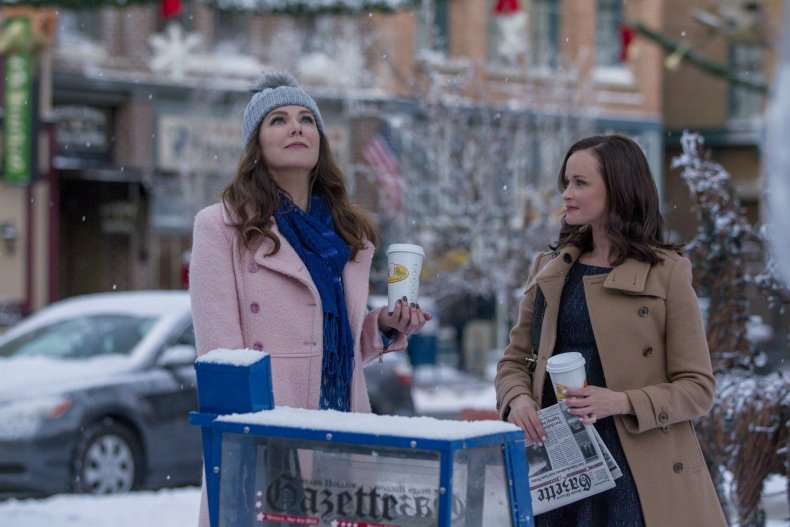 It feels like the story has come full circle. Lorelai was a single mother, now Rory is pregnant. It feels like a poetic ending to Gilmore Girls if that is indeed the end.
Sherman-Palladino: I never saw us doing it again after the series went off the air. We didn't close it out [because we left after Season 6] and weirdly, [the writers of Season 7] never zeroed in on the territory I was in. It was wide open for us to go there. They didn't have Lorelai and Luke get married. Really? They didn't go there with Rory [getting pregnant]. Really? And then Ed Hermann passed away and we were all fucked up about that, so there was something honoring him. If this is the last thing we do, we did our job and ended it in a beautiful way. The point isn't about who's the father, it's about mother and daughter. The circle of life.
But people will still inevitably want more.
Sherman-Palladino: I understand that.
Palladino: Gilmore Girls, when we were doing it, it felt like a very small thing. And it became a bigger thing after it went off the air. It's kind of become a big thing. It would have to be exactly right, exactly the right timing. We would want it to be something the audience wants to see. Not just the characters, but the stories that people want to see. It's a big responsibility. But we're open to it.
Netflix's Ted Sarandos said you've been in early talks for more Gilmore Girls. What is the status of that?
Sherman-Palladino: I don't know who he had those talks with. Maybe people who kind of look like us? We've never had those talks. It was very nice of him to say they're interested in more. We enjoyed the experience.
The Marvelous Mrs. Maisel streams globally on Amazon Prime Video