Everything Gina Deuters Has Said About Johnny Depp, Amber Heard
Gina Deuters, a close friend of Johnny Depp, Gina Deuters, has spoken out on the actor's 15-month marriage to Amber Heard—one month after she was excused as witness at the former couple's defamation trial.
Depp, 58, is currently locked in a court battle with Heard, 36, after filing a $50 million lawsuit accusing her of defamation over an op-ed published by The Washington Post, in which she said she was a victim of domestic abuse.
While Heard did not name Depp in the article, his lawyers argued it was obvious she was referring to the star. Heard is countersuing for $100 million for nuisance.
During proceedings at Virginia's Fairfax County Circuit Courthouse, each star has made shocking allegations about the other—with the bulk of the accusations centering around domestic abuse.
Depp and Heard have each denied the other's allegations of domestic abuse.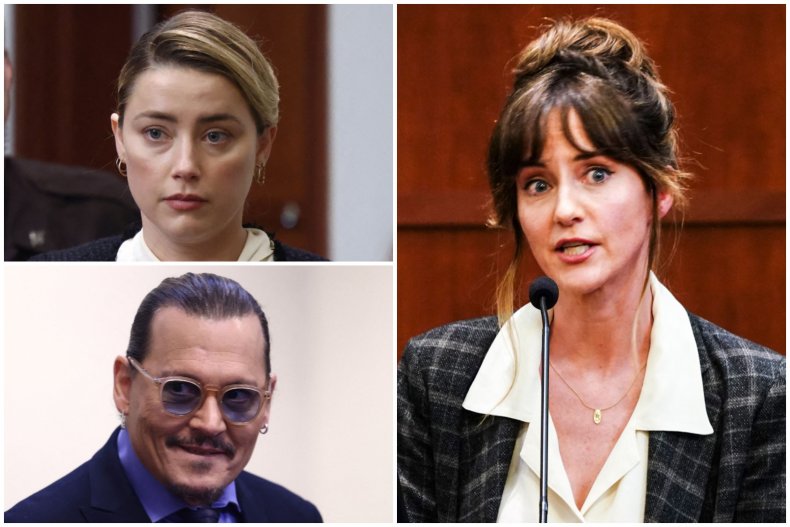 Deuters, the wife of Depp's business partner and assistant Stephen Deuters, has spoken out about Heard in a recently published interview with Page Six, portraying the Aquaman star as volatile and branding her a "sociopathic show pony."
"There was one thing Amber said at the wedding [in 2015]. She kind of leaned into me and said, 'Do you and Stephen ever fight?' I responded, 'We sometimes have an argument,' and she was like, 'No, Gina, like really fight?' And it was kind of unnerving. [I thought], 'Do you enjoy it?'" Deuters told the publication.
"Fighting is Passion"
"I think there is a part of Amber that [believes] fighting is passion," Deuters, who has been friends with Depp for 20 years, went on. "It means there's sparks, fireworks [in the relationship]. [Amber] is someone who is always used to getting what she wants. She is quite entitled and I think she made big demands in their divorce."
"When [Amber] was denied those demands, I feel she was like, 'I am not going to get what I want so I am going to destroy you,'" Deuters added.
Deuters, who said that she had never seen Depp get violent with Heard, was excused as a witness on April 14, after she told the judge that she had followed the case online. Her testimony was subsequently struck from the record.
Heard's friend Eve Barlow had brought a January 2021 tweet by Deuters to the attention of the court, but she was then banned by the judge for breaking the court's no-phone policy.
"Sociopathic Show Pony"
"My husband called her a sociopathic show pony, and he certainly doesn't regret it," Deuters continued in her interview. "Stephen, at the end, was quite literally the mediator... no one else wanted to deal with Amber, and Stephen would be the only person she could talk to."
Describing Depp's relationship with Heard as "less of a relationship and more of an Amber invasion," Deuters went on: "Instantly she started moving her friends into his properties. It was quite shocking how she eventually isolated him from his family and friends... it definitely felt like we'd kind of lost him."
"[Amber was] absolutely controlling... the whole getting married thing was rushed," Deuters said. "It just happened all so quickly, to the point where honestly Johnny's family weren't notified and some of them couldn't get down there in time."
"Johnny Wouldn't Hit a Woman"
As for the allegations of violence, Deuters insisted that she had never seen Depp behave in a violent manner toward Heard or any other woman.
"By all means, their relationship was volatile, but I just know that Johnny wouldn't hit a woman," she said. "I can sleep at night knowing I am supporting my friend. I absolutely feel he has been a victim of domestic abuse and he deserves justice."
Deuters, who said that Depp had spent the trial break in the U.K., added that the actor has no regrets about the trial: "Yes, it's like reopening old wounds. But the fight to clear his name is ultimately for his children, as painful and as ugly as it is."
"Now I see why he wanted the cameras; so the public can hear him and others speak directly about their experiences," she added. "He has finally felt his voice has been heard and that means a lot to him."
Newsweek has contacted a representative of Heard for comment.
During her two days of testifying earlier this month, Heard emotionally alleged that she had been beaten and sexually assaulted by Depp during their ill-fated relationship, which ended in 2016.
For his part, Depp had earlier testified that he, too, had been physically abused by his Rum Diary co-star Heard, who he accused of throwing a large bottle of vodka at him, resulting in injuries that included the severing of part of his fingertip.
Depp and Heard have each denied the other's allegations of domestic abuse.
The trial continues.