Ginni Thomas 'Must Be Subpoenaed' by Jan. 6 Committee: Glenn Kirschner
Former U.S. Army prosecutor Glenn Kirschner said that Virginia "Ginni" Thomas, the wife of Supreme Court Justice Clarence Thomas, "must be subpoenaed" by the House select committee investigating the January 6, 2021 attack against the U.S. Capitol after her text messages with a top Trump administration official were reported this past week.
The Washington Post and CBS News together reported on Thursday that Virginia Thomas, a conservative activist, sent multiple text messages to former President Donald Trump's White House chief of staff Mark Meadows ahead of the attack against the U.S. Capitol and Republican attempt to overturn President Joe Biden's Electoral College victory last year. Those messages expressed strong support for efforts to overturn the 2020 election results and advised the then White House official regarding legal counsel Trump should utilize.
"Help This Great President stand firm, Mark!!!...You are the leader, with him, who is standing for America's constitutional governance at the precipice. The majority knows Biden and the Left is attempting the greatest Heist of our History," she wrote in a November 10 message to Meadows. She also told the White House official that controversial right-wing attorney Sidney Powell should be "the lead and the face" of efforts to overturn Biden's win.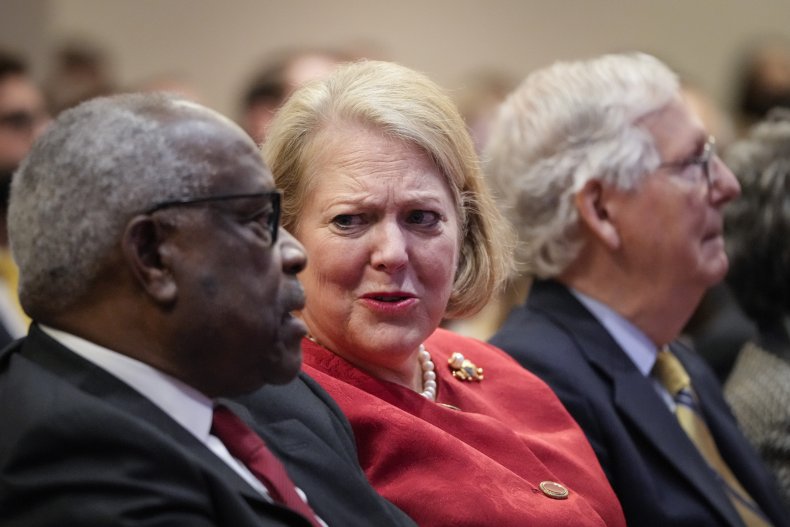 "First of all, Ginni Thomas must be subpoenaed by the January 6 committee to get to the bottom of the influence that she was sort of passing from the Oval Office potentially to her husband, a Supreme Court justice," Kirschner told MSNBC on Sunday.
The attorney continued, saying that she "needs to be investigated by the Department of Justice to see if her conduct rises to the level of being part and parcel to the conspiracy to—not just unconstitutionally—but possibly criminally overturn the election results."
Virginia and Clarence Thomas have faced substantial criticism in the wake of the reporting on her text messages with Meadows. A number of legal experts have contended that Clarence Thomas should recuse himself from any Supreme Court cases related to Trump's efforts to overturn the 2020 election and the events of January 6.
"Clarence Thomas cannot sit on any matter involving the election, the invasion of the Capitol, or the work of the January 6 Committee," New York University law professor Stephen Gillers told The New Yorker last week, asserting that the judge's wife "crossed a line."
"I agree fully with NYU's Stephen Gillers," Harvard constitutional law professor Laurence Tribe posted to Twitter on Friday. "Justice Thomas must take no part in the consideration of any case related to the 2020 election, the 1/6 Committee, the attempted coup, or the insurrection."
Questions and criticism of Virginia Thomas and her right-wing activism had already been circulating prior to the revelations about her text messages with Meadows. However, she insisted to the Washington Free Beacon earlier in March that her husband "doesn't discuss his work with me, and I don't involve him in my work."
Newsweek contacted the Supreme Court's Public Information Office for comment from Clarence Thomas, but has not received a response.
Some lawmakers have also urged Clarence Thomas to recuse himself from future cases relating to the 2020 election and January 6.
"At the bare minimum, Justice Thomas needs to recuse himself from any case related to the January 6th investigation, and should Donald Trump run again, any case related to the 2024 election," Senator Ron Wyden, an Oregon Democrat, said in a Friday statement.
Senator Amy Klobuchar, a Minnesota Democrat, echoed those sentiments in a Sunday interview with ABC News' This Week.
"You have the wife of a sitting Supreme Court justice advocating for an insurrection, advocating for overturning a legal election to the sitting president's chief of staff and she also knows this election, these cases, are going to come before her husband. This is a textbook case for removing him, recusing him from these decisions," Klobuchar, who is a lawyer and former county attorney, said.
Senator Rob Portman, an Ohio Republican, said that he would "respect" Clarence Thomas' opinion on whether or not he should recuse himself in a Sunday interview with NBC News' Meet the Press. However, he noted that the text messages "might be an issue" if cases related to January 6 records come before the Supreme Court.
Newsweek reached out to the Conservative Partnership Institute where Meadows is a senior partner for further comment, but did not immediately receive a response.