The Offer star Giovanni Ribisi didn't get the best feedback on his performance as Joe Colombo when a man who claimed to know the real-life mob boss said he was "doing it all wrong."
Coinciding with the 50th anniversary of The Godfather, The Offer is launching on Paramount+, telling the true story of how the movie was made. The dramatization features Miles Teller, Juno Temple, Matthew Goode, Colin Hanks and Ribisi and the first three episodes launch on the streaming service on Thursday April 28, 2022.
The Offer re-tells how the movie almost never got made due to the real-life gangsters who attempted to block production and shows how the likes of Frances Ford Coppola, Al Pacino and Marlon Brando were recruited to the movie by determined producer Albert S. Ruddy.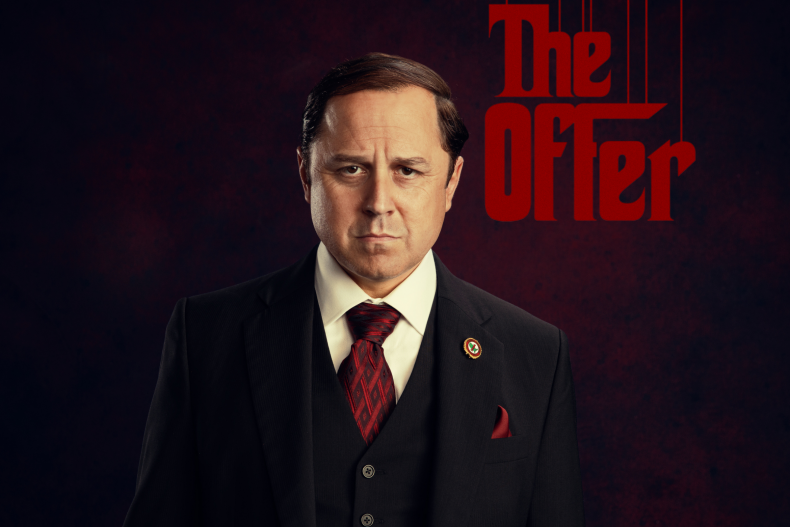 Ribisi's run in
While The Godfather has gone down in history as one of the best movies ever made, a lot of people hoped that Mario Puzo's book would never hit the big screen.
One of The Godfather's biggest opponents was Joe Colombo, the boss of the Colombo crime family. He and many other Italian Americans thought the story gave them a bad name, and proceeded to intimidate Paramount Pictures producers who were attempting to make the movie.
Ribisi plays Colombo, but found his performance criticized by an unexpected source.
"At one point, there was a guy who was on the show, and he had apparently, he claimed that he had 'lived the life,'" Ribisi told Newsweek, "I think he had actually been in the same room or had been around Joe Colombo, or so he said.
"Then he just basically proceeded to tell me how I was just doing it all wrong," Ribisi laughed. "But he was nice. We actually kind of became friends."
Coming face to face with a man who'd met the real Colombo, Ribisi didn't feel the need to mine him for information, as he'd already decided on his own character.
"It's more related to performing as opposed to playing somebody, if derived from a real-life context, because you're putting that character into a different context that becomes fiction. Fiction, even if it is a biopic or based on a true story," Ribisi said.
Other actors in The Offer play characters who existed in real life, but none had the nefarious links Colombo did.
"It always comes with its challenges," Burn Gorman told Newsweek. "Imagine playing say, Bronson, like Tom Hardy did. The weight that comes with that where you think, 'if I don't play this right.'"
"This is like a time capsule as well," Matthew Goode said. "So it's like if you're playing something that was relevant about some sort of mafia family now and they were upset, it might feel like you were in the shooting line, or a little bit perturbed, but that's not what we're doing."
"We really tried to honor the characters," Gorman said.
Gorman plays Charles Bluhdorn, the exuberant owner of Paramount, while Goode plays the suave operator Robert Evans, the Head of Paramount Pictures.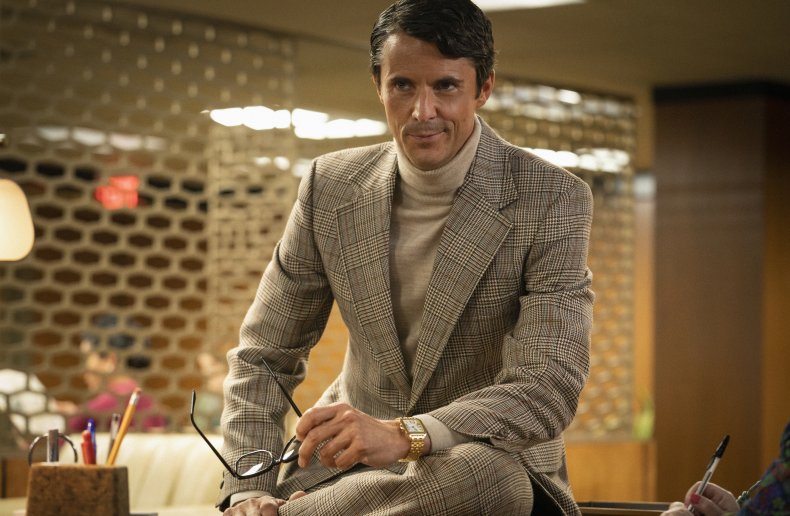 Each of the actors in The Offer have spent plenty of time around real life movie executives and producers in their time and Goode admits he's always observing those characters to potentially inform future roles.
"I've fallen in love with Bob [Evans] because I think he was a bit of a maverick and rather brilliant at his job, but I've never met anyone like him. The '70s were a much more cavalier time so it was an honor to play with him and to be as expressive as he was.
"I've never met anyone like him but I do look around at [other executives] and think, 'I will bank that for the future,'" Goode said.
'Brothers' on set
The Offer sees famed Hollywood producer Albert 'Al' Ruddy assemble all the parts that would eventually become the cinematic masterpiece that is The Godfather. The first pieces of the puzzle? The writers Mario Puzo and Francis Ford Coppola.
"Francis talks about, when he was making The Godfather, he talks about getting all the actors together, and eating and partying and hanging out and he talks about all these sensual activities," Dan Fogler told Newsweek. He was tasked with playing the co-writer and director of The Godfather, and its subsequent sequels.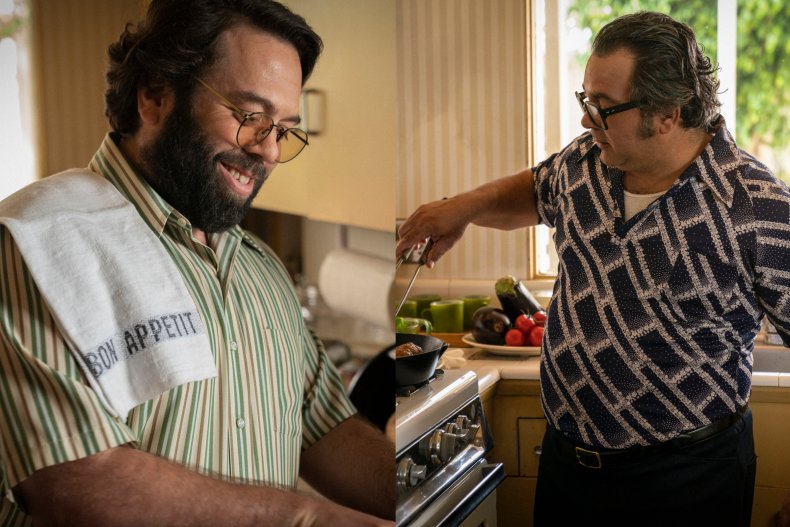 Coppola and Puzo were thrown together in a house in Hollywood and, ironically, Fogler and his colleague Patrick Gallo, who plays Puzo, found themselves in the same situation.
"It wasn't like we were, you know, grinding every day and looking at the script," Gallo told Newsweek, "We would talk about it naturally and organically.
"But it was hanging out, watching films, sitting in a Jacuzzi, eating. That's what we did, literally 24 hours a day, and we became friends. We brought that in to [The Offer] and then you don't have to try to bring that to set."
"He's like my brother, you know?" Fogler said of his colleague, roommate and friend, Gallo. "Hopefully that really shows on screen. It's a good lesson for everything else going forwards."
Why The Godfather is special
Tom Hanks' son Colin, a successful actor in his own right, plays the strict executive Barry Lapidus. Lapidus is the foil for Al Ruddy and Bob Evans, providing the needed but unwanted voice of reason when it came to budgeting.
Hanks considered what other movies could have their own "behind-the-scenes, making of" biopic series like The Godfather has with The Offer. "I'm just hoping there are no television series based on any of the teen movies that I did," he joked.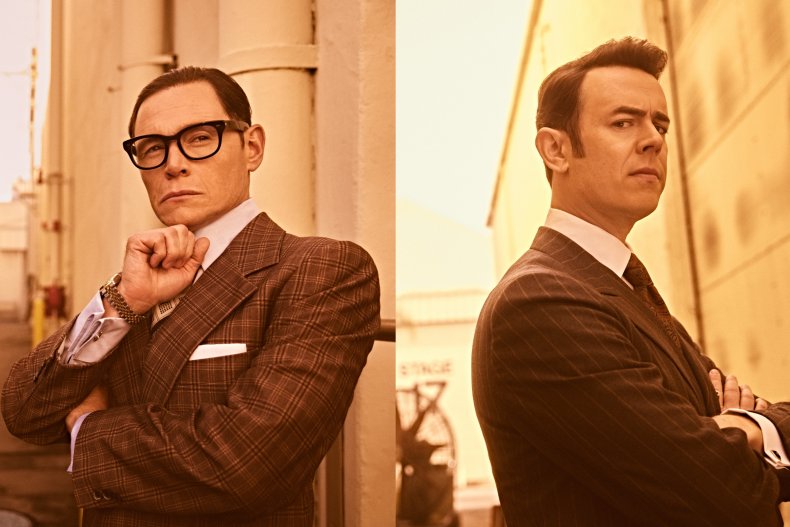 "The Offer does a really admirable job of showing how many miracles it takes to make a movie. It really is a lot of hard work, a lot of blood, sweat and tears in order to make anything," Hanks said.
"Alchemy," Gorman contibuted.
"And luck," Hanks continued. "This combination of all of these miracles. Provided that the story is interesting and what the people had to do in order to make that movie like The Godfather, probably the pinnacle of American cinema, like Apocalypse Now"— which has its own fascinating stories behind-the-scenes—"I'm sure there are plenty of others."
Goode added: "I'd like to know the hit list of the films they managed to make given all their funding, everything went smoothly, and they actually ended up being even watchable, let alone good."
The Offer kicks off on Paramount+ on Thursday April 28, 2022 with the first three episodes dropping at once. From that point on, each new episode of the 10-part season airs weekly every Thursday until the finale on June 16, 2022.