'The Girl From Plainville's' Colton Ryan on Playing Conrad Roy III
The Girl From Plainville is the latest true-crime series on Hulu. Starring The Great's Elle Fanning and Homeland's Colton Ryan, The Girl From Plainville is a dramatization of the heartbreaking true story of Conrad Roy III, who took his own life on July 12, 2014. Roy was only 18 years old at the time of his death.
In a twist of events, Roy's girlfriend, Michelle Carter was indicted on charges of involuntary manslaughter after texts were found between the pair where Carter encouraged Roy to end his life. In 2018, Carter was convicted and served 12 months in prison.
Across eight episodes, audiences will get an insight into Roy's life and the events leading up to Carter's trial, something actor Colton Ryan told Newsweek was "one of the most profound things" he had ever done and that working on the series had reminded him of the significance of being alive.
Ryan explained: "[He was one of] the most profound people I've ever encountered and mainly because the more I got to know him, the more it just shocked me and surprised me and reminded me how nuanced life is.
"The minute I thought I had this person pegged, when I sort of actually had to study the actual right and wrong answers and who this person is, then I would uncover another little rock."
He continued: "He's very organized and very focused, and then we get this other side [of him] it was such a reminder of how full life is and how complicated life is. Getting to know him was very affirming about just how happy I was to be alive. He reminded me of that."
To prepare for the role, Ryan undertook extensive research, especially as it was the first person he had ever played who was a real person. Additionally, he wanted to do Roy's time on Earth justice, including details such as getting to know his favorite breakfast and his favorite TV shows.
Ryan said: "The research was kind of extensive and I had a lot of support, obviously, from the team. They essentially handed me the keys to the writers room Kingdom, the minute I came in.
"It was like very much about the timeline, about this is the actual events that happen that we know of and it also was a lot about the legal proceedings, Ryan said.
"I had a litany of information when it came to the justice system but the interesting thing about doing this part [playing Roy] was, quite obviously, nothing that I did on screen has to do with any sort of legal proceedings because they come after."
"I realized there was this whole bulk of information that no one really knew about because everyone was more interested in, unfortunately, in my opinion, this boy's ending," Ryan said. "I really wanted to go about it twofold. I wanted to get to know what was his favorite breakfast food in the morning and what was the last show he binged besides just knowing he's like a Virgo, I wanted that stuff that people didn't probably care to know about."
Ryan continued: "It was really important that if we were going to continue to show people in a complicated mental health situation on screen that I didn't want to just further the one linear conversation that is destigmatizing mental health because I think there's a buck that stops there by just showing people hurting.
"I think if we had destigmatized [mental health], people wouldn't keep trying to hide their hurt," he said. "The people around him were just devastated and were just shocked [at his death] and I thought, how tragic and how much it hurt my heart to think that he or any of us still feel the need to hide, to hide our hurting, or this heaviness that we carry."
"I worked with the American Foundation for Suicide Prevention and I work with a social worker, and we really tackled [the question of] 'how do we show that image?'"
Of course, bringing Roy's tragic true story to the small screen was not an easy task and Ryan hopes the show will lead to bigger conversations about the importance of mental health.
Roy suffered from social anxiety and depression and had attempted to take his own life before. He had spoken openly to Carter about wanting to end his life, something Carter did not support. However, that changed in June 2014.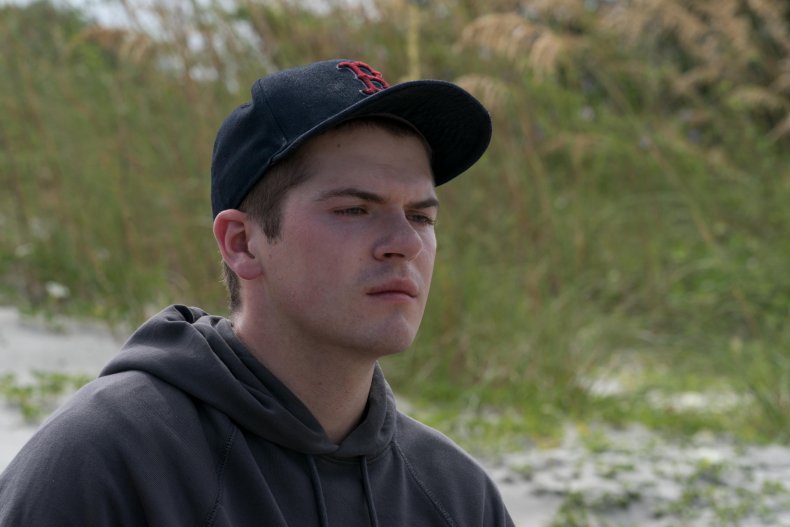 As detailed by Esquire, Carter stopped discouraging Roy from taking his life and seeking help. She even suggested methods he could use to end his life in the weeks and days leading up to his death.
When Carter's phone was searched, a text to her friend Samantha Boardman sent two months after Roy's death was found.
Carter wrote: "I was on the phone with him and he got out of the car because it was working and he got scared and I f****** told him to get back in. I could of stopped him but I f****** did it. All I had to say was I love you."
At Carter's trial prosecutors argued she was implicit in Roy's death as her texts encouraged him to take his own life. Her defense argued that as she was not there in person when Roy died, she could not be responsible.
The case posed some big questions on the legal issue of whether a person's words could be responsible for another's actions. In Carter's case, they did and she was found guilty of involuntary manslaughter.
Ryan shared: "I think more people still feel this in their bones… the reverberations of it haven't been settled because there's no answer to it yet. We're still the guinea pigs of dealing with it, and it happened under all of our watches and it could continue, and still does every day.
"I really think in a universal sense, you're watching two people who, like all of us [at some point]…are really having a hard time having a sense of self, knowing who they are, and they end up as we know, very tragically from this case study, looking for it in the wrong places, possibly.
"Why are we putting more and more value, more and more stock in finding ourselves in this online space? [If you] intermingle that with a very nuanced conversation about mental health, I think it's some powerful TV."
The Girl From Plainville airs Tuesdays on Hulu.
If you have thoughts of suicide, confidential help is available for free at the National Suicide Prevention Lifeline. Call 1-800-273-8255. The line is available 24 hours every day.