Girl Reunites With Father Who Was in Prison 10 Years in Heartwarming Video
One girl recently got the surprise of a lifetime when her school day concluded.
A video viewed over 1.2 million times showed the girl being picked up by her father, who was just released from prison after 10 years. The woman who recorded the video was the man's wife, Marley B, who orchestrated the surprise and posted her daughter's reaction online.
"After 10 years in prison he's finally home," Marley wrote. "We're complete."
The daughter, Rikki, initially looks scared to get close, running toward her father before taking a few steps back to make sure the situation was authentic. She even looked at her mother for a sense of confirmation that her dad is actually in front of her.
"(Rikki) didn't know what to think," Marley commented on her video.
The pair embraced for about 30 seconds, sharing a few words but continuous tears and smiles. At one point her father asks, "You OK?"
Some who commented on the video were in similar situations with their families.
"Not me over here emotional, crying cause I can't wait for my daughter to see her dad free!" one user said. Marley replied, "Definitely a great feeling, one that's indescribable."
"OMG, I love you for posting this!" another user wrote. "My husband been in for 18 and I can't wait til we have this day! God bless your family!"
"Stay down sis y'all got this!" Marley replied to her. "I promise you it's greater later."
Subsequent videos she posted included her husband coming home and their first day out together in a decade.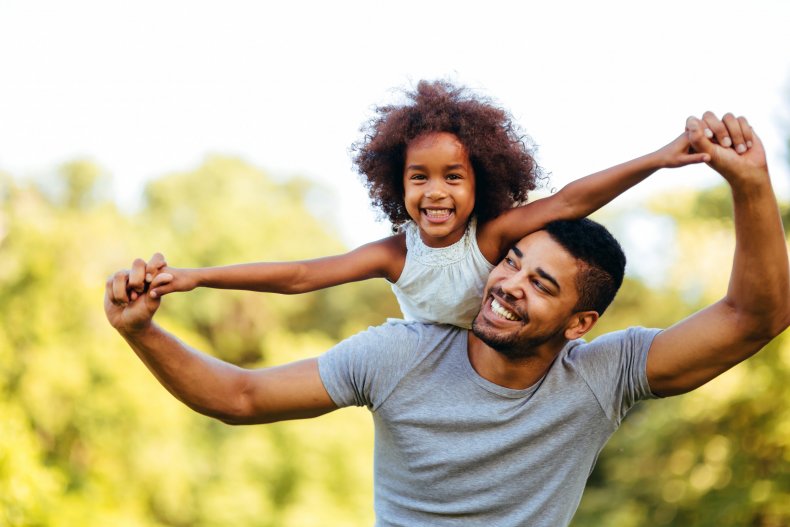 According to research published in March 2021 by the Bureau of Justice Statistics and referencing data from 2016, an estimated 684,500 prisoners in the United States were parents of at least one minor child. About 58 percent of federal prisoners and about 47 percent of federal and state prisoners, respectively, were parents.
State and federal prisoners reported having an estimated 1.47 million minor children in 2016. In state prisons that included 1 percent younger than age 1; about 18 percent between ages 1 to 4; and about 48 percent age 10 or older.
The average age of a minor child among federal prisoners was age 10.
The National Institute of Corrections (NIC), referencing one study from 2007, said trauma endured by children whose parents are incarcerated can have long-lasting effects.
"The arrest and removal of a mother or father from a child's life forces that child to confront emotional, social and economic consequences that may trigger behavior problems, poor outcomes in school and a disruption or severance of the relationship with the incarcerated parent that may persist even after the parent is released from prison," the NIC said.
A 2019 Rutgers University study referenced by the NIC expressed that "parenting programs for incarcerated parents have become increasingly popular within corrections departments over the past several decades."
"The programs are appealing as they are thought to improve not only long-term prosocial outcomes and reductions in recidivism for parents who are reentering their communities after lockup, but also outcomes for their children," the research noted.
However, a multimodal parenting program has been proposed that goes beyond basic parenting knowledge and skills. It would include addressing challenges like inadequate housing, parent unemployment, and parental mental and physical health issues.
The Sentencing Project advocates for effective and humane responses to crime that minimize imprisonment and criminalization of youth and adults by promoting racial, ethnic, economic and gender justice.
The Sentencing Project has recently written a letter in opposition to the "Prosecutorial Remedies and Other Tools to end the Exploitation of Children Today Act," or the PROTECT Act of 2022 as introduced in the U.S. Senate by Republican bill sponsor Senator Josh Hawley of Missouri.
"The U.S. Supreme Court, Congress and the U.S. Sentencing Commission have acted in a bipartisan way for almost 20 years to address federal mandatory minimum sentencing policies in order to create more fairness, proportionality and equity in sentencing," the Sentencing Project wrote. "Unfortunately, this bill would create new mandatory minimum sentencing policies, including an attempt to establish mandatory sentencing guidelines—previously ruled unconstitutional—for certain offenses. This legislation would have far-reaching implications for eroding fairness and justice, including the potential to usher in a new era of mandatory minimums."
Newsweek reached out to Marley for comment.