Tom Brady returned to the field for his first game of the NFL season on Sunday night, and his wife, Gisele Bündchen, tweeted her support but was not in attendance.
The Brazilian supermodel tweeted, "Let's go @TomBrady! Let's go Bucs! ✨✨✨."
Bündchen's absence at the game was noted, as she has often been spotted celebrating her husband's success in luxury suites in the stadiums over the years, and some believe that the couple has been experiencing marriage troubles since the legendary quarterback withdrew his retirement announcement and decided to return to the Tampa Bay Buccaneers for the 2022 season.
Fans on Twitter joked that Bündchen's account was "hacked" by Brady in response to her tweet of support, one person writing, "How did @TomBrady get Gisele's password??"
Another fan commented, "LFG please don't divorce him over football."
After only 40 days of retirement, Brady tweeted in February that he wasn't quite ready to call it a career.
"These past two months I've realized my place is still on the field and not in the stands," he wrote. "That time will come. But it's not now. I love my teammates, and I love my supportive family. They make it all possible. I'm coming back for my 23rd season in Tampa. Unfinished business LFG."
Neither Brady nor Bündchen nor their representatives have publicly commented on the rumors regarding their relationship.
Brady, 45, has played 22 professional seasons, 20 of those with the New England Patriots, won seven Super Bowls and holds many passing records for the regular season and playoffs.
He spoke in September of 2021 about balancing his NFL career with his family life, sharing on an episode of Let's Go! With Tom Brady, Larry Fitzgerald and Jim Gray podcast, "When I was 25, all I did was think about football. That was my life."
"I have a freshman in high school that is playing football, too," he said. "I have a 12-year-old that is going through his life. I have a 9-year-old that is going through her life. And I have parents. And I have a lot of things that are really important off-field pursuits and goals that you are trying to maximize as well.
"Once football season comes I really lock in on what I need to do and how I need to focus and the kind of commitment I need to make for the organization so we can maximize our potential as a team."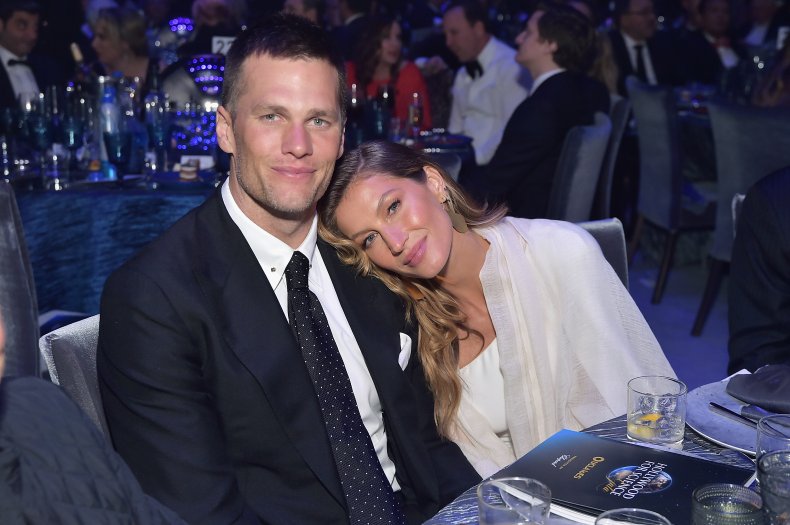 More recently, Brady discussed his children, Benjamin and Vivian, whom he shares with Bündchen, as well as his son, John "Jack," whom he shares with ex Bridget Moynahan, on Spotify's Drive podcast, explaining the difficulties of fatherhood and raising them among wealth, a comment for which he was mocked online.
And in June in an issue of Vogue UK, his wife spoke out about balancing the parenting responsibility with Brady.
"I don't think relationships just happen. It's never the fairy tale people want to believe it is. It takes work to be really in sync with someone, especially after you have kids," Bündchen said. "His focus is on his career, mine is mostly on the kids. And I'm very grateful that he lets me take the reins when it comes to our family. He trusts my decisions."
Newsweek reached out to a representative for Bündchen and Brady for comment.
About the writer
Emma Mayer is a Newsweek Culture Writer based in Wyoming. Her focus is reporting on celebrities, books, movies, and music. She covered general news and politics before joining the culture team and loves to cover news about new books, films, Taylor Swift, BTS, and anything else she might be obsessing over at the moment. Emma joined Newsweek as a fellow in 2021 and came on full-time in January 2022 after graduating from Colorado Christian University in December. You can get in touch with Emma by carrier pigeon or by emailing e.mayer@newsweek.com. Languages: English.